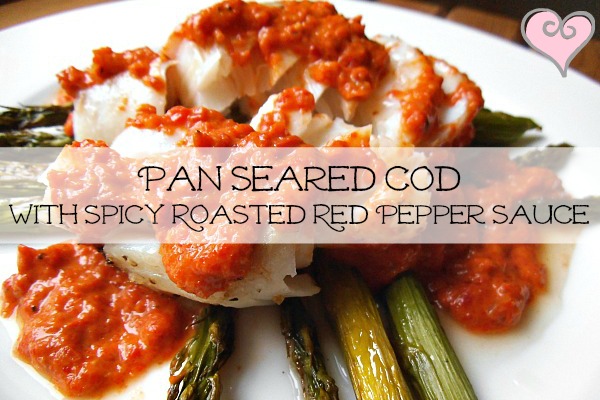 Pan Seared Cod with Spicy Roasted Red Pepper Sauce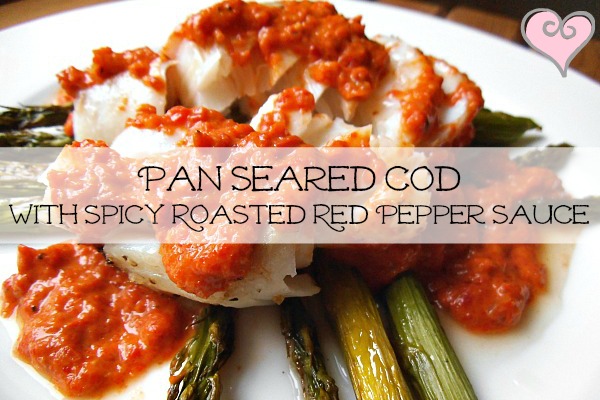 Spicy Roasted Red Pepper Sauce lends a perfect balance to the lightly seasoned cod for a fresh new take on fish.
If you haven't tried roasting your own peppers, you've got to try this.  It is so simple to make and you can be happy knowing there are no preservatives, added sugars, sodium or fat like the bottled kinds have.
Cod has a very light flavor and is very delicate to cook.  Be sure to use a wide spatula and go slowly when flipping the fish, otherwise it could all fall apart because it is so flakey.
The light flavor is perfect because you can dress the fish up with just about anything.  We had another filet of this to use a second night, so I made a batch of Cilantro & Lime Fish Tacos with it.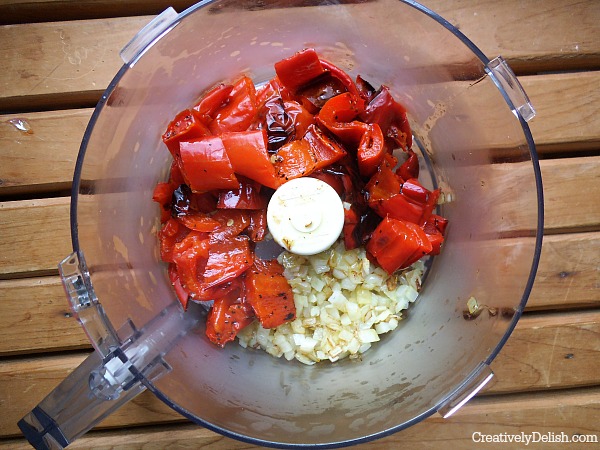 As I was researching for this recipe, I was finding a lot of Roasted Red Pepper sauces loaded with cream and other seasonings which I definitely didn't want.  I love the sweetness of a red bell pepper and this sauce magnifies that perfectly sweet pepper flavor.
To make it not so sweet though, I added some minced onion and garlic and a little salt and pepper for taste.  The result was truly perfect - like it was picked right from the garden!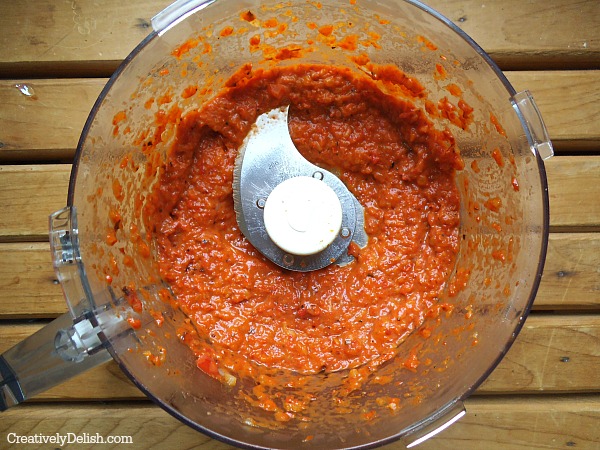 The fish is seasoned with just a touch of salt and pepper to give the roasted red pepper sauce it's shining debut.
I even had some sauce left over, so I turned it into a spaghetti squash sauce (like a marinara) and it was delish!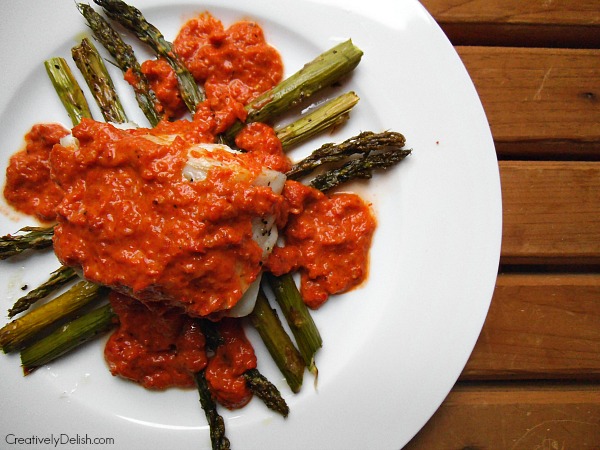 The cod was so tender, flakey and light as a feather.  It's a great source of protein and is super low in calories and a good amount of healthy fats to give you a perfectly balanced dinner.
Serve it with roasted asparagus for a complete meal.
Pan Seared Cod with Spicy Roasted Red Pepper Sauce
Prep time:
Cook time:
Total time:
Ingredients
1/2 lb fresh Cod fillet or other white flakey fish cut into two portions
2 large roasted red peppers, roughly chopped (see the link located in the post to learn how to roast them)
1/2 TBS light cream
1/2 minced onion
1 clove minced garlic
salt & pepper
Instructions
Sautee onions and garlic over medium heat with some olive oil until fragrant and onions turn clear.
In a food processor, combine roasted red peppers, onions, garlic, cream salt and pepper to taste and pulse until the mixture is well combined.
Heat a large pan over medium heat with olive oil. Season fillets then place on the pan and let the first side sear for about 5 minutes. Carefully flip the fillets and let that side sear until the fish is white and flakey all the way through.
Serve with as much red pepper sauce as you wish!
Notes
The prep and cook time will differ depending on if you already have roasted the peppers or not. If you are using a jarred version or already have some roasted, this dish will only take about 20 minutes at the most.