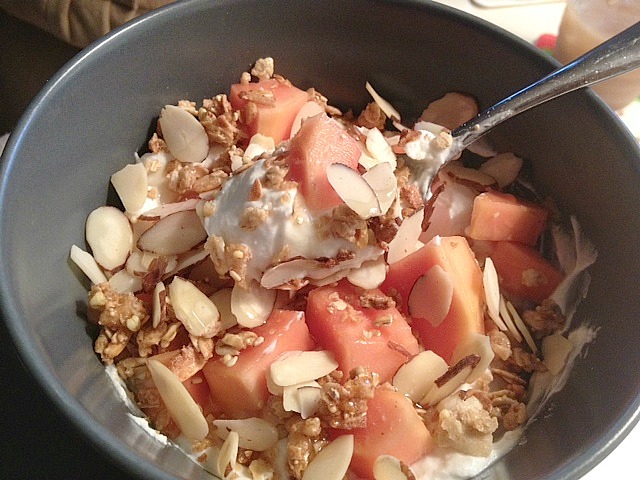 Papaya & Agave Yogurt
The almonds and granola give just a little extra kick of protein and fiber to keep you full with the sweetness of papaya.
Breakfast is one of the most important meals of the day!  It's the difference between weight gain and loss, and it should never be forgotten.
I chose this for today partly because of the ridiculous amount of food I had this past weekend at holiday parties.  I needed something detoxifying, healthy, and light, so what better than greek yogurt with fruit.  Rich in antioxidant nutrients, papaya is a valuable source of fiber that has been linked to weight loss among many other health benefits.  Agave nectar is a natural sweetener that I discovered recently and tastes just like honey or another kind of syrup, just minus the amount of sugar you see in other sweeteners.  You can find this in the organic section of your grocery store.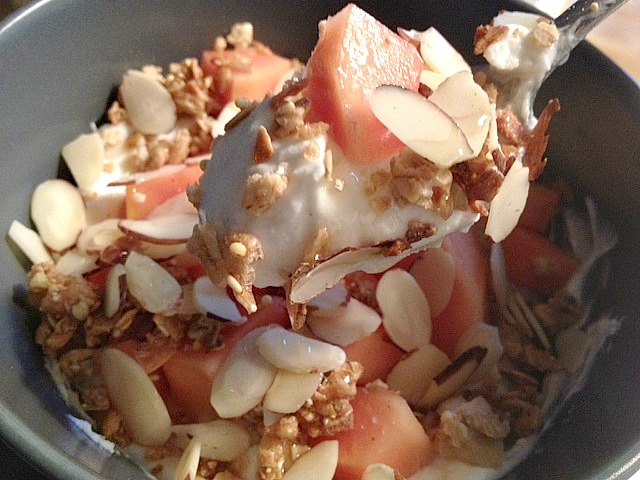 Papaya & Agave Yogurt
Ingredients
6 oz Fage 0% Greek Yogurt
¼ C diced papaya
1 TBS sliced almonds
sprinkle of organic granola
1 tsp agave nectar
Instructions
Combine all ingredients in a bowl and enjoy!