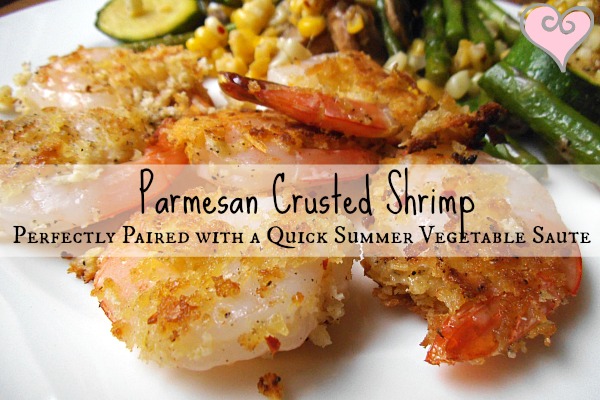 Parmesan Crusted Shrimp with Summer Vegetable Saute
Make dinner in 15 minutes or less with this crunchy and flavorful dish.
Have you ever made a meal that you practically screamed over after taking the first bite?  (Screaming in a good way of course...)
Well that was me and I am excited to share this yummy new creation with you!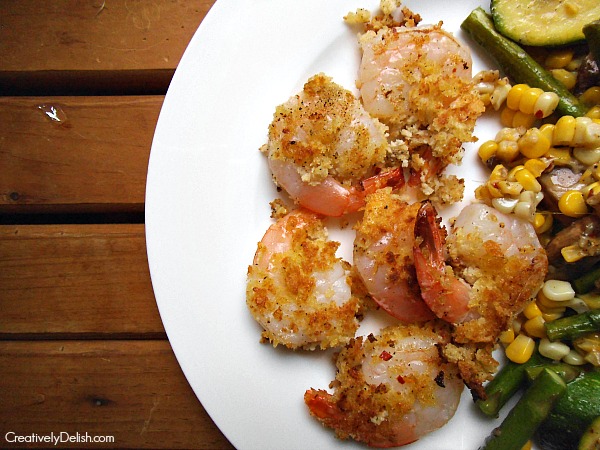 I'm pretty sure the underlying scream came as I was still cooking this, as the aroma's of peppery parmesan crackling in the pan stirred around me.
It was also really, REALLY hot that day, so I could have just gone crazy in general but I'm pretty sure this dish will knock your socks off.
I served this with a quick vegetable saute and used the extra parmesan crisps & breadcrumbs from the shrimp pan to sprinkle over the veggies.  It added a crunchy side to the veggies that was beyond amazing.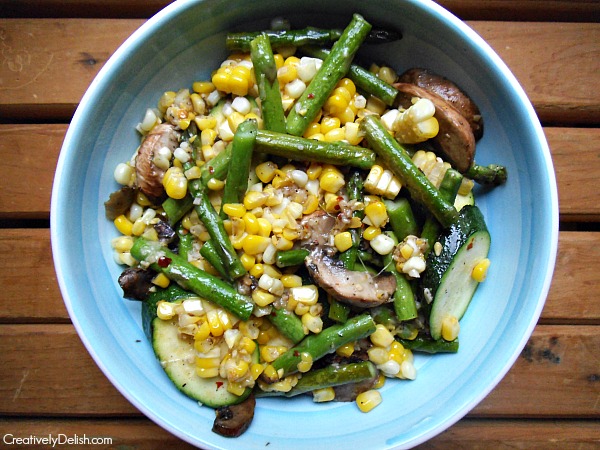 The vegetables were quickly sauteed and seasoned with salt, pepper, red pepper flakes, garlic and Parmesan cheese.  The corn gave it a perfectly sweet kick with crisp zucchini, fresh asparagus spears and sliced mushrooms.
It's important to only cook the veggies for a few minutes so that they only cook a little bit - no one wants soggy, mushy veggies!
Easy Summer Vegetable Saute
The perfect side dish for just about anything!  Here's how to make it:
1 ear of corn - leave the husk on and microwave for 5 minutes.  Let it cool then remove the husk and slice the kernals off.  You can run the corn under cold water to help it cool quickly.
1 small zucchini, sliced thin
6 asparagus spears, ends trimmed and cut into thirds
3-4 large baby bella mushrooms, ends removed and sliced
1 tsp minced garlic
salt, pepper and red pepper flakes
1/4 C grated parmesan cheese
olive oil for cooking
Directions:
In a large heated and oiled pan, saute garlic for 2 minutes, then add asparagus and zucchini.  Cook, stirring occasionally over medium heat for 5-6 minutes - just enough to slightly soften the veggies but still has their "snap".  Add in the mushrooms, corn, spices and cheese then cover it and let the cheese melt (about 2-3 minutes).  Re-stir the veggies once more, taste test in case you want to add more of a flavor, and enjoy!
This should take you about 10 minutes to cook and 10 minutes to prep.  (While the corn is in the microwave prepare the other ingredients)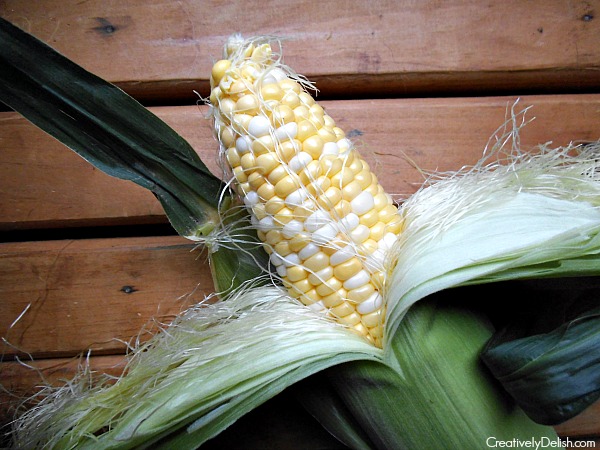 This dish was quick to make and extremely cheap to cook.  Corn, zucchini and asparagus are all in season now which makes for really low prices and the shrimp was on sale too, so all I had to splurge on was good parmesan cheese.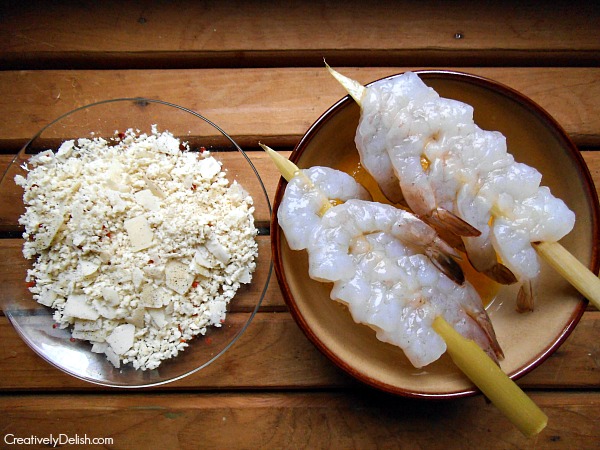 The shrimp is coated in an egg wash then tossed in a combination of panko, parmesan cheese, black pepper and red pepper flakes.
I did this a little unconventionally and you probably should too so you can get all that yummy crispy extra goodness to sprinkle over the veggies.  So... after dunking the shrimp in the bowl of egg, drain the extra egg out and then pour in the panko mix.  Stir to combine and allow some of the panko to stick, then pour the whole bowl in a heated and oiled pan, separate the shrimp and let it all cook for 5 minutes, allowing the shrimp to cook and the breadcrumbs to brown up.  Make sure you brown both sides of the shrimp.
It's a messy, beautiful masterpiece.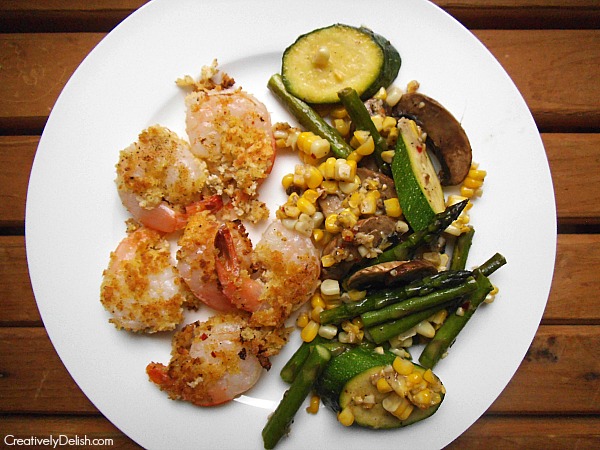 Parmesan Crusted Shrimp
Prep time:
Cook time:
Total time:
This calls for only 10 shrimp, so if you're serving more than just yourself, double it up!
Ingredients
10 peeled and de-veined shrimp
1 egg
1 C whole wheat panko
1/4 C grated parmesan cheese
1 tsp black pepper
1 tsp red pepper flakes
olive oil for cooking
Instructions
Whisk the egg in a medium sized bowl and throw the shrimp in to coat, then drain out the remaining egg and pour in panko, cheese and both peppers. Stir to combine, coating the shrimp. There will be extra panko mix but that's OK, don't throw it out!
In a heated pan, add olive oil (about 1 TBS) and coat the pan.
Pour the panko breaded shrimp and all extra crumbs into the pan and separate the shrimp.
Cook shrimp on each side for 2-3 minutes, carefully fliiping them over so as to not let the panko come off the shrimp.
The extra breadcrumbs will start to brown as well - watch those so they don't burn.
Once the shrimp is cooked, transfer the shrimp to a plate to eat and sprinkle the extra panko over the veggies or over the shrimp.
Enjoy!