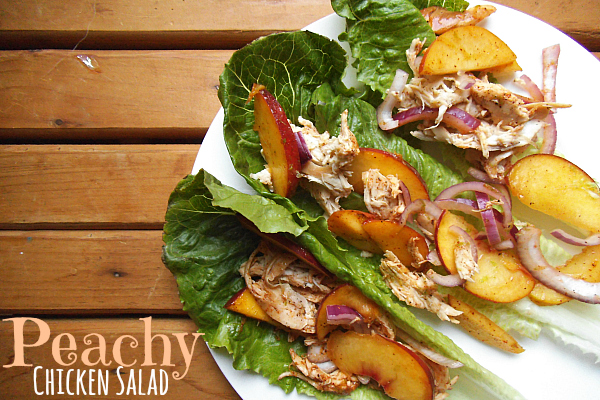 Peachy Chicken Salad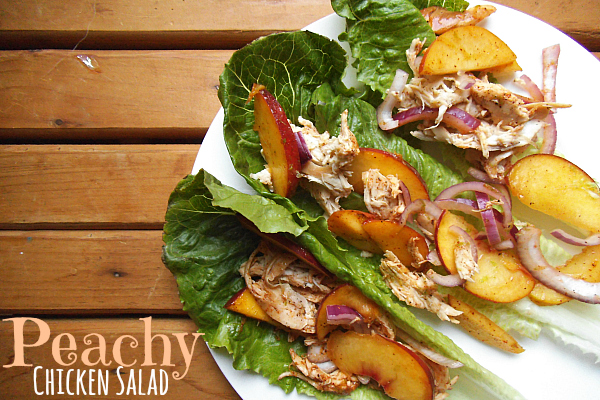 A light, refreshing take on chicken salad.  Thin slices of juicy peaches are tossed with fresh cilantro, lime juice, red onion and a touch of chili powder.  It's perfect for over a salad, in a wrap or just plain on its own!
The past few weeks have been so crazy - a hurricane over the fourth of July, trying to find a new apartment, running a summer camp...the list goes on!  So with that in mind, I thought I would share a few of my go-to recipes for when cooking is just not going to happen.
In just an hour and a half, I put together a fruit salad, this Peachy Chicken Salad, Poblano Chicken Salad and Jalapeno Turkey Burgers with Cilantro-Avocado Cream Sauce.
Yes, I'm serious.
The reason this works is because I'm using the same ingredients for almost everything.  Maybe I don't use every ingredient in ever dish, however the process of buying the foods, prepping the items and assembling the dishes couldn't be easier!
When in Doubt, Make a Game Plan
If you're going to do a marathon cooking sesh, it's important you have a game plan.
As soon as I got home, I set the oven to 450 and got the chicken out.  After trimming the fat off of three large boneless skinless chicken breasts, I salt and peppered each and threw it in the oven.
Next I started assembling the turkey burgers.  Since each dish calls for cilantro, I chopped up all the cilantro at once, threw it in a bowl then took what I needed for each thing.  Same went for the lime juice and lime zest.
Once the turkey burgers were ready, I put them on a sheet pan and threw them in the oven.  By this time the chicken had been in for 20 minutes.  The chicken and the burgers need about 20-25 minutes of cooking after that, so that gave me enough time to make the cilantro-avocado sauce and get the peaches, onion, peppers, etc assembled for the salads.
Lay out two bowls then start chopping.  Put the ingredients for each chicken salad in it's own bowl, then once the chicken is done, shred it, throw it in with the other ingredients and bam!  You're done.
While the burgers are cooling, throw everything you need for the cilantro-avocado sauce in a blender or cuisinart and it takes about 2 minutes.
So there, three meals for your lovely lunches or crazy weeknight dinners all done.
Ok, let's get back to that yummy Peachy Chicken Salad...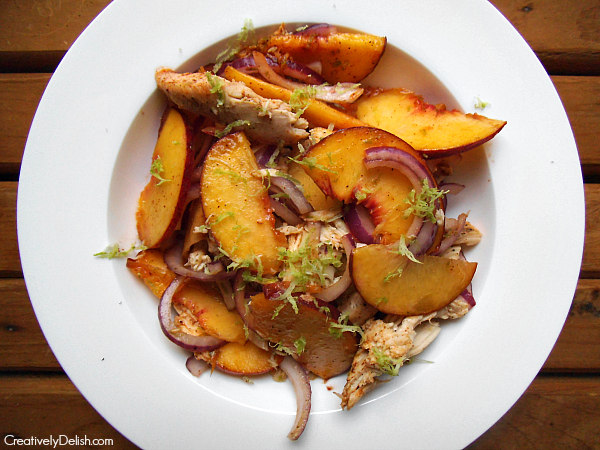 I added about 1 tsp of chili powder to this for a little kick, but by all means if you don't like spice, it;s great without it as well.
This low-fat, fresh and flavorful chicken salad can last in the fridge for up to four days.
I of course would consider this to be a summer dish only since peaches are pretty non-existent in the winter and the canned ones just won't do for this recipe.
I prefer it in a lettuce wrap or over a salad or even just with a fork.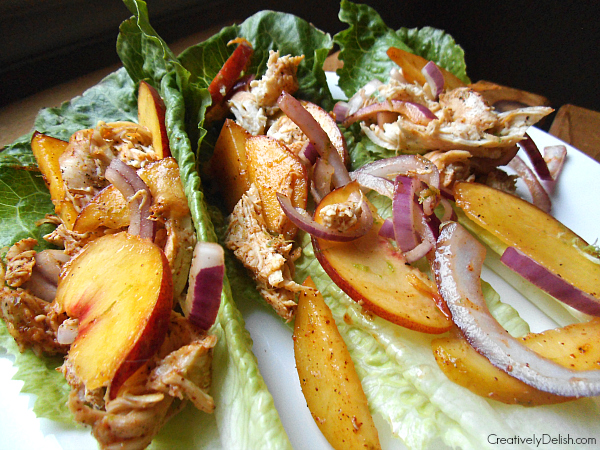 Peachy Chicken Salad
Ingredients
1 boneless, skinless chicken breast, cooked and shredded
1/2 red onion, thinly sliced
2 peaches, still a little firm, sliced thinly
juice of 1 lime
zest of 1 lime
salt to taste
1 tsp chili powder
Instructions
Combine all ingredients in a bowl and enjoy!