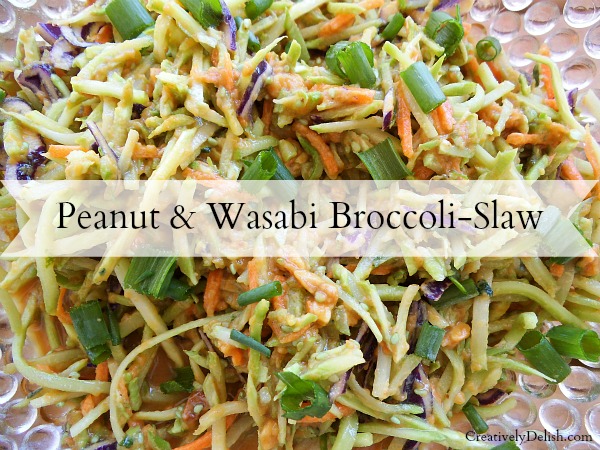 Peanut & Wasabi Broccoli-Slaw
No sugar, no salt, no mayo and nothing artificial.  You've just got to try this!
You know that feeling after spending all winter long bitching it's cold, dark and dreary outside and then one day, you wake up to birds chirping andsunny warm weather?!  Yes my friends, it's finally flip-flop season, and with that, a few summery dishes of course.  So let's start with cole-slaw.  But not just any cole-slaw, Peanut & Wasabi Broccoli-Slaw.  Oh, yum!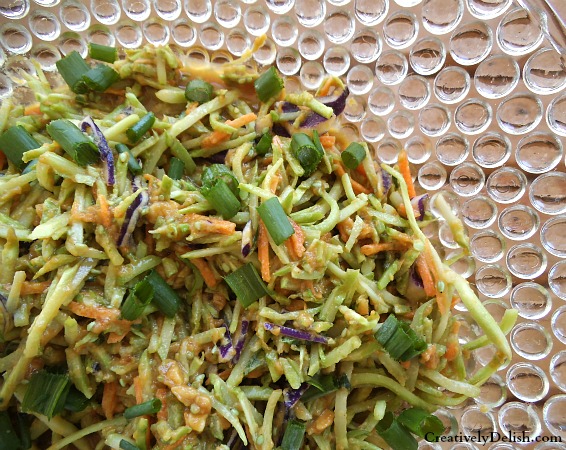 I used broccoli slaw instead of your plain old regular slaw because the flavors of this sauce are a bit strong, so I needed something sturdy like broccoli to stand up to it, and boy did it turn out good!  If you're not into the whole spicy thing, then just omit the wasabi paste and seeds.  This peanut sauce is actually my original recipe, just with the addition to these two ingredients, so it will taste great with or without it.  I also recommend adding the sauce a little at a time to the slaw in case you like a lot of sauce or just enough to cover each piece.  (I personally like a little extra, that way I can add more if it runs out too quickly).
Peanut & Wasabi Broccoli-Slaw
Prep time:
Total time:
This calls for 2 packages of slaw mix, but if it's only serving a few people I would cut it in half
Ingredients
2 pkg broccoli-slaw mixture
Sauce:
1/2 C chunky peanut butter
zest of 1 lime
juice of 1 lime
2 TBS honey
4 TBS soy sauce (or Tamari for gluten free)
2 tsp wasabi sesame seeds
2 tsp wasabi paste
1/3 C hot water
2 tsp sesame oil
Instructions
Combine all ingredients of sauce then slowly mix slaw with sauce to desired consistency.