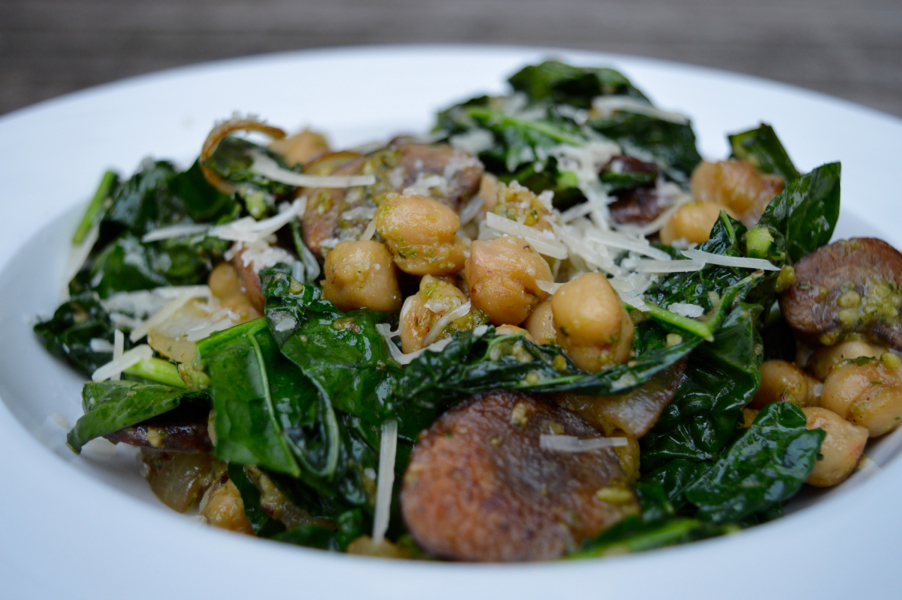 Mushrooms, Chickpeas & Kale with Pesto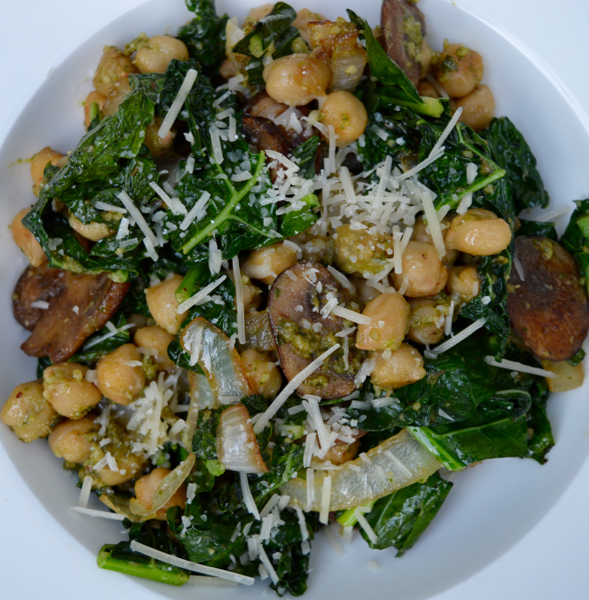 I have fallen in love with this dish!  Everything gets done in one pan, so there's little clean up involved and huge flavor.  When you cook everything together it allows the flavors to meld together which makes for a creative and delicious meal.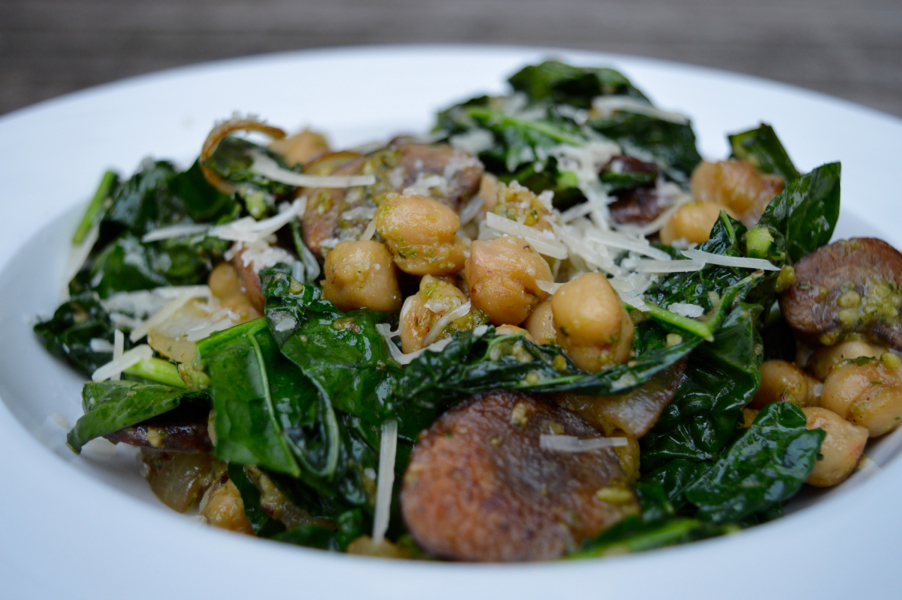 It's as simple as this:  Saute an onion with a package of mushrooms in some olive oil and salt until they are browned slightly, then add in chickpeas, waiting for them to crisp juuuuuuust a little.  Throw in some chopped kale, mix it all with some fresh or store bought pesto and voila!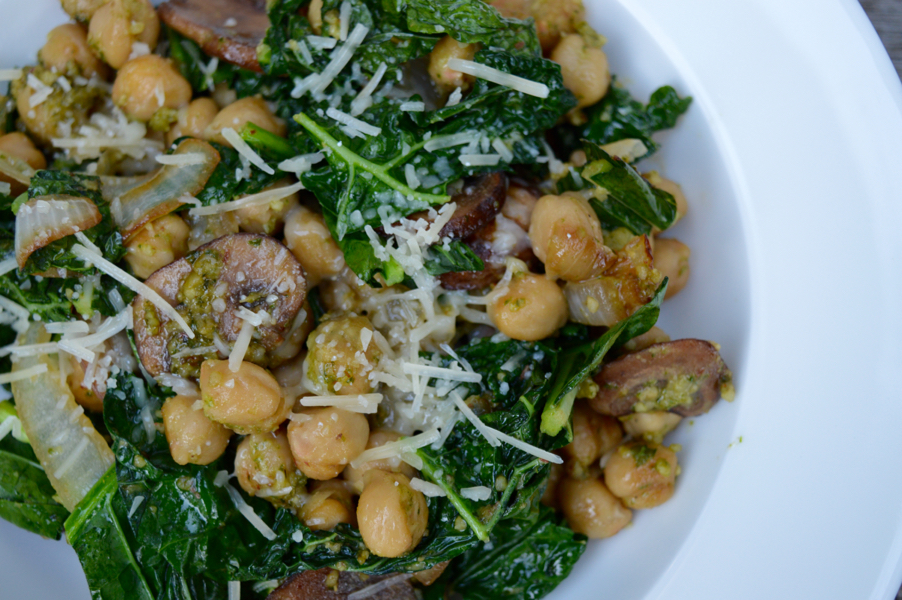 Lately I haven't been in the mood to cook dinners, mainly because Ryan is fishing so much which leaves me to be all by my lonesome.  Cooking for one is not so appealing to me, but after I whipped this together and realized I had made enough for three nights of dinners for myself, it didn't seem so bad!
The leftovers actually taste even better because the flavors get a chance to melt together even more.  I used a basil pesto that I made at home using basil from my garden, but there are a lot of freshly made local pesto's to choose from at the store too.  Look for pesto in the cheese or refrigerated pasta section.  That's where you'll find authentic local pesto.  I don't like the jarred kind found with the marinara sauces because they are loaded with salt and too much olive oil.  Spend just a little more for the better stuff, or just make your own!  I have a wonderfully easy basil pesto recipe here.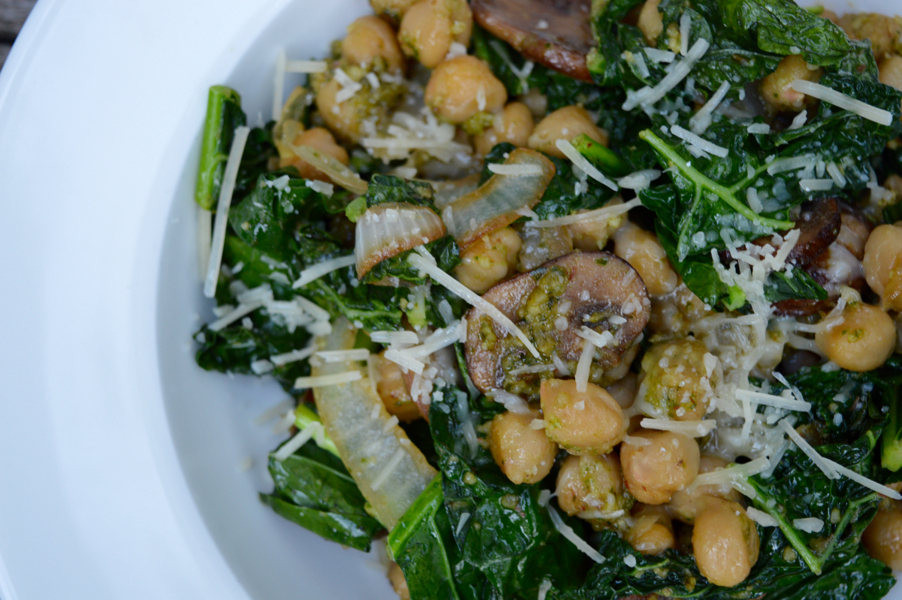 Try this easy, budget friendly, vegetarian recipe and see for yourself just how wonderful it is!
Mushrooms, Chickpeas & Kale with Pesto
Cook time:
Total time:
Ingredients
1 package sliced baby bella mushrooms
1 sweet onion, sliced
1 tsp sea salt
1 can chickpeas, rinsed and drained
1 head of dinosaur kale (lacinato), washed then chopped or sliced down to the start of the stem
2 TBS olive oil
1/4 C fresh basil pesto
parmesan cheese for garnish
Instructions
In a pan heated to medium-high, add in the olive oil, mushrooms and onion. Add the salt and cook 10-12 minutes, stirring occasionally, until the onions and mushrooms have started to brown.
Add the chickpeas, letting them cook for about 5 minutes, stirring once halfway through, until the chickpeas have browned slightly as well.
Add in the kale and pesto and stir to combine all ingredients.
Garnish with parmesan cheese and add more salt or pesto if desired for taste.