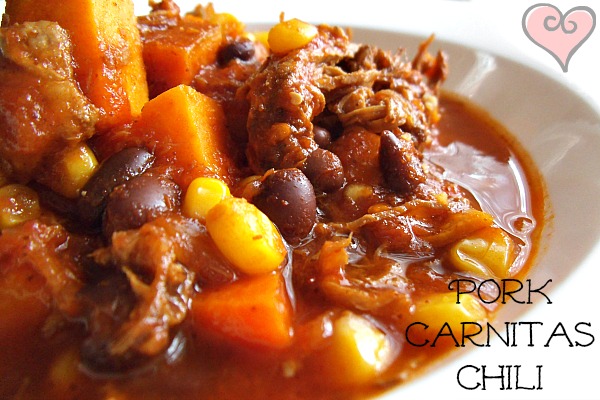 Pork Carnitas Chili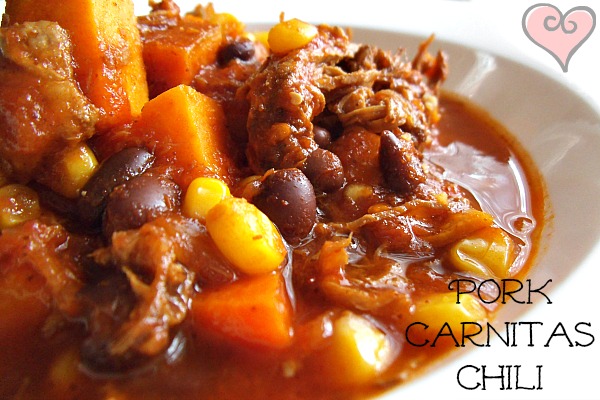 Slow cooked pork shredded and simmered with hearty vegetables for a perfect winter chili.
This is on the stove today because it's snowing...again.  We already had about two and a half feet of snow and we are expected to get another two feet, so ya...I'm making chili...and cornbread.
I've been on the hunt for the perfect cornbread recipe lately, each one failing me.  One batch I threw out, another Ryan smiled while eating through gritted teeth and the third was juuuuust right.  Here are some things I have learned regarding making cornbread:
Real cornbread will never taste like Jiffy.
Buttermilk in cornbread is ick.
Trying to omit butter or sugar from a cornbread recipe is just plain stupid.
Trying to healthy and use spelt flour for cornbread is also just plain stupid.
When you buy a bag of cornmeal, just try the darn recipe that's on the darn package...because that's going to be the best.
So with that said, thank goodness for Bob's Red Mill.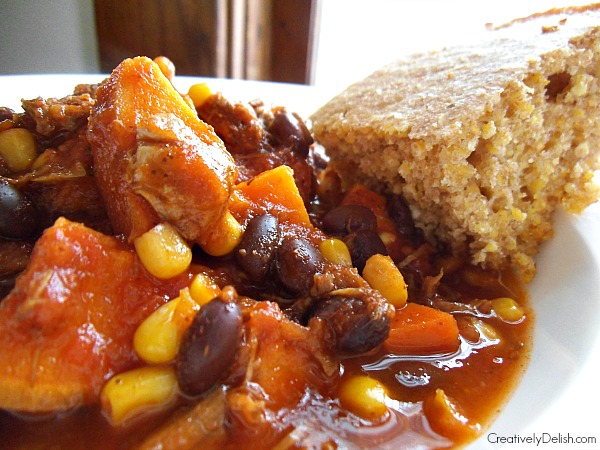 So moist, so buttery, so yummy...I can't copycat a better recipe.  Go ahead and get yourself a bag of course ground cornmeal from Bob's Red Mill and try their cornbread recipe because it is the bomb.  And within one day of being snowed in Ryan and I ate the entire pan.  Sorry I'm not sorry.
Ok so back to my Pork Carnitas Chili.
This isn't something you just throw together in a jiff, so I won't ever be putting this on a list of quick dishes, but it is totally worth it.
First I started by trimming the fat, heating a pan to a deadly temperature with some oil and covering the meat in chili power, cumin and brown sugar.  Seared to perfection, it then went in to the crockpot with some beef broth for a few hours.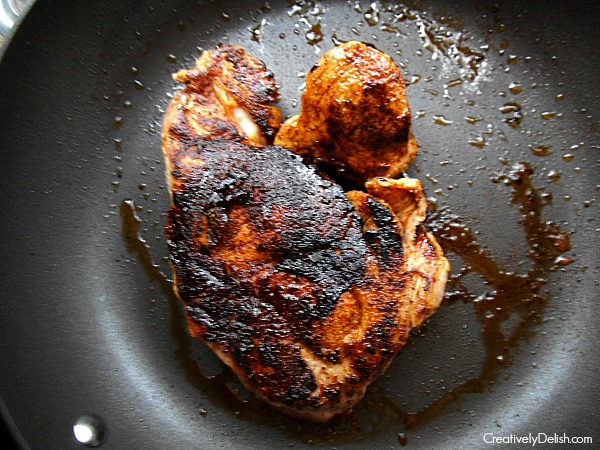 Once cooked and tender, I shredded it with a fork and put it aside, removing all liquids it cooked in (if you use that liquid it will be dripping with fat...ick)
I then used a soup pot, sauteing the onion, jalapeno and garlic until fragrant, then added everything back in a cooked it until it was thick (about an hour).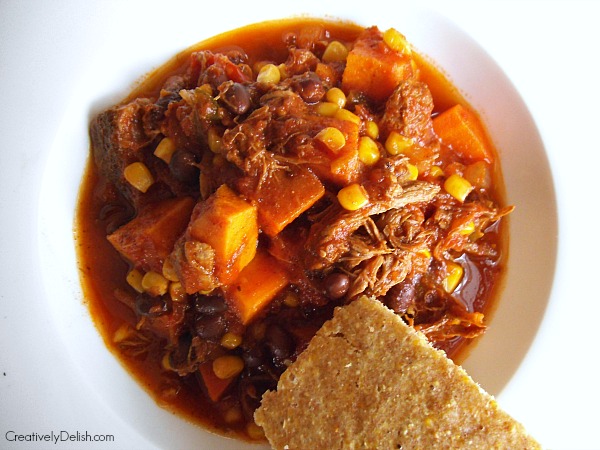 When it comes to chili, the longer you let it sit, the better it will taste.  Allow it to sit for as long as possible to let the flavors marry together for a richer and delicious chili.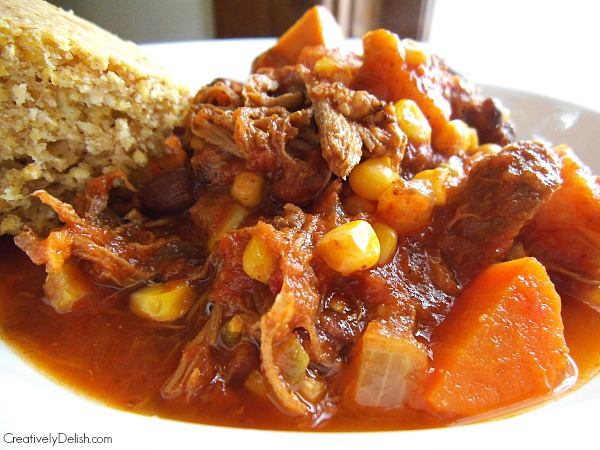 Top this with shredded cheese, sour cream or cilantro if you prefer (I do and it's a great move).
Enjoy!

Pork Carnitas Chili
Bob's Red Mill Golden Cornbread is a great side for this chili. You can find the recipe on the back of their course cornmeal bags.
Ingredients
1 chopped jalapeno
1 can black beans, rinsed and drained
1 C frozen corn
1 medium sweet potato, diced
2 large carrots, peeled and diced
1 large onion, diced
1 red pepper, chopped
4 garlic cloves, coarsely minced
1 28-ounce can crushed tomatoes
2 TBS tomato paste
1 C of your favorite bottled salsa - I love Whole Foods 365 Thick and Chunky brand
1 bottle of chili powder
4 TBS cumin
2 TBS light brown sugar
2 TBS powdered chipotle
3 C beef broth
2 lbs pork shoulder or pork butt, fat trimmed or removed completely
3 TBS oil
Instructions
Rub the pork with 2 TBS chili powder, 2 TBS cumin and 2 TBS brown sugar. In a pan heated on high with oil, place pork down and let it cook on each side to brown (about 2 minutes a side).
Transfer the pork to a crockpot and pour in beef broth. Cook on low for 6 hours or high for 4 hours. Shred with a fork and set aside, discarding all juice from the crockpot.
In a large soup pot, heat some olive oil and add jalapenos, garlic and onion. Cook until fragrant. Add in all other ingredients, bring to a simmer, cover and it it cook for at least an hour.
Let this sit in the pot for as long as possible before eating to get maximum flavor.
Sprinkle fresh cilantro over the soup before serving and garnish with shredded cheese or sour cream if preferred.
Enjoy!