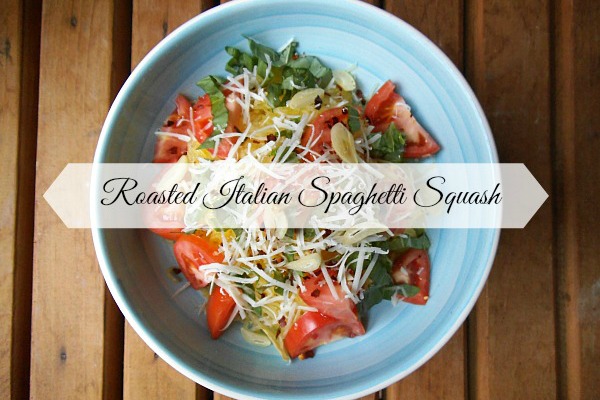 Roasted Italian Spaghetti Squash
If there is one thing in life I could eat for days, it would be pasta.  With butter and cheese?  Yes ma'am I'll eat the entire bowl in under two minutes.  Unfortunately life doesn't work like that so I need a healthy alternative to pasta so I can actually eat a whole bowl and get upset about it.  Spaghetti squash isn't going to taste exactly like pasta, but it serves it's purpose.  My Roasted Italian Spaghetti Squash recipe gives each ingredient it's own stage, allowing each flavor to pop with fresh tomatoes, basil and garlic.
Spaghetti squash can be hard to cut, so be very careful and use a sharp knife. Read on to see a step by step guide for how to properly cook a spaghetti squash and good luck!
Once the squash is done cooking, be sure to let it cool before handling.  Once cooled, grab a fork and pull the sides apart (see the photo below).
Once you've pulled the sides apart, pull it all out and place it in a bowl.  This is the fun part!  Isn't it beautiful?  Is that weird I think a squash is beautiful?
Now comes the next best part - grab your ingredients:  fresh sliced tomatoes and garlic, a drizzle of good olive oil, sliced fresh basil leaves and a dash of red pepper flakes for a kick.  Top it with grated parmesan cheese for an even better taste and enjoy!
What you get is a complete meal under 200 calories with tons of fresh veggies and rich flavors.
Check back later this month for more spaghetti squash ideas, and enjoy!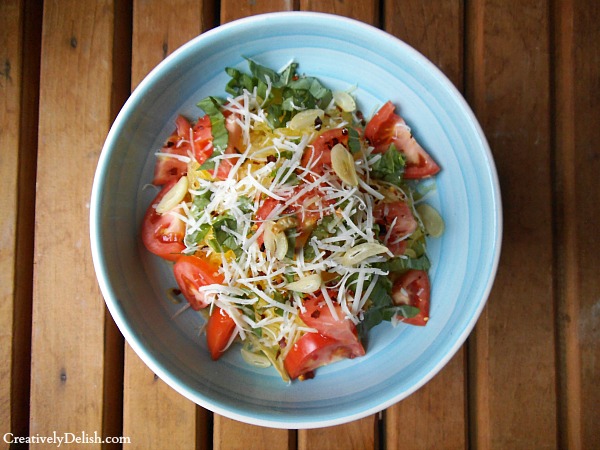 Roasted Italian Spaghetti Squash
Prep time:
Cook time:
Total time:
Ingredients
1 spaghetti squash - look for one that feels heavy for it's size and with little to no bruises or marks
a drizzle of olive oil
2 cloves of garlic, thinly sliced
1 tsp red pepper flakes
salt and pepper (optional)
fresh sliced tomatoes and basil leaves
grated parmesan cheese
Instructions
Cut the squash in half lengthwise and roast open side down at 375 for 45 minutes. Let the squash cool, then using a fork, pull the sides apart to create the spaghetti, then pull it out and put it into a bowl.
Mix in remaining ingredients and serve immediately.