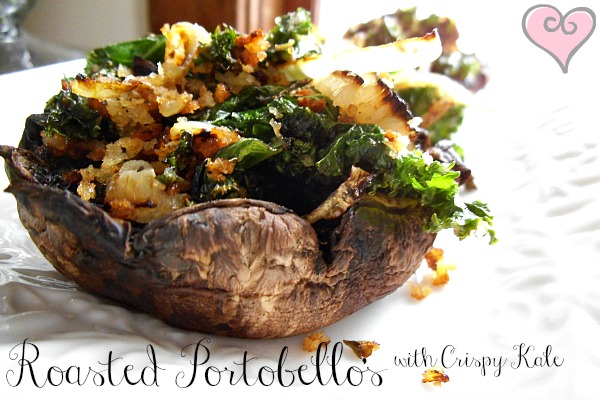 Roasted Portobello's with Crispy Kale
Savory roasted portobello's are topped with sauteed until crispy kale, onion and garlic.  Even a carnivore will like this and feel just as satisfied.
For Valentines Day, Ryan surprised me with a new juicer and tons of vegetables – so thoughtful!  I had always wanted to try this juicing craze and now I finally can!  That being said, I'm now on a total whole food, no animal protein sort of kick.
No meat?  Meet portobello.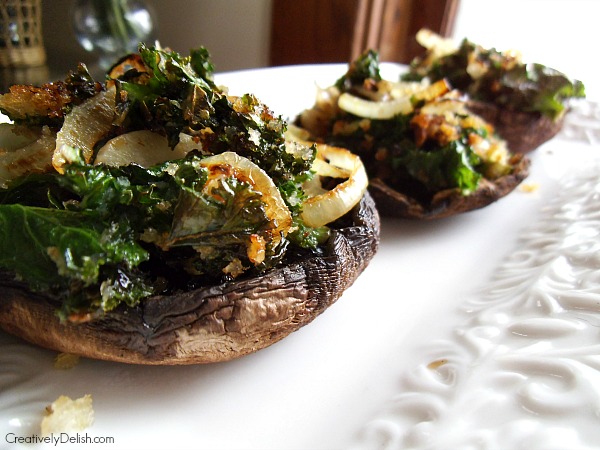 Even Ryan, the steak loving man I live with, loved this.
The mushrooms are roasted in a simple olive oil and s&p drizzle, then topped with crispy kale, onions, garlic and panko crumbs.
If you are gluten free, just omit the panko – it was only to get my dose of carbs that I crave by the second.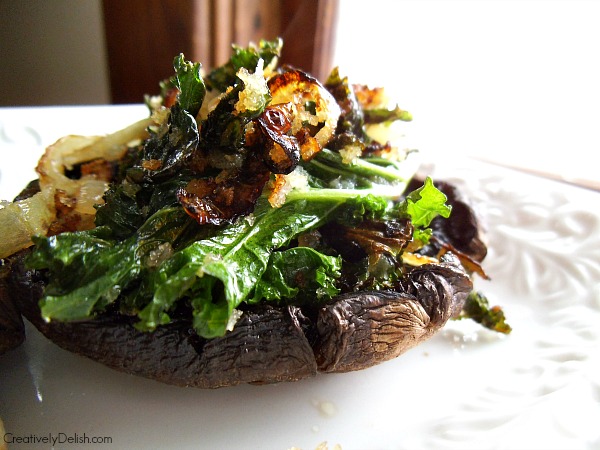 Kale can be a very bitter tasting leafy-green, and although it is high in nutritious value, no one could convince me it actually tastes all that good.
My secret to kale, whether in a salad or a saute, is always to use lemon juice.
The acidity and strong lemon flavor will cut down on the bitterness almost completely, and the detoxifying values of kale AND lemon are hard to beat.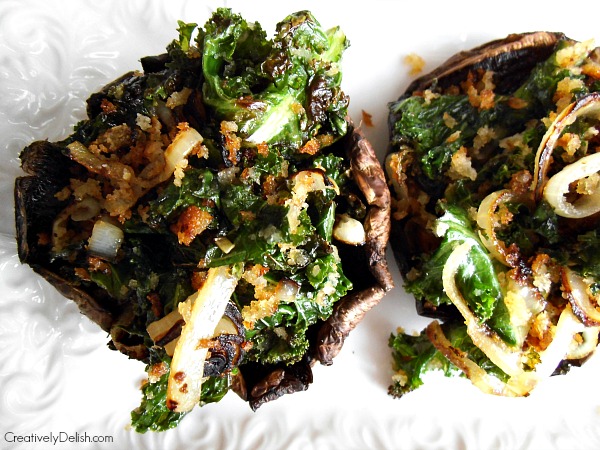 I also used a touch of butter while sauteing just to give it a little more richness.  This helps to slowly caramelize and brown the onions and garlic without burning them – just make sure to keep the heat on medium for this.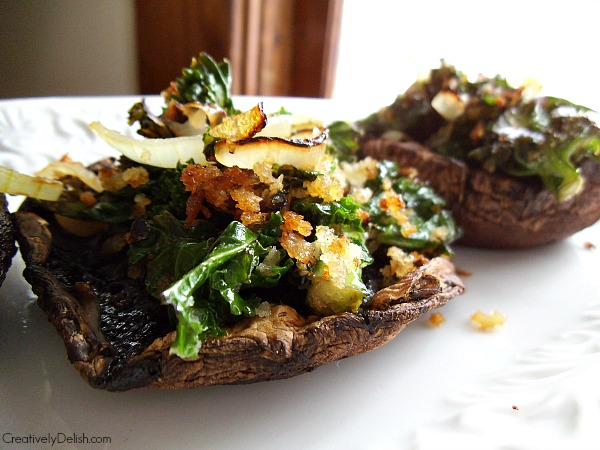 I hope you enjoy these lovely creations here on Creatively Delish!
Roasted Portobello's with Crispy Kale
Ingredients
4 portobello caps, stems removed and tops wiped to remove any dirt
4 tsp
salt and pepper
1 TBS unsalted butter
1 medium onion, thinly sliced
2 garlic cloves, thinly sliced
2 cups kale, stems removed
juice of ½ a lemon
¼ C whole wheat panko
Instructions
Preheat the oven to 425 and line a baking sheet with tin foil.
Arrange the mushrooms on the pan, gills side up, and drizzle with 1 tsp each olive oil and salt and pepper. Use some of the oil from each mushroom to baste the caps as well. Roast for 25 minutes, then set aside.
In a large saute pan, heat butter over medium heat and cook onion and garlic until fragrant and starting to brown.
Add the kale and stir frequently to cook the leaves down. Let the leaves sit for a minute or two before stirring so the leaves can start to get crispy.
Stir in the panko and let it cook until the crumbs start to brown.  Add lemon juice and season with more salt and pepper if needed.
Spoon the mixture evenly into each cap and enjoy!