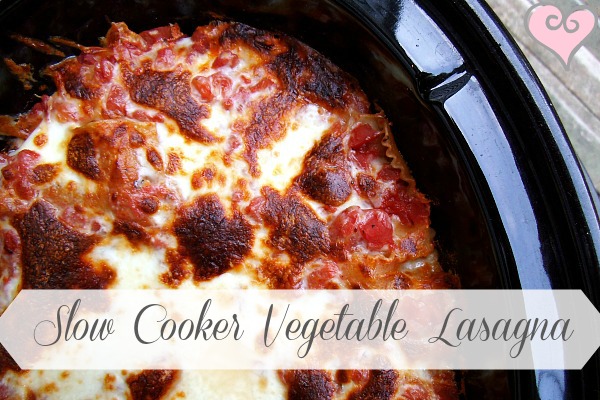 Slow Cooker Vegetable Lasagna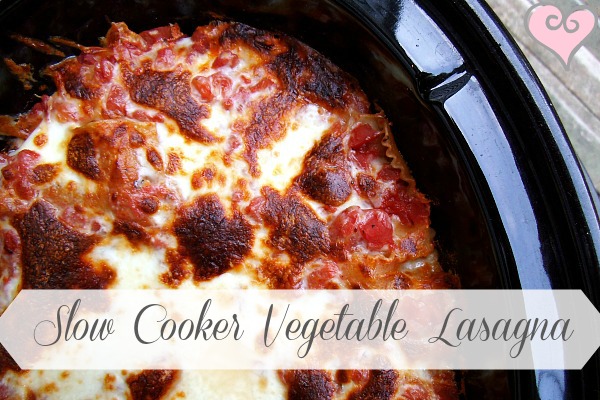 Full of vegetables and loaded with ooey gooey melted cheese, this quick crock pot lasagna is sure to please just about anyone.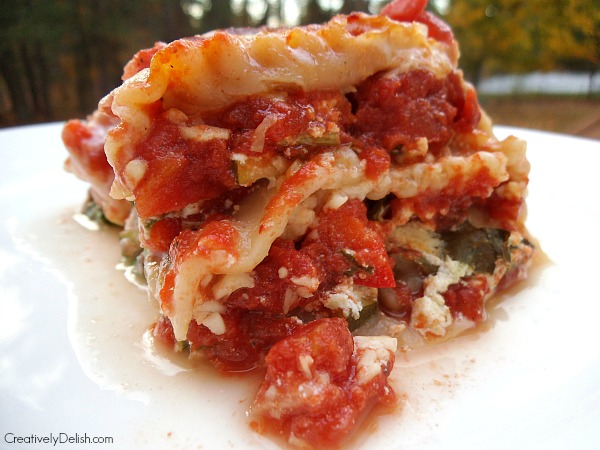 November is for hearty soups, warm and comforting meals and lots and lots of excitement for my birthday!!!  It's been a great 27 past years, but I'm pretty excited for this next 28th year of my life.  Exciting things are in the works people so buckle up because its going to be a really fun ride.
A lot has happened over 27 years, one being the fact that lasagna to me meant frozen Stouffer's lasagna from the microwave, enjoyed right out of that wonderful little plastic container it came in.  I remember burning myself on the first few bites only to get to the middle and realize it's still arctic cold in there.  So you put it back in the microwave, only to then smolder the top layer again while getting a lukewarm interior.
Those days are certainly over of course and it is time to try my own version of it, so here it is!
So after letting it sit in the slow cooker for 2 hours, all I could smell in our house was the delicious aroma of lasagna (thank goodness I did since I was making lasagna).  After oo-ing and ahh-ing over it with Ryan, we dig in only to find that a soup had formed on the bottom.  I'm guessing all that extra moisture was coming from the tomatoes and zucchini, but regardless I panicked slightly.
So this is why my site is called Creatively Delish
After taking a perfect piece out of the crock pot and finding the "soup" at the bottom, I thought well by golly there's a whole other meal in here!
After taking out the lasagna servings, I then ladled out the "juice" along with any straggling veggies from the lasagna servings and what do you know, you now have lasagna AND lasagna soup.  And trust me it's good.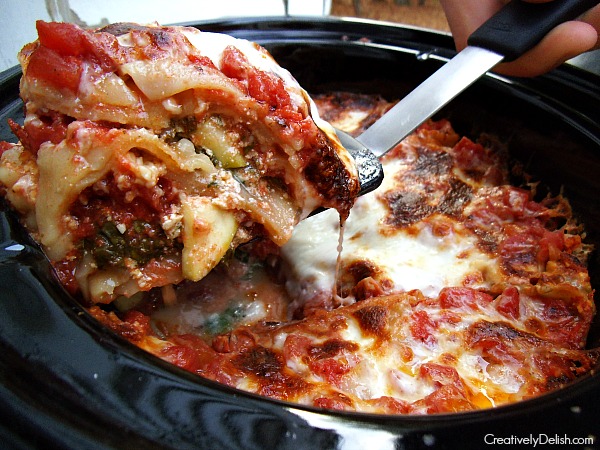 It would be very easy to add cooked ground beef, turkey or chicken to this if you prefer.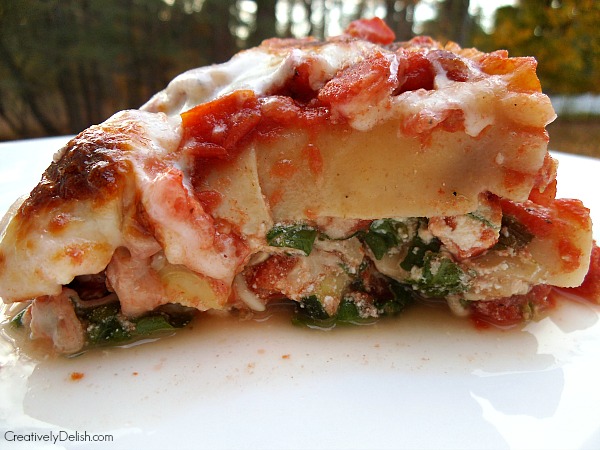 Seriously so much better than Stouffer's...
Slow Cooker Vegetable Lasagna
Prep time:
Cook time:
Total time:
I used all organic ingredients for this recipe and it was surprisingly very affordable. The cost to make this dish was about $15.00 and gave 8-10 servings.
Ingredients
1 package uncooked whole wheat lasagna noodles
5oz baby spinach, chopped
1 red bell pepper, diced
1 small zucchini, quarter lengthwise then sliced into thin pieces
15oz park skim ricotta cheese
1 egg
3 cloves garlic
2 TBS crushed red pepper
28oz crushed tomatoes
28oz diced tomatoes
3-4 C part-skim shredded mozzarella cheese
olive oil
Instructions
Coat a large slow cooker with olive oil on all sides and set aside.
In a large bowl, combine spinach, red pepper, zucchini, ricotta and egg. Stir together well.
In another large bowl, mix together tomatoes, garlic and red pepper flakes.
Ladle 1 cup of the tomato sauce onto the bottom of the slow cooker then line with noodles, breaking them when needed to cover the whole bottom.
Spoon half the ricotta mixture over the noodles and pat down, then ladle some sauce, then sprinkle with cheese.
Repeat this layering once more.
The top layer will be noodles and sauce - save the rest of the cheese for later.
Cook on high for 2 hours or on low for 4 hours.
Sprinkle with cheese and cover to let it melt, then transfer the slow cooker to the broiler on high and let the cheese brown and bubble (about 3 minutes).
Serve lasagna pieces and reserve the extra sauce to make the soup.