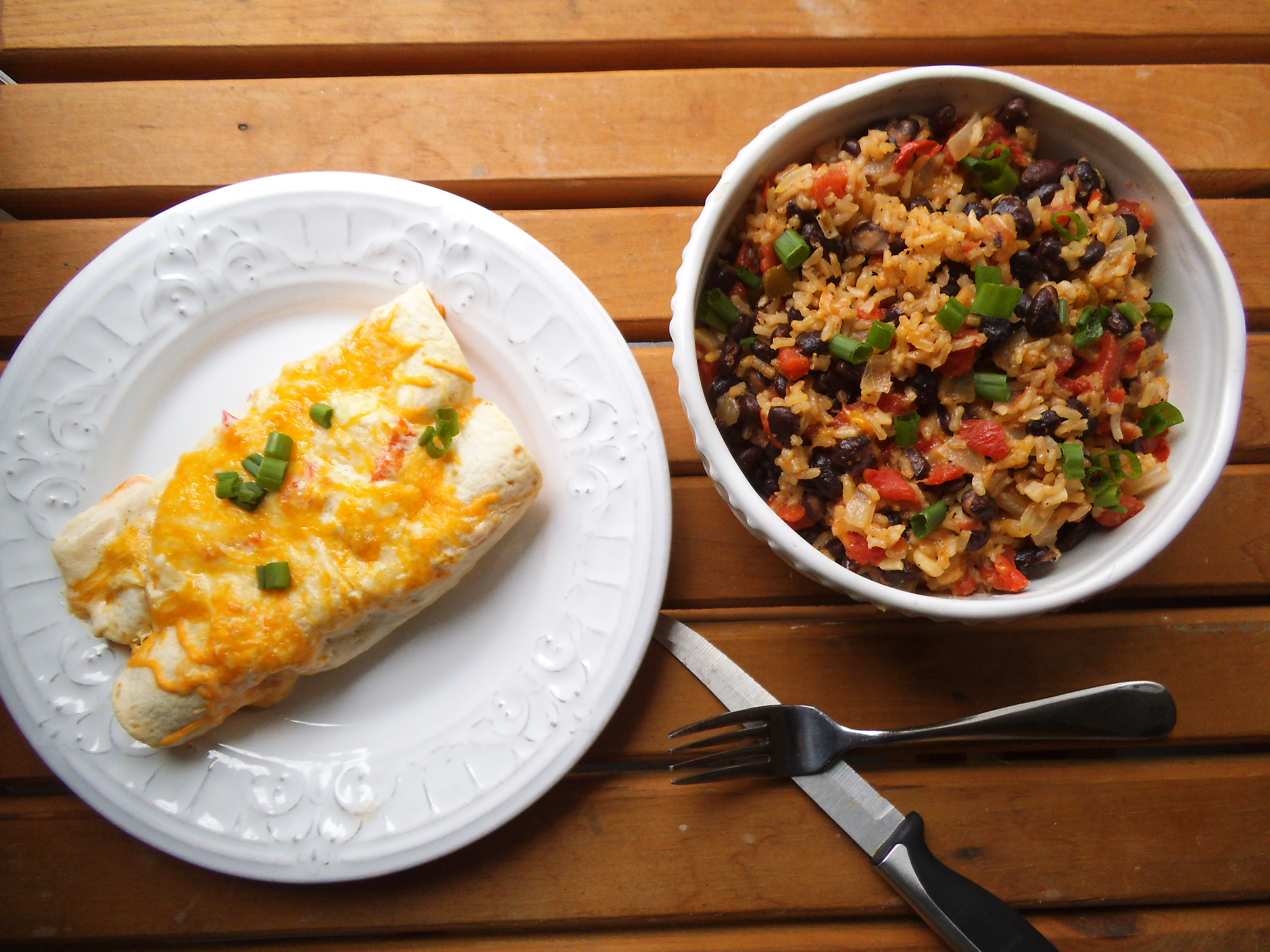 Sour Cream Chicken Enchiladas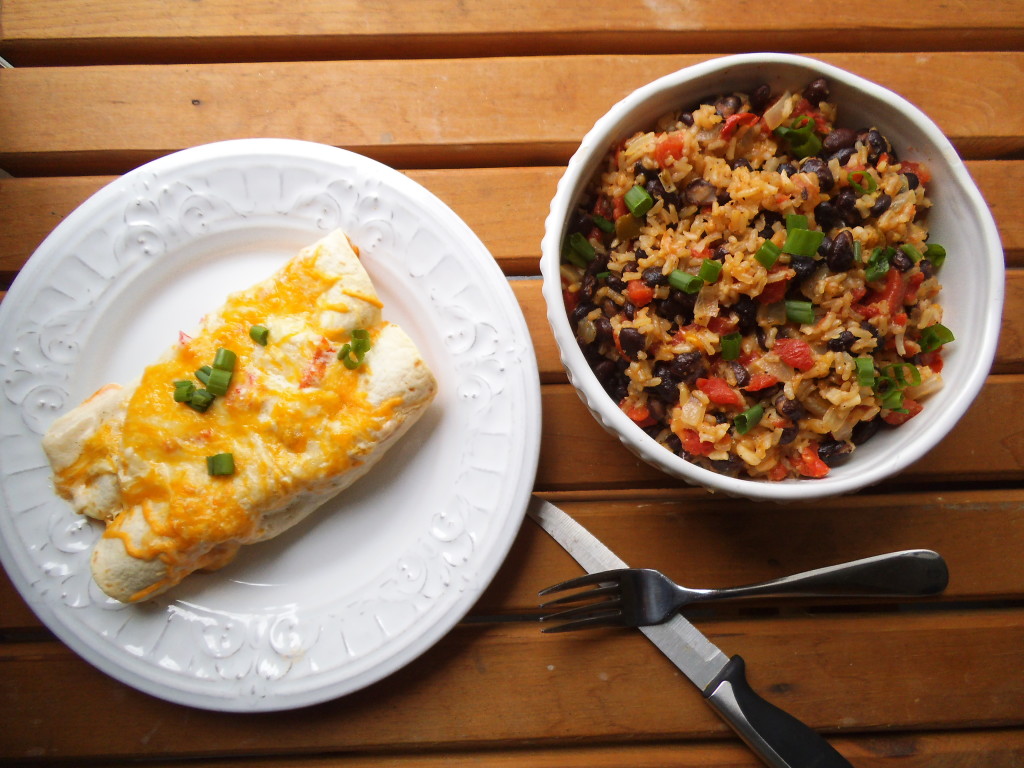 A Creatively Delish favorite!  Cheesy, bubbly and oh-so-yummy!
This morning we woke up to a beautiful dusting of snow covering the trees and grass, but not the roads - the best kind of snowstorm if you ask me!  With this kind of weather, it put me in the mood for some comfort food.  Something cheesy and bubbling in the oven...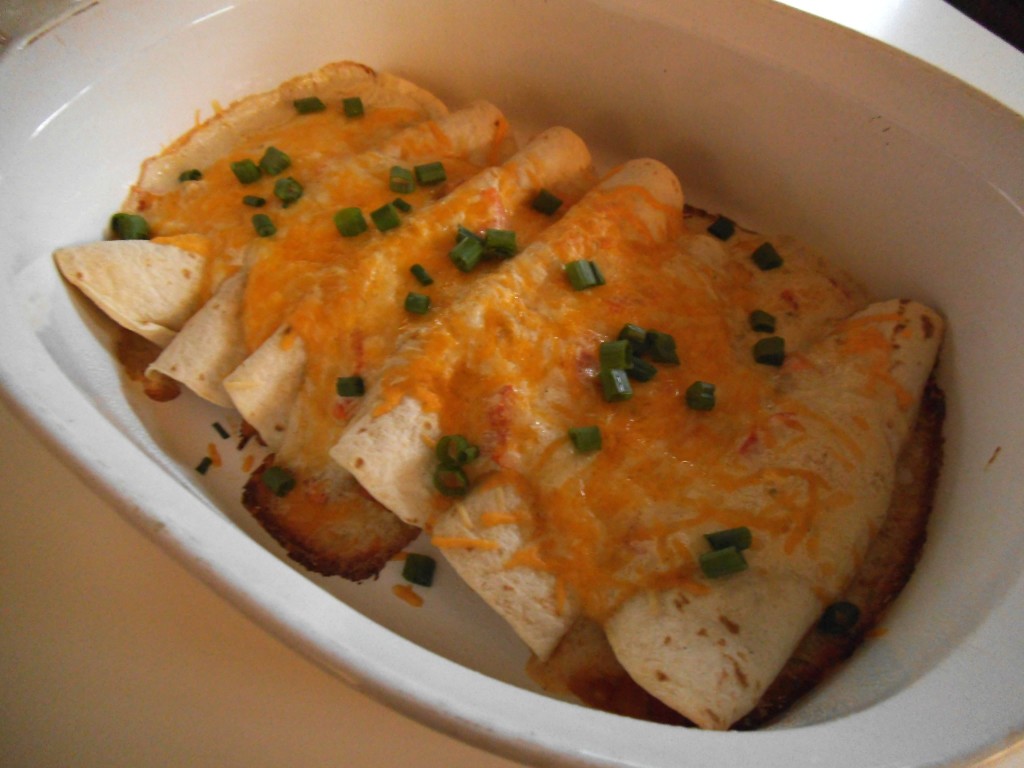 You can never go wrong with bubbling, cheesy, spicy chicken enchiladas baking in the oven!  This is one of our favorite recipes here in the apartment, and we can't get enough of it.  It's so easy to prepare and the sauce makes enough to freeze a second batch for cooking it again!  The chicken is cooked with a mixture of spices similar to a taco seasoning packet, just minus the salt.  Tonight I used chili powder and McCormicks 5-Spice mix, a little garlic and some olive oil.  On other days I have used just a taco seasoning packet and other times just olive oil and garlic to keep it mild.
The best kind of cheese is a hand-shredded pepper jack, but I forgive you if you want to be lazy and use a store bought shredded cheese - I am guilty of it too!    I splurged and had three, but I warn you - these are not a diet food!  You could easily substitute things out to make it healthier, but why bother, these are meant to enjoy once in a while 🙂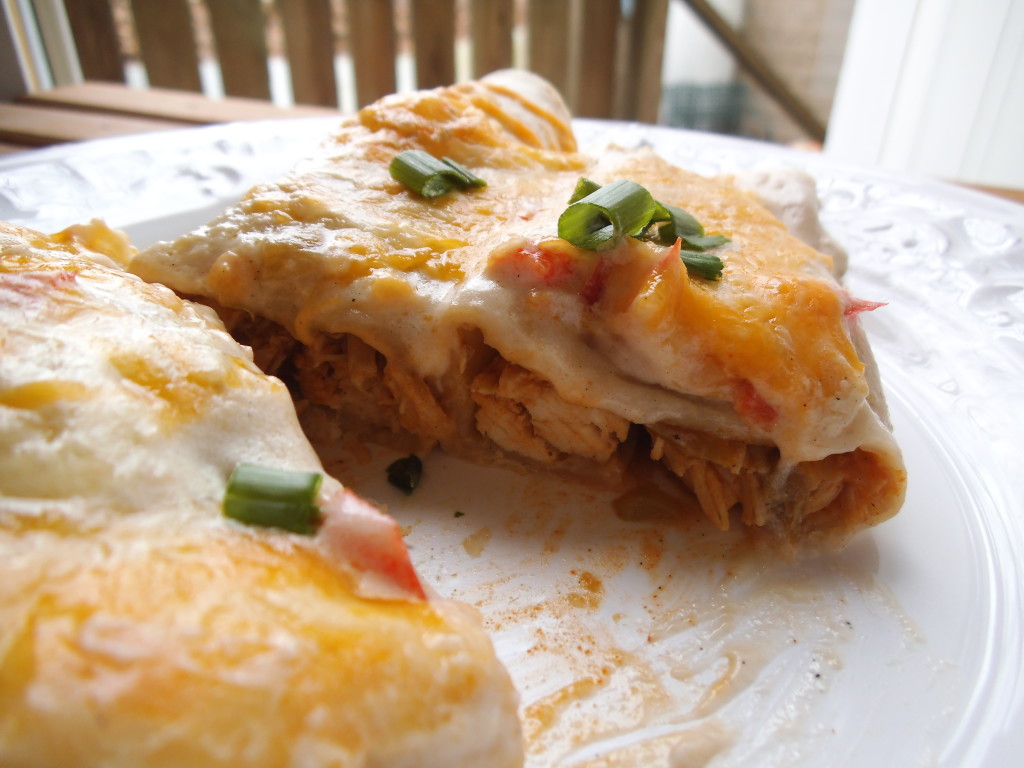 Sour Cream Chicken Enchiladas
Prep time:
Cook time:
Total time:
Ingredients
1 C cubed chicken
1 TBS olive oil
1 tsp each of chili power & 5-Spice mix (McCormick) - or taco seasoning packet
1 tsp garlic, minced
1 small onion, diced
1 can black beans, drained and rinsed
1 can green chiles, chopped
1 can corn, drained and rinsed
1/4 C red bell pepper, diced
1/4 C flour
1/4 C butter
1 C sour cream (light or reduced fat)
1 15 oz Can low sodium chicken broth
1 C shredded cheese
10 flour tortillas
Instructions
Preheat the oven to 400 and line baking dish with olive oil or cooking spray
In a sautee pan, heat olive oil and spices, then add onion and chicken. Cook for 5 minutes, stirring frequently, then add beans and corn and continue cooking.
In a saucepan, melt the butter. Once melted, whisk flour into a roux, then add broth and stir. Bring to a boil.
Once boiling, take saucepan off the heat and stir in sour cream, chiles and red pepper. Stir until combined.
Heat tortillas in the microwave for 30-45 seconds so they dont break when you fold them.
Fill tortillas, then fold into a buritto and place folded side down in a baking dish.
Pour sauce over tortillas in the baking dish and then sprinkle cheese.
Bake in the oven, uncovered, for 20 minutes, or until the cheese and sauce is bubbling.
Serve with chopped green onion if desired.
Makes 8-10 tortillas
3.1.09