Southern Corn Pudding
Ok picture this, a cornbread with tons of corn kernels, but put together with a rich, buttery custard and baked to bubbly perfection.
Ummm helloooooooo, can we say delicious?!
I first learned of corn pudding when I took a trip with my Dad to Kentucky and dined at the most wonderful restaurant, the Merrick Inn.  This place was oozing with charm.  The restaurant is in a historic home to Lexington, KY, with each room containing just a few tables and fireplaces everywhere.  The warmth and charm of the place overtook me and I wish I could go back every week.  We feasted on fried chicken, roasted grouper with a corn, crab and bacon cream sauce, a pork chop with the most heavenly bourbon and cherry glaze on top, and of course, a side of corn pudding.
Let's just say my diet was ka-put that evening.
But really who cares?  Because corn pudding is life.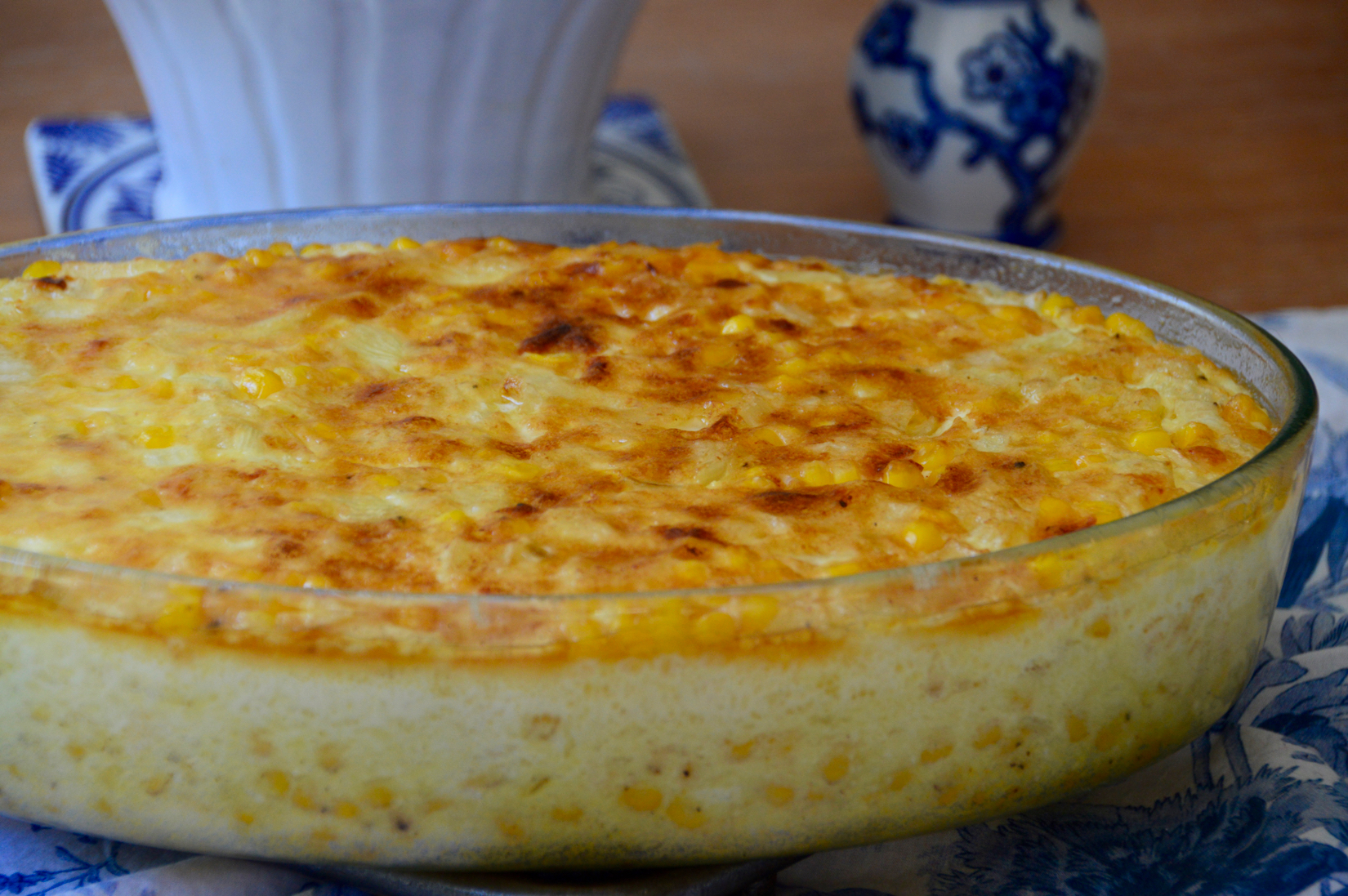 Naturally I become so obsessed with it over the following weeks that I had to make it again.  I scoured the internet to figure out what in fact was in a corn pudding, and I'm sorry to break this to you, but there's A LOT of butter in there.  And cream.  And cheese.  And milk.  And eggs.  And cornmeal.
This of course made me sad, because why would I subject my poor body to so much butter just to satisfy a small craving, right?  But then I found good ole Ina Gartens recipe for corn pudding, and although there is butter, there is certainly less of it than other recipes, along with the addition of half and half and skim milk instead of cream.
The taste?
Still magnificent and just like Merrick Inn.  Although you can tell there is a lack of butter...but thankfully the sweetness of the corn and the richness of some grated sharp cheddar cheese balanced out the butter, and now I have a dish worthy of a holiday meal at any gathering.
Enjoy!!

Southern Corn Pudding
This recipe is Ina Gartens Sagaponack Corn Pudding Recipe minus the basil and definitely something that needs to be shared with the world! You can see the exact recipe at https://barefootcontessa.com/recipes/sagaponack-corn-pudding
Ingredients
6 C frozen sweet corn
1 sweet onion, chopped
½ C unsalted butter
4 large eggs, lightly beaten
1 C skim milk
1 C half and half
½ C yellow cornmeal
1 C part-skim ricotta
1 TBS sugar
1 TBS salt
1 TBS ground black pepper
1 C shredded sharp cheddar cheese
Instructions
Preheat the oven to 375 degrees. Grease the inside of an 8- to 10-cup baking dish.
Melt the butter in a very large sauté pan and sauté the corn and onion over medium-high heat for 4 minutes. Cool slightly.
Whisk together the eggs, milk, and half-and-half in a large bowl. Slowly whisk in the cornmeal and then the ricotta. Add the basil, sugar, salt, and pepper. Add the cooked corn mixture and grated Cheddar, and then pour into the baking dish. Sprinkle the top with more grated Cheddar.
Place the dish in a larger pan and fill the pan halfway up the sides of the dish with hot tap water. Bake the pudding for 40 to 45 minutes, until the top begins to brown and a knife inserted in the center comes out clean. Serve warm.