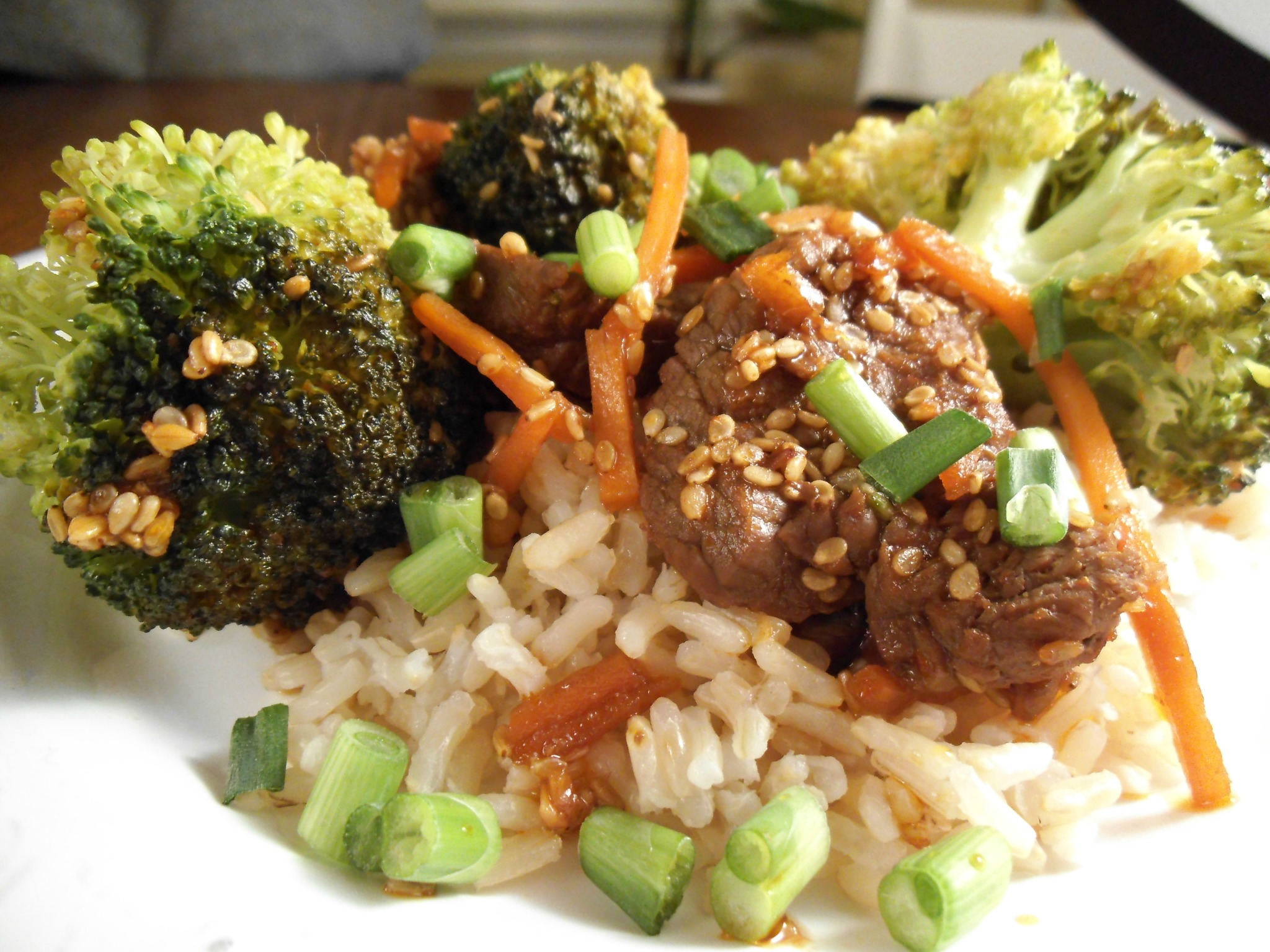 Spicy Sesame Beef & Broccoli Stir Fry
A quick and easy stir fry recipe that goes well with beef, chicken, shrimp or pork.  It's perfect "Take-out, Fake-out" food.
So today Ryan joined me on a trip to Home Goods and unfortunately not his smartest move.
My main intentions were to find the pillows I saw in South Carolina (which of course they didn't have), a new baking sheet (we absolutely ruined our last one beyond repair) and to get a case of good wine glasses (which of course they didn't have).
Those were my intentions.
Instead, I visited the candle and cookware aisles roughly 3 or 4 times, just circling the store, and poor Ryan trying to find any little chair or bench to sit on.  He was asked his opinion on bathroom rugs and the smell of candles, all of which were not intended for my purchase, but I mean really, once you see them on the shelf, there's that light bulb that goes off and you say, "Oh yeah!  I need a bathroom rug!"  And now that their new spring stuff is out, you can't blame me for wanting to smell every candle in the whole darn store!
I will say though that he never once uttered a word, but is that good or bad???  Nonetheless I had to make it up to him, so I cooked him a perfect Sunday night Stir Fry.  We love stir fry in every way possible - peanut sauce, sweet or spicy sauce - and no matter what it always comes out delicious...and it's so easy to make!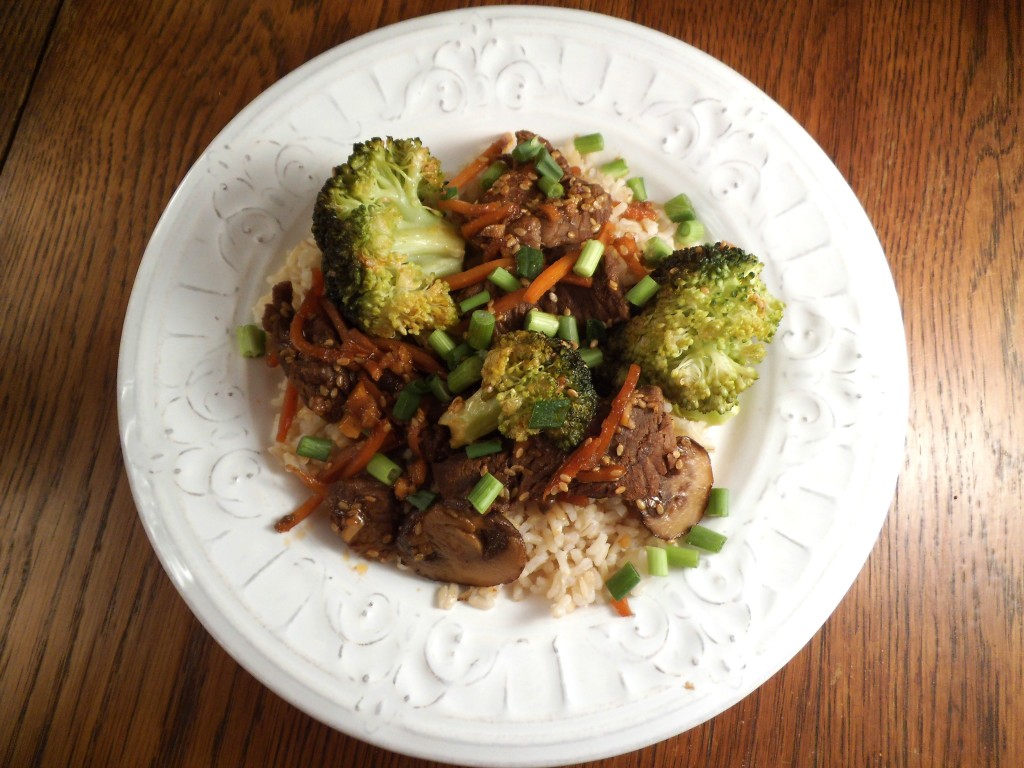 Tonight I had some lean beef, shredded carrots, baby bella mushrooms and a head of broccoli on hand, so that's what I used today.  Other times I throw in onion and pepper, or baby corn and water chestnuts, but we always serve ours with brown rice which I recommend.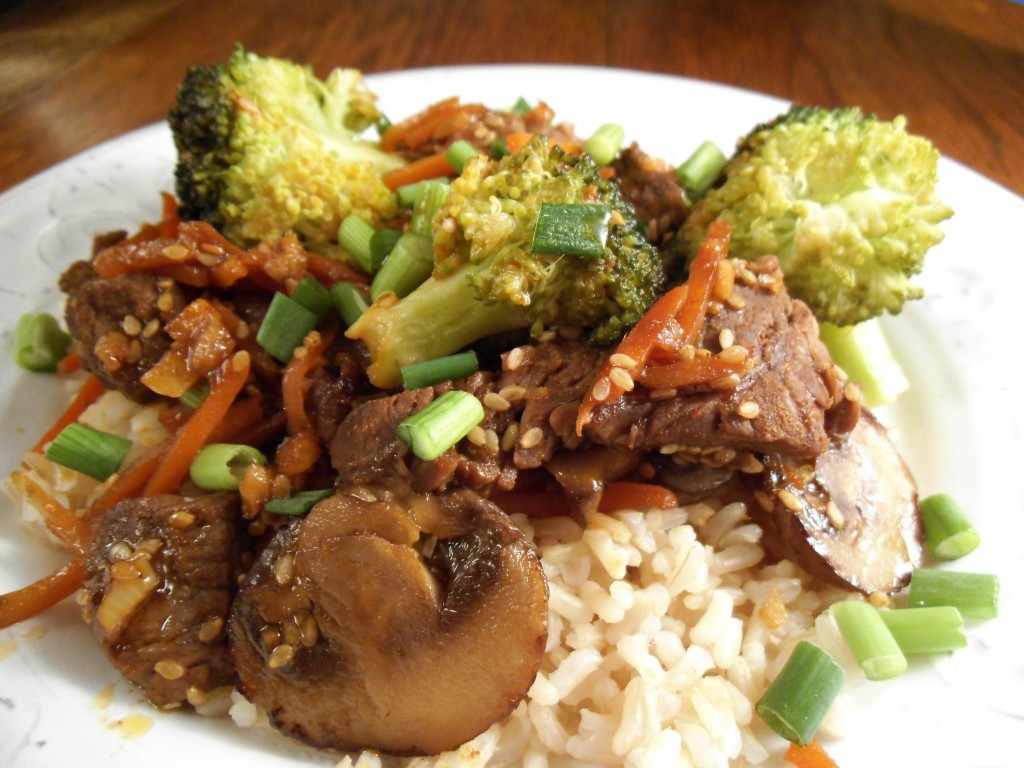 Tonight's stir fry sauce was a little bit spicy and a little bit sweet.  It turned into a savory dish loaded with fresh ginger and garlic, perfect for yet another New Years Resolution Healthy Dinner!
Spicy Sesame Beef & Broccoli Stir Fry
Prep time:
Cook time:
Total time:
Ingredients
•Sauce:
•3 TBS low sodium soy sauce
•1/4 tsp sesame oil
•1 TBS hoisen sauce
•1 TBS Srirachi Hot Sauce
•Dash of honey (about 1 tsp)
•1 TBS sesame seeds
•1 lb lean beef, sliced into thin strips
•1 head of broccoli
•1/2 carton of baby bella mushrooms, washed
•1 handful shredded carrots
•olive oil for cooking
•2 garlic cloves, chopped
•2 TBS fresh ginger, chopped
•scallions for garnish
Instructions
Sear beef on both sides, then set aside.
Steam broccoli in a little olive oil and water until broccoli is partially cooked through
Add beef back to pan along with other veggies, ginger and garlic.
Combine all ingredients for sauce and stir into pan.
Cover and let cook again until beef is cooked through
Serve with brown rice