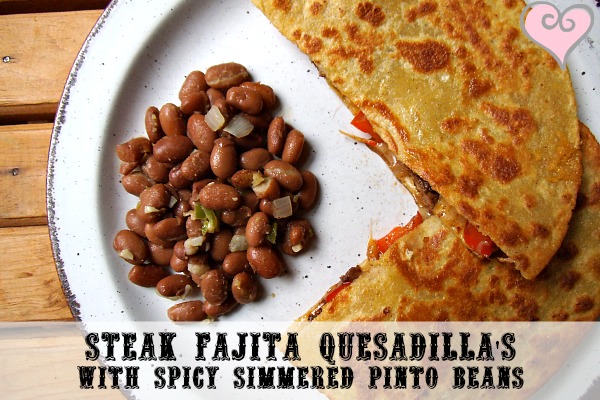 Steak Fajita Quesadilla's with Spicy Simmered Pinto Beans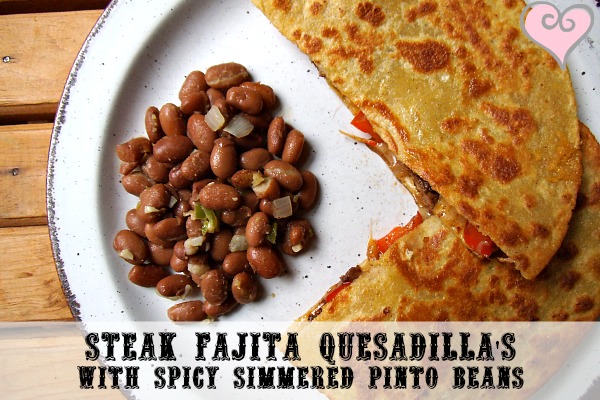 A quick dinner idea that keeps you well under budget.  The spicy simmered pinto beans are a great side for these easy steak fajita quesadilla's, loaded with flavor and great for lunch the next day.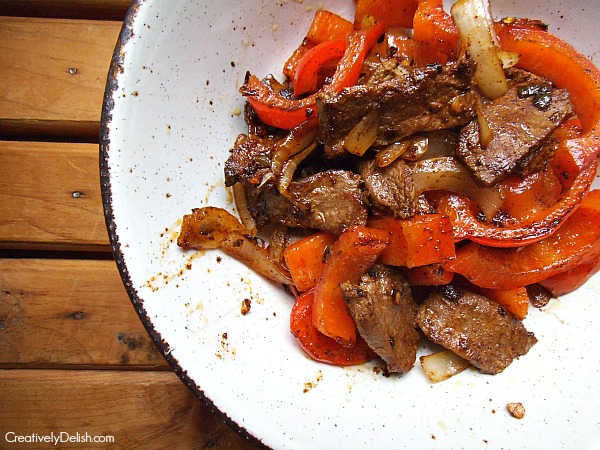 Make sure to leave the veggies on a little longer to caramelize for that delicious boost of flavor.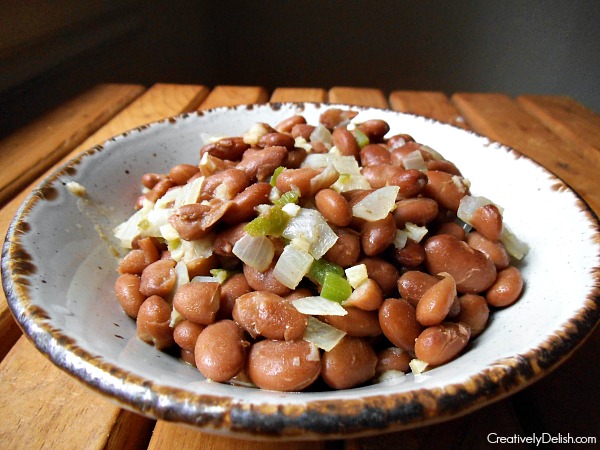 The beans are simmered in broth with jalapeno, onion and garlic to give it a really great authentic taste.  I used the leftovers to throw over salads for lunches the next few days afterwards.  If you store them in an airtight container, they can last up for four days.
Steak Fajita Quesadilla's with Spicy Simmered Pinto Beans
Ingredients
1 lb of a good cut of beef, sliced thin against the grain
1/2 onion sliced + 1/2 onion diced
1 red bell pepper, sliced
1 jalapeno, seeded and diced
2 garlic cloves, minced
1 16oz can pinto beans, rinsed and drained
2 tsp cumin
1 tsp garlic powder
1 tsp chili powder
salt and pepper
1/4-1/2 C low sodium chicken broth
corn or flour tortillas
cheese of your choice, shredded
Instructions
In a large heated pan, add some olive oil and cook sliced onions and peppers for 4 minutes, then add the beef and cook each side of the beef for 2-3 minutes. The slices of beef should be thin so it shouldn't take long to cook.
Add in 1 tsp cumin, as well as the chili powder, garlic powder and about 1 tsp each of s&p.
Remove from heat and set aside.
In a saucepan, add some oil and cook diced onion, garlic and jalapeno for 2 minutes, then add 1 tsp cumin, pinto beans and 1/4 c broth. Let it simmer and add more broth if needed. Drain the broth after 8 minutes and set the beans aside.
Assemble the quesadillas with cheese and beef mixture and cook each side for 3-4 minutes, allowing each side to brown.
Serve with the beans.