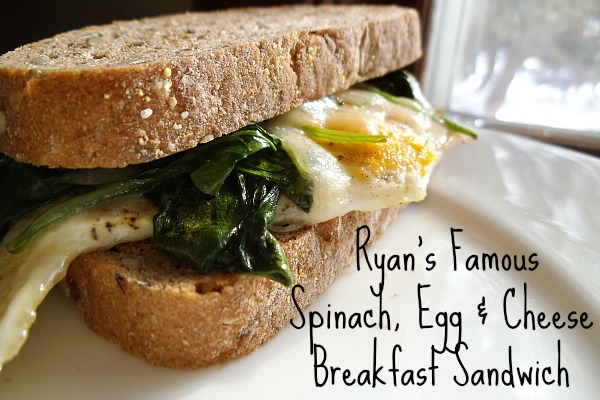 Ryan's Famous Spinach, Egg & Cheese Breakfast Sandwich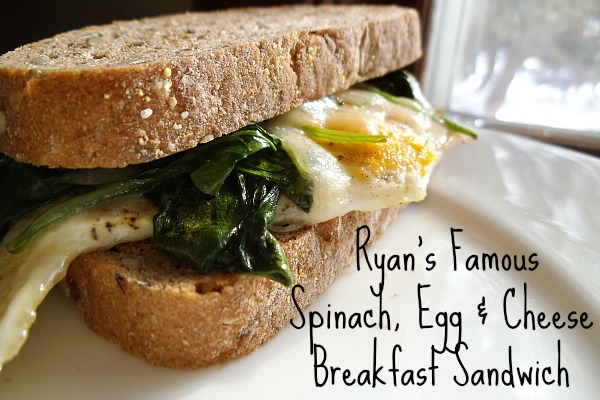 It really is Ryan's famous spinach, egg & cheese breakfast sandwich.  Made almost on a daily basis, making the whole house smell delicious with just a few ingredients.
So let's start with the bread.
Bread is probably the most important part of the sandwich, and this bread has it all.
Sprouted Whole Grain Bread from Whole Foods is full of yummy seeds, nuts and whole grains, making this a perfect bread to hold all the cheesy goodness inside.  Look for a hearty style bread that won't fall apart.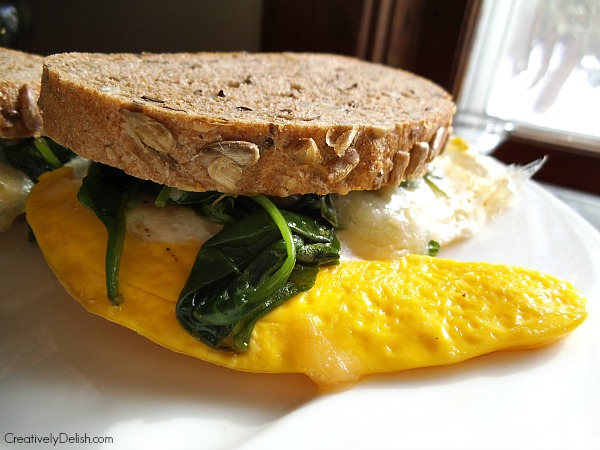 Then we move on to the eggs.  Very important...obviously.
Our favorite way to make eggs is to cook them over-hard, which means drop the egg in, break the yolk, cook fully on one side, flip it then cook until a little browned on the other side.  I like my eggs totally dry - wet eggs are weird.  You could easily make this sunny side up with a drippy yolk or poached for a really drippy egg - it's your call, just not my choice!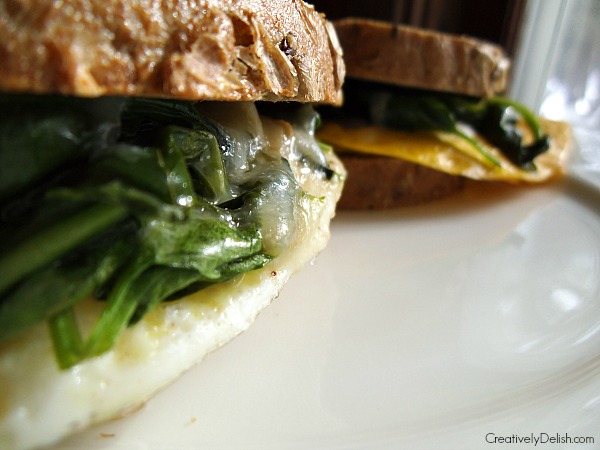 Ryan uses baby spinach, a little salt and pepper and some smoked mozzarella (fresh and sliced/grated himself) for the perfect melt.
Full of protein, fiber, vitamins, minerals and calcium, this sandwich is a winner.
Enjoy!

Ryan's Famous Spinach, Egg & Cheese Breakfast Sandwich
Ingredients
4 pieces sliced whole grain bread, toasted
2 eggs
1 TBS butter
2 handfuls baby spinach
2 slices smoked mozzarella
optional: hot sauce, salsa, guacamole
Instructions
In a large pan, heat butter over medium-high heat and let it melt.
Break the eggs and drop them in to the pan, breaking the yolks. Cook each side for 2-3 minutes or until cooked through, then remove and place one egg on one piece of toast.
Add the spinach and stir frequently until spinach has wilted slightly. Sprinkle with salt and pepper, then remove and evenly spoon spinach over each egg. Turn the heat to low.
Put the first peice of bread with the egg and spinach on it back into the pan and place a slice of cheese over each. Cover and let the cheese melt then put on to a plate.
Put the other bread on top to make a sandwich and enjoy!