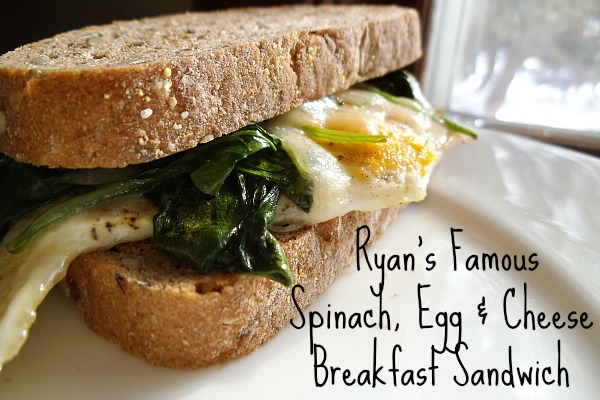 Ryan's Famous Spinach, Egg & Cheese Breakfast Sandwich

It really is Ryan's famous spinach, egg & cheese breakfast sandwich.  Made almost on a daily basis, making the whole house smell delicious with just a few ingredients.
So let's start with the bread.
We like to use Sprouted Whole Grain Bread from Whole Foods, which is full of yummy seeds, nuts and whole grains, making this a perfect bread to hold all the cheesy goodness inside.  Breads with seeds and nuts in them give more flavor, which only adds to the sandwich.
Refined white bread or even whole wheat breads are ones to avoid (always if possible!).  We all know that refined white bread isn't good for us, but even with whole wheat bread, it's still missing essential vitamins, minerals and fiber that a whole grain will have.  So, look for whole grain bread whenever you can.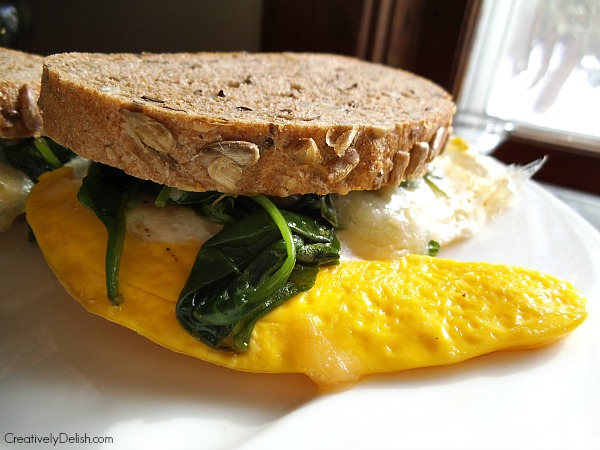 Our favorite way to make eggs is to cook them over-hard, which means to drop the egg in, break the yolk, cook fully on one side, flip it then cook until a little browned on the other side.
You could easily make this sunny side up with a drippy yolk or poached as well.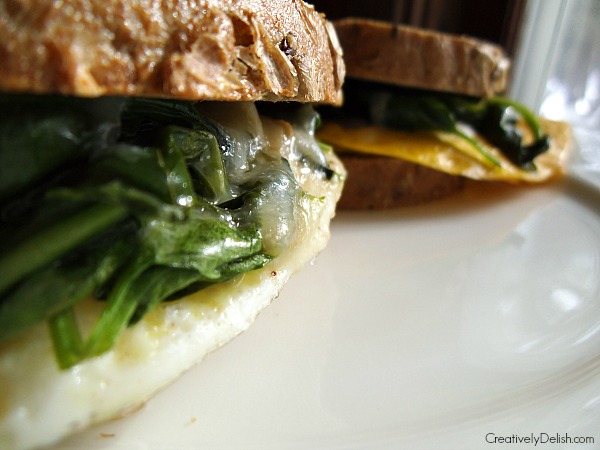 Next Ryan uses fresh baby spinach, a little salt and pepper and some smoked mozzarella (fresh and sliced/grated himself) for the perfect melt.  The smoked mozzarella is the secret here and what makes it so famous.  It gives the sandwich so much flavor!
You could also try sprinkling ground black truffle over the eggs as they cook, which gives them a seriously delicious flavor and an incredible aroma.
Even as boring as a breakfast sandwich can sound, this one is full of protein, fiber, vitamins, minerals and calcium, making this a well-balanced breakfast.
Enjoy!

Ryan's Famous Spinach, Egg & Cheese Breakfast Sandwich
Ingredients
4 pieces sliced whole grain bread, toasted
2 eggs
1 TBS butter
2 handfuls baby spinach
2 slices smoked mozzarella
optional: hot sauce, salsa, guacamole
Instructions
In a large pan, heat butter over medium-high heat and let it melt.
Break the eggs and drop them in to the pan, breaking the yolks. Cook each side for 2-3 minutes or until cooked through, then remove and place one egg on one piece of toast.
Add the spinach and stir frequently until spinach has wilted slightly. Sprinkle with salt and pepper, then remove and evenly spoon spinach over each egg. Turn the heat to low.
Put the first peice of bread with the egg and spinach on it back into the pan and place a slice of cheese over each. Cover and let the cheese melt then put on to a plate.
Put the other bread on top to make a sandwich and enjoy!