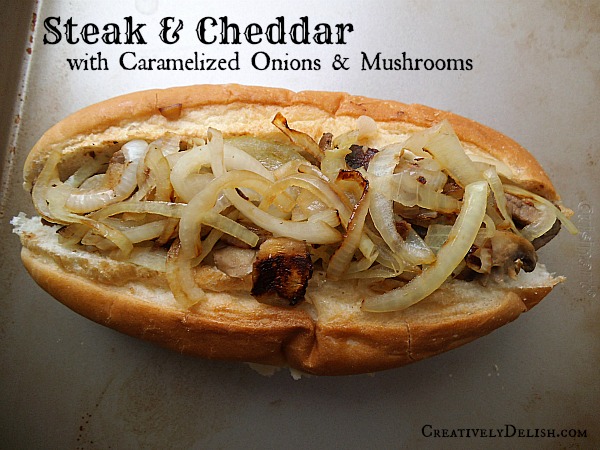 Steak & Cheddar Subs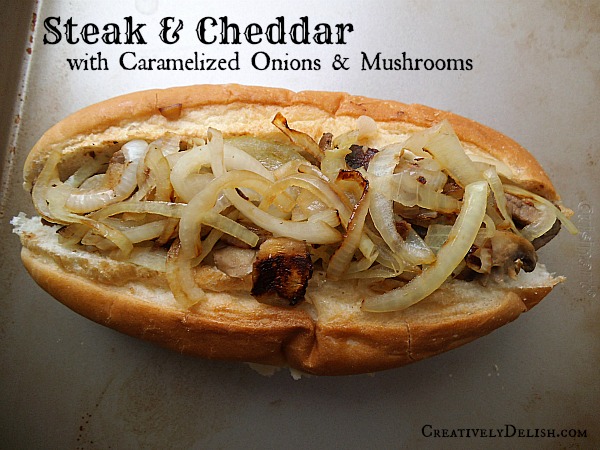 A healthier version of the classic you'd normally order at the pizza place around the corner.
If you've never caramelized an onion before, now is the time to try it out.  I've been using this cooking technique a lot lately because it adds a rich flavor that pairs wonderfully in just about any dish (and you feel a bit fancier with it, especially in a Steak & Cheddar Sub).
Though not the healthiest of choices when it comes to cooking veggies, caramelizing an onion is very easy and yummy.  The quick and easy steps to making your caramelizing onion dreams come true can be found here.
I used a sharp cheddar cheese and grated it myself.  One thing to know about the pre-shredded kind is that they shreds won't melt as easily and as well as a freshly shredded cheese.  If you're in a pinch, go for the prepackaged kind, but if you can, build those arm muscles and start shredding!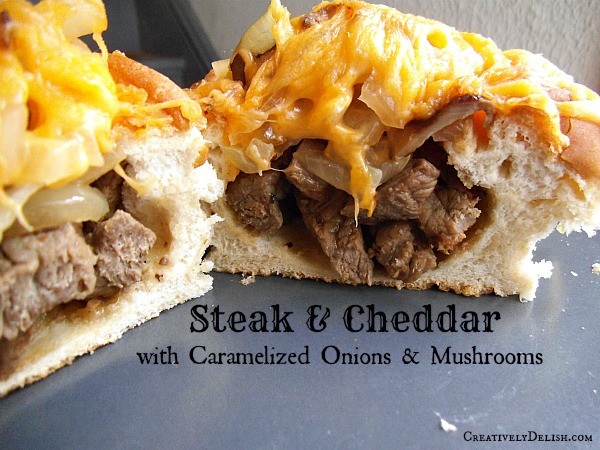 A little tip for those big buns you're going to use:  Drizzle some olive oil onto them after you have cut them down the middle and broil them so they brown up a bit.  Crispy toasted bread is obviously the best way to go!

Steak & Cheddar Subs
Ingredients
Any lean cut of beef, cut into strips. The amount will vary on how much you want in your sandwich.
1 small onion, sliced small and caramelized
½ C shredded cheddar cheese
your choice of bread, toasted
Instructions
To prepare the beef, season with low-sodium montreal seasoning, then cook over medium-high heat until done.
Assemble sandwich then place under the broiler on low to allow cheese to melt.