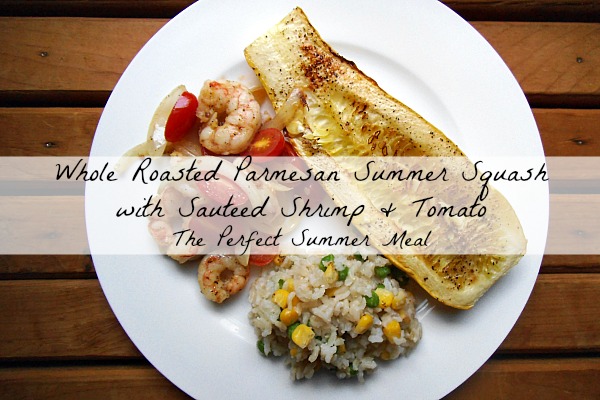 The Perfect Summer Meal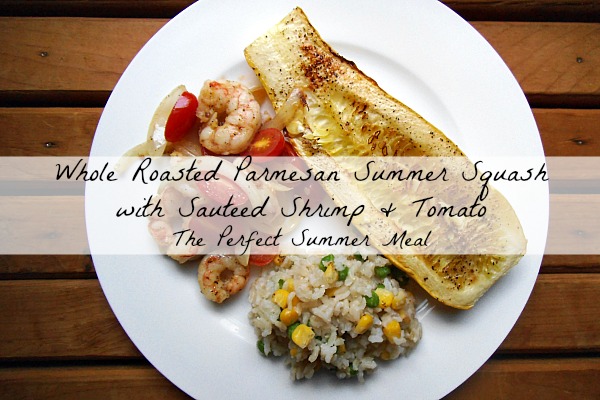 A whole roasted summer squash with parmesan is served with sauteed shrimp, onion, garlic and tomato is the perfect farmer's market summer dinner.  Complete your plate with some perfectly cooked brown rice with peas and corn.
Today when I got in to work there was a lovely, picked fresh from the garden, extremely large summer squash...which is basically the best gift EVER.  (Thank's Paula!)
Gifts like this are hard to come by.  Not only was this grown right in her backyard, but it was also grown the real way - not mass-produced, no chemicals involved to make them grow...just a natural, beautiful squash.  (Am I weird?)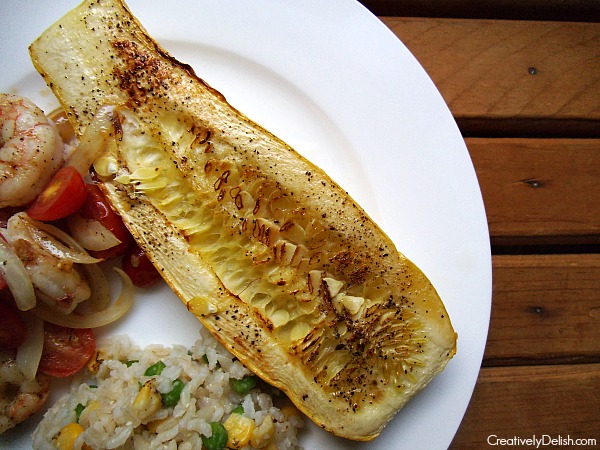 This particular squash is comparable in size to a spaghetti squash which is exciting because that's hard to find, so naturally I just cut it in half lengthwise, drizzled a little olive oil over it, sprinkled some s&p, and bam!  Pure perfection.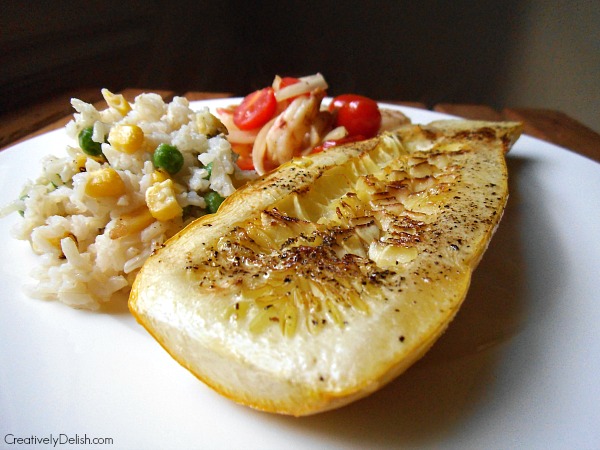 So once I had that in the oven I got to thinking.
I had some frozen shrimp in the freezer that I wanted to use anyways, and what could be better than the simple flavors of sauteed shrimp with fresh tomatoes, onions and garlic.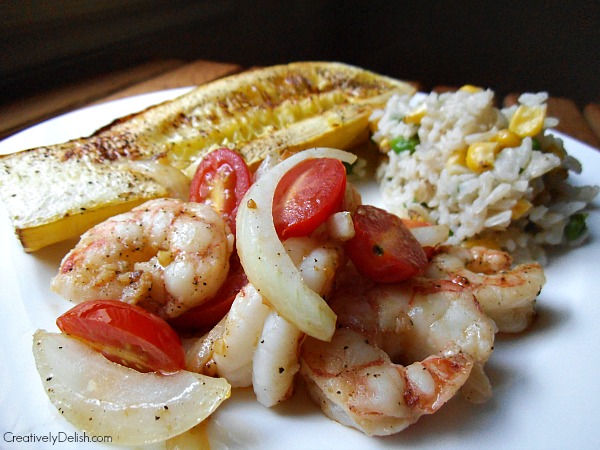 The flavors came together so perfectly - it was one of those meals that I didn't need any spice for, just the fresh flavors of summer.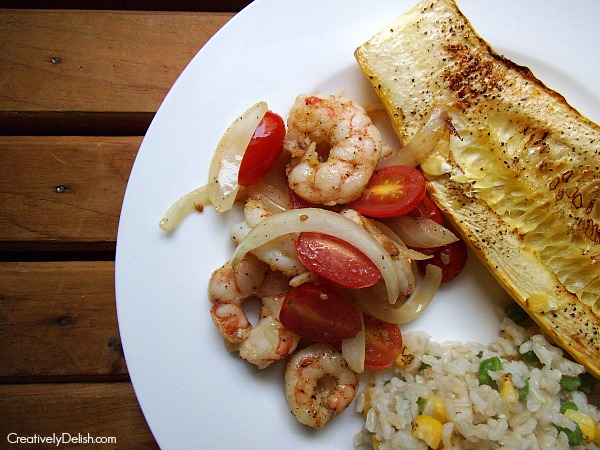 So to complete the meal, you need some sort of whole grain, right?
Yes!  So cook up some brown rice, mix in some organic frozen peas and corn, sprinkle in some salt, maybe a little butter if you want to get crazy and that's what a perfect farmers market meal should be.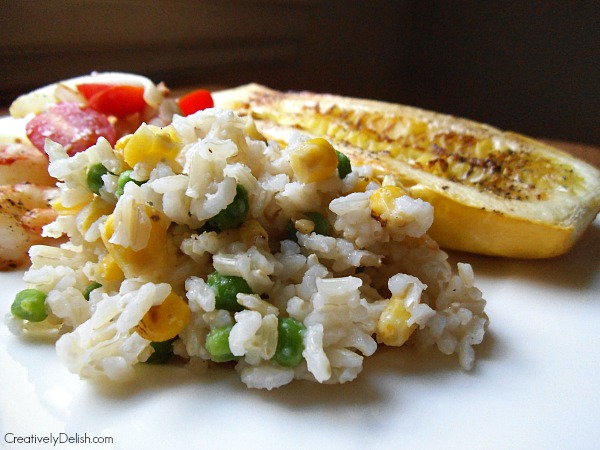 Oh right, back to the whole roasted parmesan summer squash...
Once it's done roasting, sprinkle some fresh parmesan flakes over the tops, let it melt a little, then enjoy.  It's a tasty balance of flavors that you're sure to adore.
Fresh vegetables cooked just right with perfectly sauteed shrimp and a simple whole grain - that's what a perfect farmers market summer dinner should be.
Enjoy!
The Perfect Farmer's Market Dinner
Cook time:
Total time:
Ingredients
1 large summer squash, cut in half lengthwise
12-14 peeled and deveined shrimp (6-7 shrimp per person)
1/2 vidalia onion, sliced into thin strips
1 cup cherry tomatoes, halved
1 tsp minced garlic
1 TBS olive oil
salt and pepper
parmesan cheese for sprinkling over squash
1 cup brown rice
1/4 each frozen peas and corn
Instructions
Cook rice according to package directions then stir in the peas and corn, s&p for taste and some butter (a small spoonful if desired).
While the rice cooks, preheat the oven to 450 and line a sheet pan with tin foil. Coat the squash lightly with olive oil, salt and pepper, then place the cut sides down. Roast for 20 minutes, remove from the oven then carefully flip over and sprinkle the tops with parmesan cheese.
In a saute pan, heat some olive oil and the garlic, then stir in onions and tomatoes. Cook for 5 minutes, then add the shrimp. Cook the shrimp for 2-3 minutes per side and sprinkle with salt and pepper.