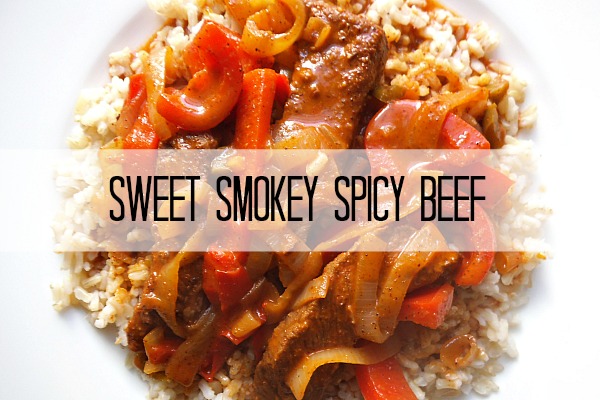 Sweet Smokey Spicy Beef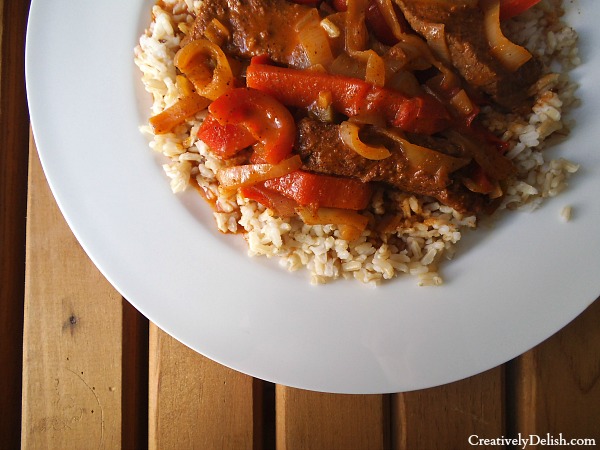 Tender beef slow simmered in a light coconut milk-based marinade, served over rice - all done in under an hour.
Sweet Smokey Spicy Beef - say that ten times fast.  But really, under an hour to tender cuts of beef with BIG flavor.
I love this because it's so easy to make and the end result is a dish that you'd think took hours upon hours to make.
So let's get to it, shall we?!
First, the spices.  Cumin, smoked paprika (I actually bought mine at a Home Goods in the food section, but you can find it almost anywhere.  Regular paprika is fine too but the smokiness gives the dish an extra boost), chili powder, salt and pepper.  Simple enough!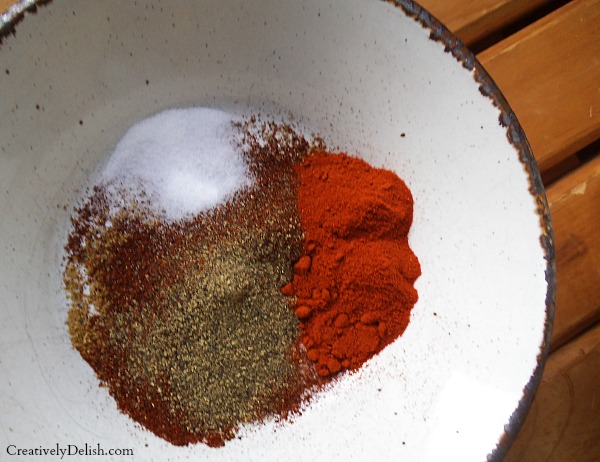 Then comes the jalepeno.  Be sure when you dice a jalepeno to use gloves and remove the seeds.  The seeds have an oil that will stay on your hands for days and can burn skin.  If you want lots and lots of spice, leave the seeds in while dicing and cooking, however I recommend taking them out since without the seeds still give a kick of hotness.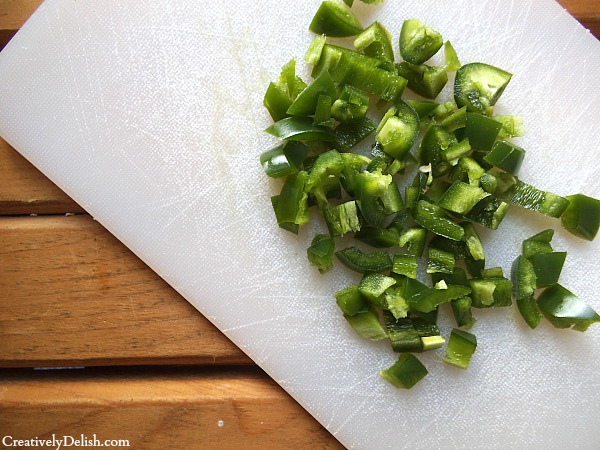 What gives the meat it's tenderness so quickly is the fresh lime juice added to the marinade before cooking.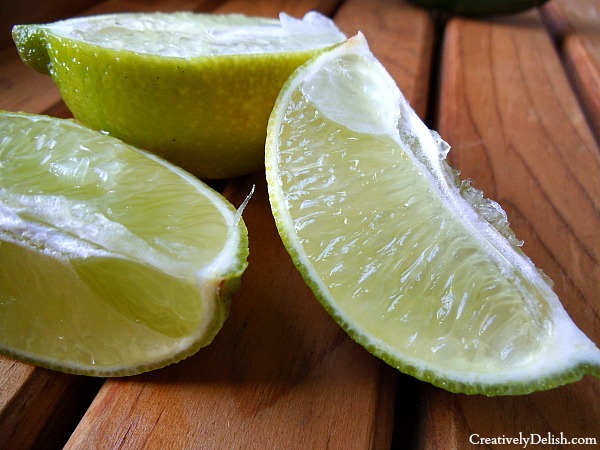 Squeeze the lime over the beef in a bowl and stir to combine.  The longer you let this sit the more tender the beef will be.  I only let it sit for 5 minutes and it was perfect.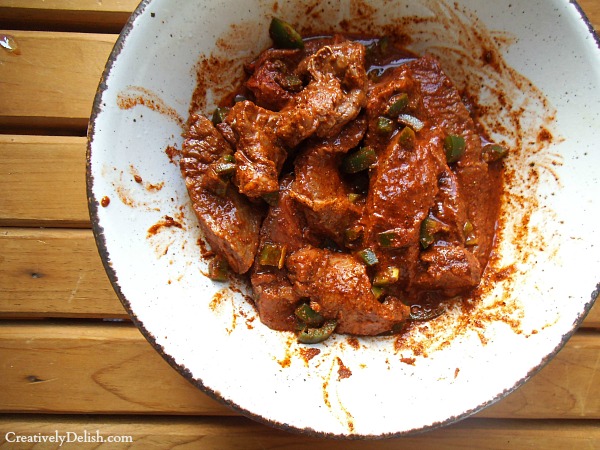 Pour in some light coconut milk after letting it sit, then transfer the entire bowl into a hot pan, then let the magic happen!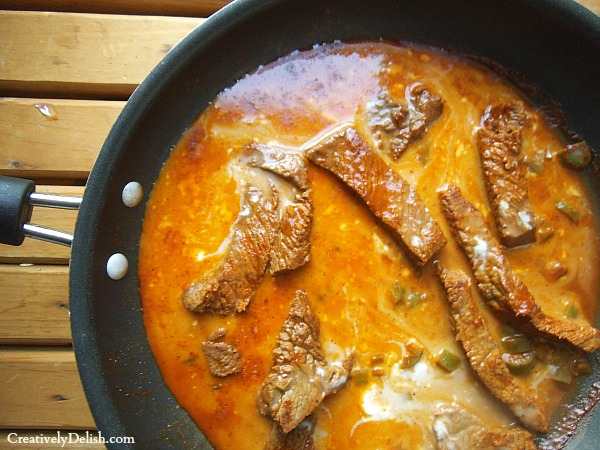 As it cooks, keep adding the milk after the sauce in the pan starts to thicken.  Halfway through the cooking, add in the sliced peppers and onions.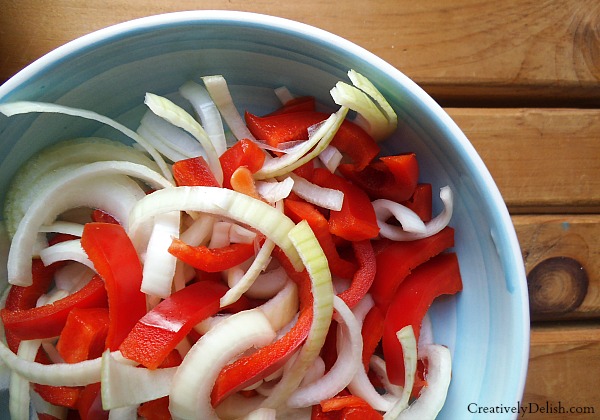 Be sure to cover after stirring to retain moisture to leave it alone to let it simmer for at least 8-10 minutes between stirrings.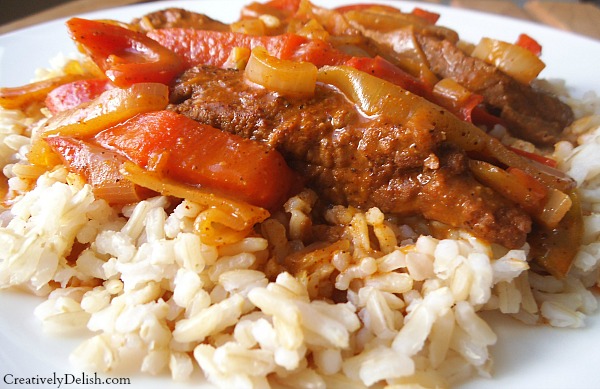 Once the beef has simmered enough to allow to the sauce to thicken and you have used the rest of the milk, it should be finished.  At this point, taste test the sauce because you may want to add more salt (I added another 2 or 3 pinches at the end).  Serve over brown or basamati rice.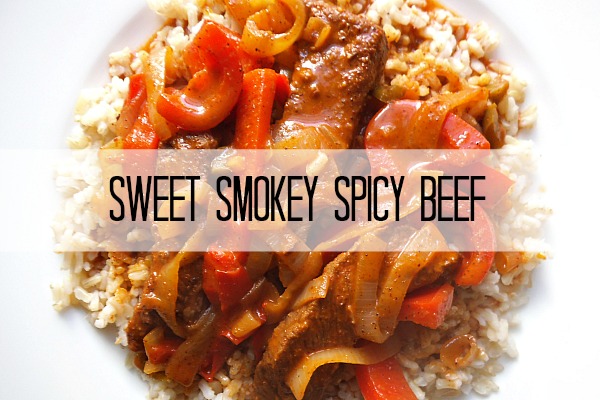 Sweet, Smokey & Spicy Beef
Prep time:
Cook time:
Total time:
Ingredients
lean cut of beef - about 3oz per person (a deck of cards)
1 can light coconut milk
1 TBS smoked paprika
1 TBS chili powder
1 tsp cumin
1/2 TBS salt (more to taste if needed)
1/2 TBS pepper
1 jalepeno diced, seeds removed
Juice of 1 lime
1 medium onion, sliced
1 medium red pepper, sliced
1 C brown rice - 1/2 C per serving
Instructions
To prepare the beef, trim off fat and discard.
In a bowl, combine paprika, chili powder, cumin, salt, pepper, diced jalepeno and lime juice. Mix together then coat the beef with it. Once the beef has been coated, pour 1/3 of a can of light coconut milk over and stir to combine.
Transfer all liquid, spices and beef to a hot pan, bring it to a low boil, then cover and let it cook for 5 minutes.
After 5 minutes, flip over the beef and use a spoon to recoat the beef. Cover again and cook another 5 minutes. The sauce should be turning a caramel color and thickening slightly. This is when you should start to add more coconut milk. You want the sauce to stay thick, but by not adding more milk the sauce will get too sticky.
After the second 5 minute simmer, add the onions and peppers. Continue adding more of the coconut milk little by little and cover again to let it slow boil.
Let this cook another 20-30 minutes at a low boil, checking on it every few minutes to flip the beef, re-stir the sauce and add more milk.
Once the beef is tender to your liking, serve over rice and enjoy!