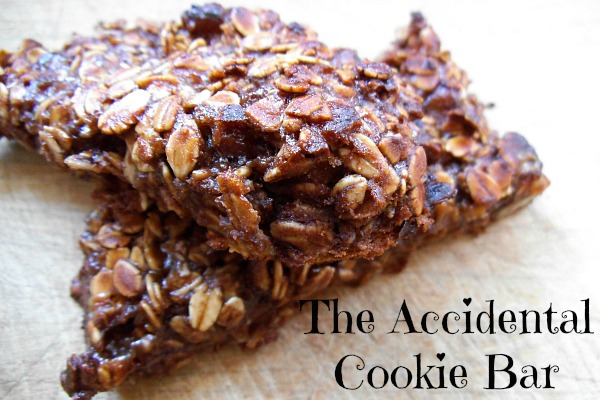 The Accidental Cookie Bar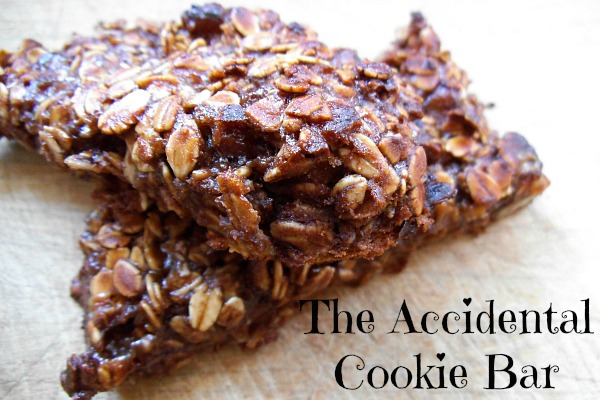 Do you ever have one of those nights when all you want is something sweet and your options are minimal at best?  This was my problem the other night, and here was my fix.
Banana, oats, an egg, some nutella and some random chopped pecans and toffee bits in the pantry are all I needed to satisfy my craving.
Ryan and I are house and dog sitting this week and far, far away from our home and creature comforts.  The house is wonderful and beautiful and lovely...except that we couldn't find one darn cookie, even one little chocolate chip, a jar of frosting...nothing....anywhere in the house.  We looked, we really did.  We were getting desperate.
I remembered the fact that I am not, and never will be, a famous baker, however none of that mattered when I realized I had an egg, oats and a banana.  Those three ingredients are the only thing I know how to bake with.  If you have those three things, you can do anything...or maybe just cookies or pancakes, but still that's pretty good.
With those three as "binders", you can add whatever you like and create something totally delicious.  That is why I called my website Creatively Delish...get creative!
The toffee helped to keep it sticky and melted during the process, creating a caramel-sticky kind of texture.  I had no intentions of this happening, I just love toffee and figured I would throw some in.  Low and behold, it was a fantastic idea!  I found some chopped pecans and obviously needed to use those - they are so good and give them a necessary crunch.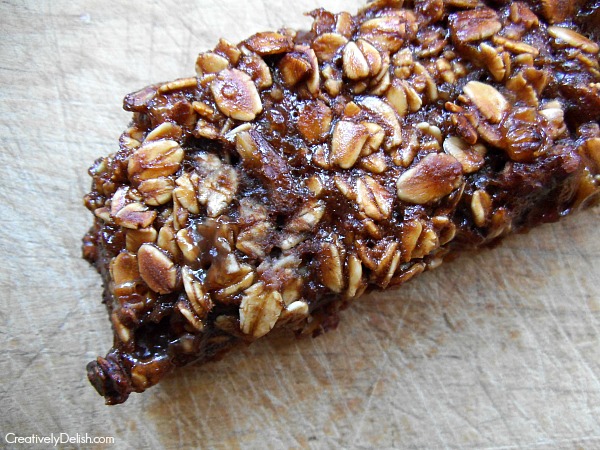 As random as these were (made at 9pm on a Sunday night out of desperation), I couldn't not share these.
If you make them, be sure to put any leftover bars in the fridge and just heat them up before eating.  Throw whatever you like in there, just as long as you start with those three basics.
Enjoy!

The Accidental Cookie Bar
The toffee chips make these bars into caramelized, rich treats, with a slight banana flavor and a crunch of pecans...basically this was a total random idea that actually worked.
Ingredients
1 egg, beaten
1 mashed banana
1 C old fashioned oats
4 TBS nutella
1 TBS chopped nuts - I used pecans
½ TBS toffee pieces
Instructions
Preheat the oven to 400 and grease a baking sheet.
In a bowl, combine egg with oats and stir to combine, then add in the nutella, nuts and toffee. Combine until it forms a thick consistency - adding more oats if it's too wet.
Pour the mixture on a baking sheet and form into a long rectangle, making sure it is all one thickness.
Bake for 10 minutes, then use a knife to cut each bar. Put it back in the oven and bake another 10 - 15 minutes, or until the middle has cooked through and the outside has browned.
Remove and let them cool, then eat the all right then and there - let nothing go to waste!