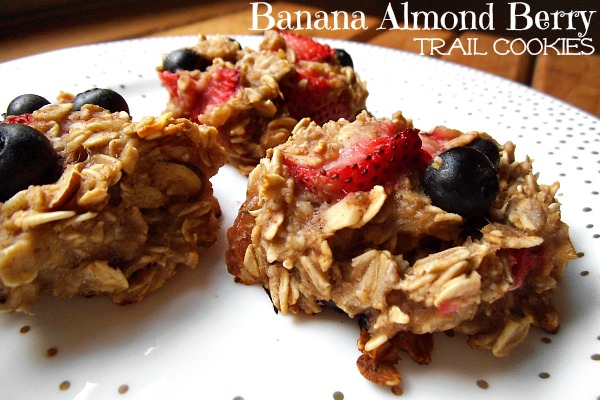 Banana Almond Berry Trail Cookies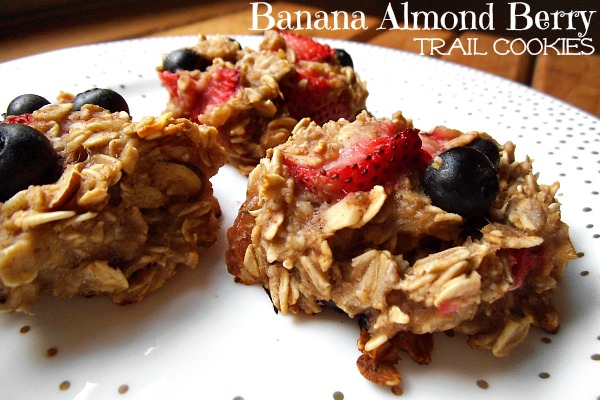 These perfectly moist little trail cookies pack a big punch with filling fiber-rich oats, healthy fats and protein from almonds and a healthy dose of good carbs from the banana and berries.  It was a great addition to our hiking trip up to the White Mountains this past weekend!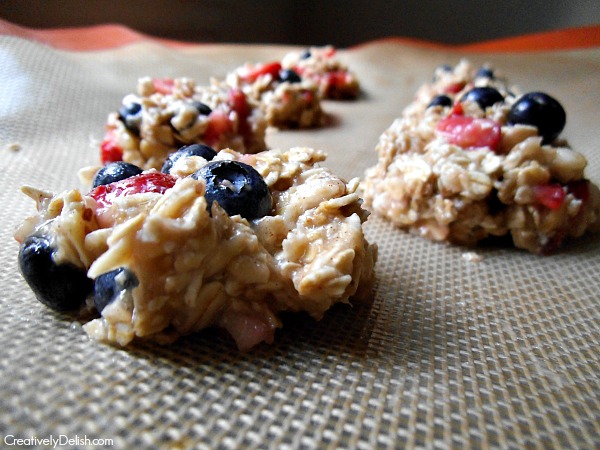 Delicious, beautiful little bites of heaven 🙂
So here's a few questions for you...
What do I do with these ripe banana's that have minutes left in their lives?
I'm going hiking and need nutrition...what do I make?
It's summer so berries are totally in season, how can I enjoy them even more?
I'm hungry, so now what?
The answer?
Banana Almond Berry Trail Cookies.
You know what the best part is?  The only ingredients are banana's, almonds, berries, oats, and cinnamon.  Pure Perfection.
You could make them even better by adding unsweetened toasted coconut flakes too!  Oh the possibilities are endless!
Want to know how to make them now?!
Start with laying it all out...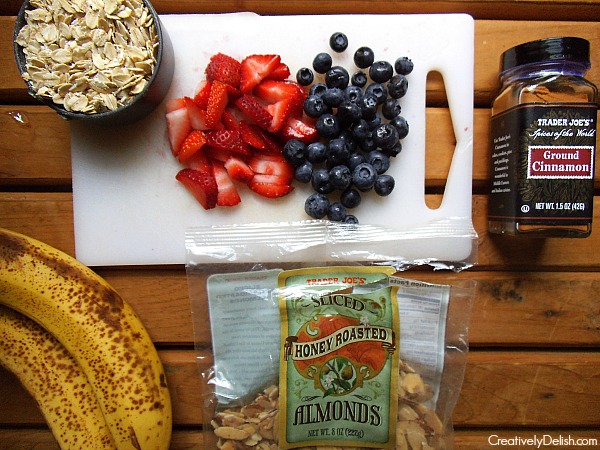 Then in a small bowl, mash the banana's and mix it together with 1 cup of old fashioned oats, 1/4 cup of the honey roasted almonds and a dash (about 1 tsp) of cinnamon.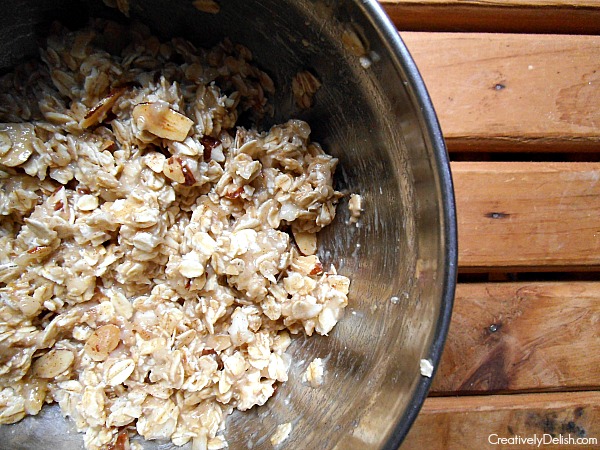 Gently fold in the berries - if you go too hard with them you'll end up with smooshed berries!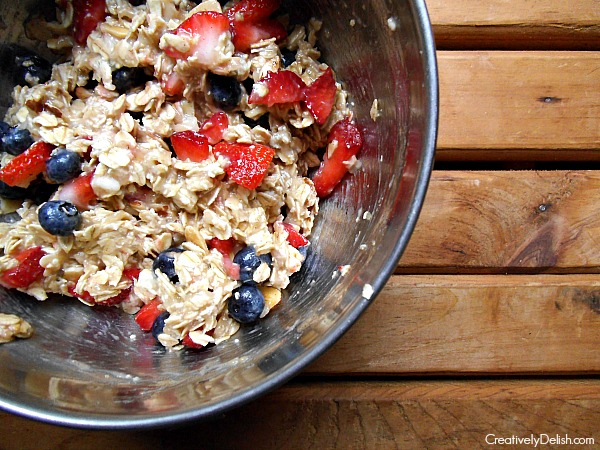 Line a baking sheet with a silpat or you could very lightly grease it with a spray or coconut oil, then spoon little balls of the mixture on to the pan.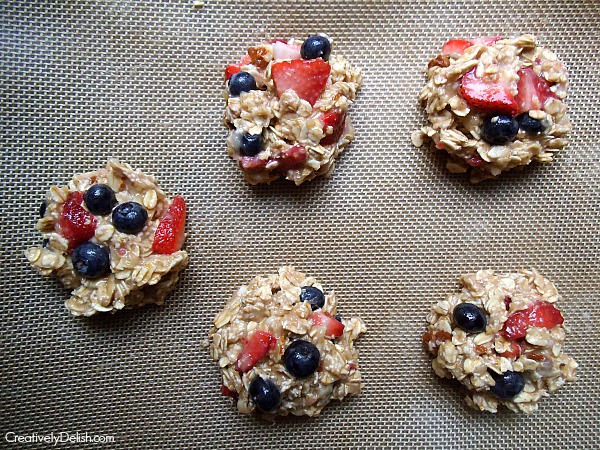 Make sure you set the oven to 350!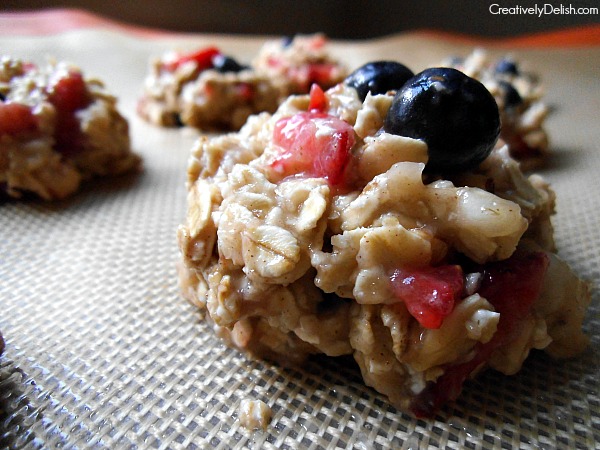 Let them bake 15-20 minutes, making sure the bottoms are set and slightly browned and the oats on top have started to brown as well.
Let them cool, then enjoy!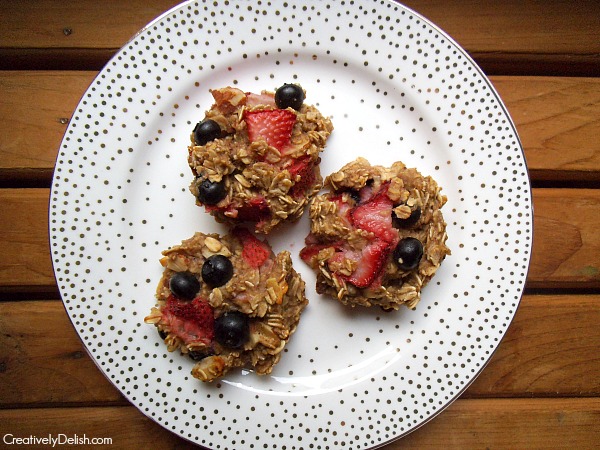 Store them in an airtight container in the fridge for up to three days.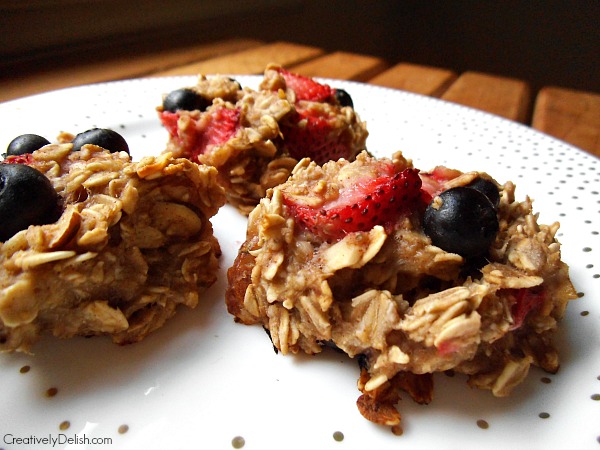 Banana Almond Berry Trail Cookies
Prep time:
Cook time:
Total time:
Ingredients
2 very ripe bananas, mashed
1 cup old fashioned oats
1/4 cup honey roasted almonds
1 tsp cinnamon
a handful of blueberries
about 4-5 strawberries, sliced into smaller pieces
Instructions
Preheat the oven to 350.
In a bowl, combine the first five ingredients, then gently fold in the berries.
Spoon small amounts of the mixture onto a lightly greased pan or silpat, then bake for 15-20 minutes or until browned slightly
Let them cool for about 30 minutes to set then enjoy!
Store in an airtight container in the fridge for up to three days.