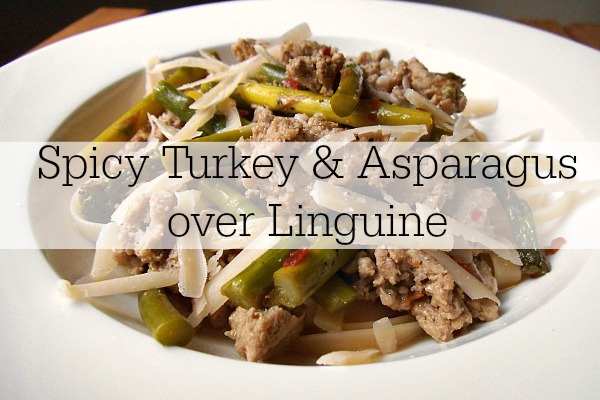 Spicy Turkey & Asparagus over Linguine
I had a craving for  "Sausage & Broccoli Rabe" that you typically see in Italian restaurants, but since I didn't have sausage or broccoli...I had to improvise.  The result?  Perfection.  With way less fat and calories to boot.
If you don't season lean ground turkey just right, it comes out bland and boring, so this was a great protein to use in this dish because I could easily build on the seasonings being thrown in.
The sauce is a rich combination of olive oil, fresh garlic slices, white wine, a little broth, salt, pepper, oregano and red pepper flakes.  If you're like me and love spice, use 1 tablespoon of red pepper flakes, but for a milder taste, opt for 1 teaspoon instead.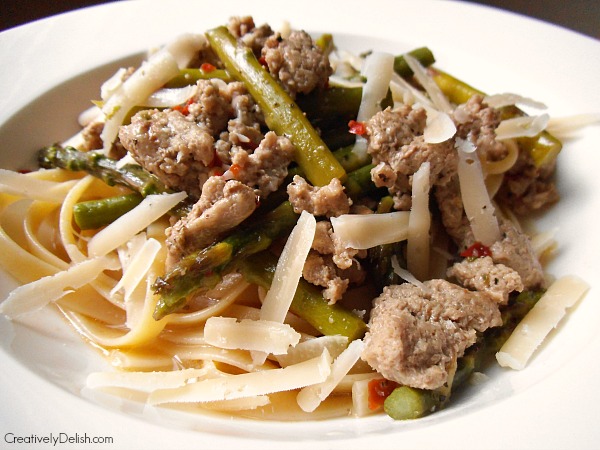 This was a quick and healthy dinner I threw together in about 30 minutes - how easy is that?!
Spicy Turkey & Asparagus over Linguine
Prep time:
Cook time:
Total time:
Ingredients
1 lb lean ground turkey
about 15 asparagus spears, washed, ends cut then cut into halves
3 cloves garlic, sliced thinly
1/8 C olive oil
1/4 C dry white wine
1/4 C chicken broth (low sodium)
1 tsp or 1 TBS red pepper flakes
salt and pepper to taste
1 tsp oregano
6oz linguine, cooked according to package directions
1/8 C shredded parmesan cheese + more for garnish
Instructions
Cook pasta and set aside.
In a large skillet, cook turkey until fully done and broken into pieces, then remove and set aside.
In the same skillet, heat the olive oil and cook garlic 1-2 minutes, then add asparagus and stir to combine. Add broth, wine, seasonings, cheese and the turkey and stir to combine.
Cover and let simmer for about 5-8 minutes or until asparagus is cooked slightly.
Add the linguine into the pan and stir to cover the noodles in the sauce.
Serve with parmesan cheese as a garnish and enjoy!