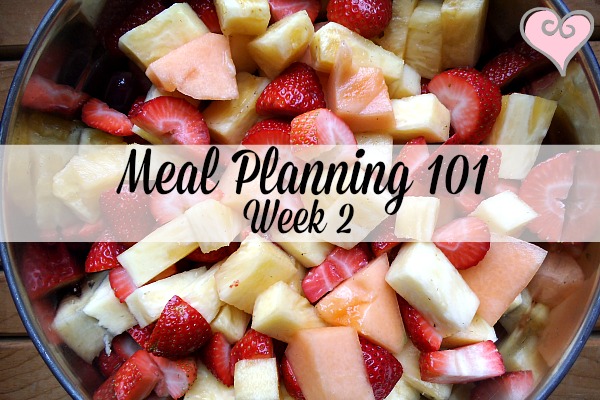 Week 2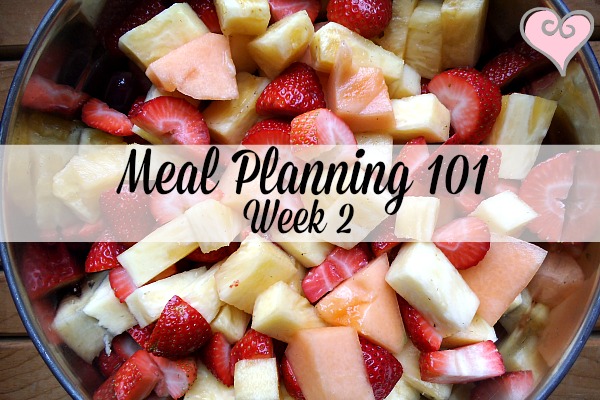 This week we will focus on a few more healthy snacks along with lunches and dinners.
Plan to follow the same menu as week 1 for breakfasts, unless you're bored and then by all means switch it up!
For snacks, I have planned for you to have fruit for your morning snack and a whole grain bar or small salad as an afternoon snack.  The fruit will give you energizing carbs to get you through the day and once lunch has passed, it's all about loading up on the veggies and whole grains!
Here is your menu for this week:
Snacks
Fruit Salad - Fruits are coming into season now, so there should be strawberries, raspberries, kiwi, pineapple, cantaloupe, blueberries, etc on sale, so grab a few of those and cut them up when you get home to make a big fruit salad.  I like to make a big bowl of it to keep in the fridge then spoon some into tupperware for perfectly portioned snacks.  It's also great to have in the fridge for when you want a snack - it will be the first thing you see and probably the first thing you'll choose to grab.
Kind Dark Chocolate Chunk Granola bars - a great way to get something sweet in the afternoon!  These are gluten free, all natural non-GMO and made with oats, millet, quinoa, amaranth and buckwheat (and only 150 cals for a pretty over-the-top satisfying PM snack.
Tomato & Cucumber Salad - Find the recipe and a few other snack ideas (some already on this list!) for your week.
Lunch
Spinach Salad - loaded with veggies, topped with a protein and drizzled with Avocado Vinaigrette.  A sweet, smokey and delicious lunch!
Sirracha Tuna over a salad or in a pita - Combine 1 can tuna in water (drained), with 1 tsp mayo, 1 TBS sirracha, 1/2 red bell pepper diced, 1/2 a roasted red bell pepper and a dash of hot pepper flakes.  Mix to combine and enjoy.  This can all be made in advance.  The peppers can be roasted on a Sunday and can be stored for up to 4 days and the tuna salad itself can be made up to 2 days ahead.
Dinner
Cajun Shrimp Tacos with Cilantro & Lime Rice
Pan-Seared Cod with Spicy Roasted Red Pepper Sauce - served with Roasted Asparagus.  Simply toss in olive oil, salt and pepper and roast for 20 minutes at 400.
Simple Lemon Chicken - Preheat the oven to 400.  In a deep baking dish, pour 1/4 C olive oil, 4 minced garlic cloves, 1/4 C dry white wine, 2 shallots minced and a few sprigs of fresh thyme.  Put 2-4 trimmed boneless, skinless chicken breasts over the mixture then squeeze the juice of 1 lemon over the top.  Cut 2 more lemons into wedges and tuck them in to the chicken.  Baste the tops of the chicken with a little olive oil and then roast for 30-40 minutes (depending on how thick the chicken is).  Serve with Savory Mushroom & Basil Pilaf with Toasted Pine Nuts.
Balsamic Rosemary Beef with Portabello Mushrooms - serve with Greek Panzanella Salad
Egg Noodle Stir Fry with Chicken
 Week 2 Shopping List
Be sure to check the sales in your store to get the best deal.  If the list calls for sirloin but flank is on sale, go for that instead!