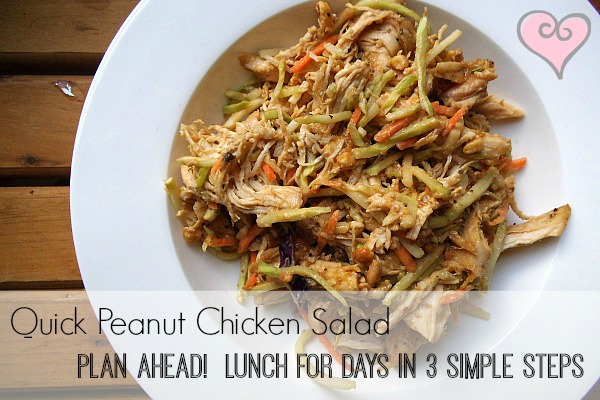 Quick Lunch Idea – Peanut Chicken Salad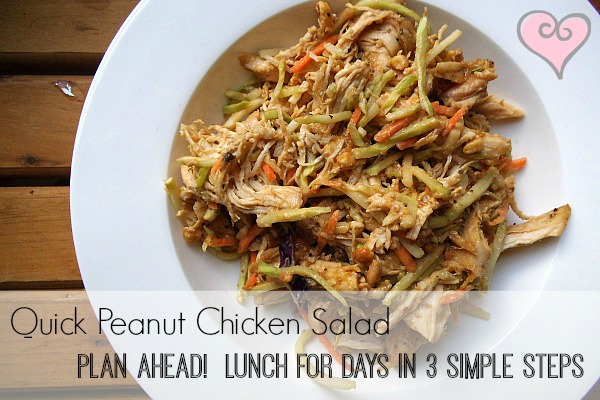 This is my all time favorite lunch recipe!  Shred the chicken, add the broccoli slaw mix and make the crunchy peanut sauce, that's it, 3 steps to the best lunch ever - tons of protein to keep you full for the day and super easy to make!
On Sundays when I cook for the blog, I like to do a lot of multitasking.  I cook most of our meals on Sundays because weeknights are generally a mess of getting home late, showering, packing my gym bag for the next day, setting the coffee, getting my lunch together and so on.  With all of that, it's really nice to finally crash on the couch with a glass of wine and NOT cook.  So on this particular day, I made a stew, a lasagna and a baked eggplant dish.  While the stew was simmering, the lasagna and eggplant were baking and I was cleaning countless dishes, there was also chicken baking away in the oven to shred and use for lunches this week.  My theory is that the oven is already on, so I might as well, and then I'll have perfectly nutritious lunches to work with every day this week.  Couldn't be happier.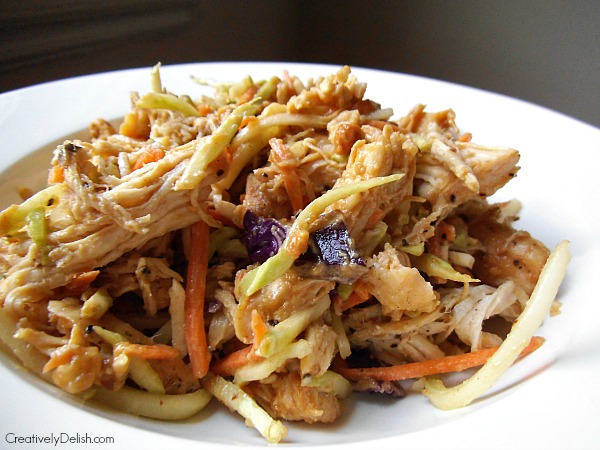 So this little creation came together after I had shredded the chicken, stared at it for a while, then decided plain shredded chicken is just so boring.
That's where the peanut sauce came in to play.  And boy is it good.  The crunchiness of the broccoli slaw mixed with the peanut sauce is ridiculous!  I like to use a crunchy peanut butter to give more texture and flavor to the dish, but you can use creamy if you prefer.
Simply top it on lettuce and you've got yourself a salad full of protein, healthy fats and fresh vegetables.  YUM.
Quick Lunch Idea - Peanut Chicken Salad
Ingredients
2 skinless chicken breasts, seasoned with salt and pepper, baked, then shredded
1/2 bag of broccoli slaw
juice of 1 lime
2 tsp sesame oil
1/2 c crunchy peanut butter
2 TBS honey
4 TBS low sodium soy sauce
Instructions
Combine all ingredients and serve,
Can be stored for up to 4-5 days in an airtight container.
Serving size:
1/2 Cup Mixture
Calories:
200
Fat:
13
Carbohydrates:
7
Sugar:
2
Sodium:
690
Protein:
17
Notes
When using two large skinless chicken breasts with 1/2 a bag of broccoli slaw and the sauce, this will last you about 3-4 lunches depending on your appetite, so it's great for meal prepping.