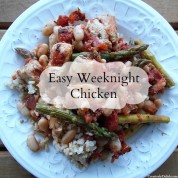 From beginning to end, this took 30 minutes to make and is full of good-for-you ingredients like asparagus, chicken, tomatoes and beans, served over a bed of brown rice and garnished with parmesan cheese.  This easy weeknight chicken will be sure to satisfy and is perfect for lunch the next day too!
Lately I've been on a mission to eat only the best of the best foods since a beach in Florida is calling me in two weeks (yikes!).  Nourishing foods like oatmeal, yogurt, berries, nuts, fresh fruits and veggies along with lean proteins and whole grains are the only thing in my world right now, so hello easy weeknight chicken!  Perfect for my mission, don't you think?!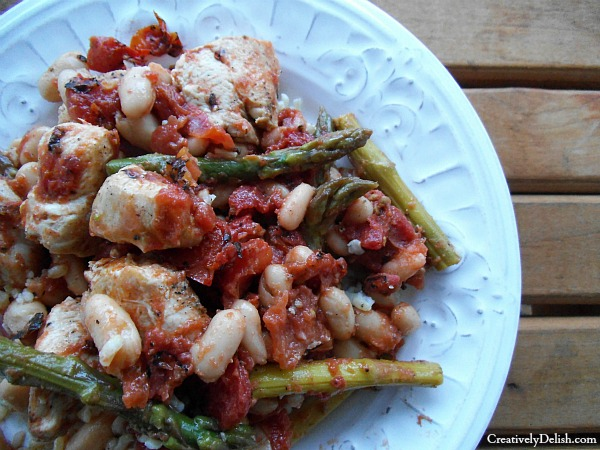 It almost reminds me of a thick stew because of the tomatoes, and really it could become a stew if you shred the chicken and add another can of tomatoes (oh idea!).  And the parmesan cheese gives it a great kick of flavor too!
I hope you enjoy this and I would love to hear what you think about it!
Easy Weeknight Chicken
Prep time:
Cook time:
Total time:
Ingredients
2 boneless, skinless chicken breasts, cut into chunks
asparagus spears, ends trimmed and cut in half
1 can fire roasted tomatoes
1 can white beans (cannelini or other), washed and drained
2 cloves garlic, minced
olive oil
garlic salt
ground black pepper
brown rice
Instructions
In a large skillet, heat about 1-2 TBS olive oil and add chicken. Season with garlic salt and pepper and let the chicken brown on all sides, about 5-8 minutes depending on the size of the chunks.
Add all other ingredients (except brown rice – cook seperately), mix together, cover and steam for 10 minutes.
Serve immediately over brown rice and grated parmesan cheese
Google+