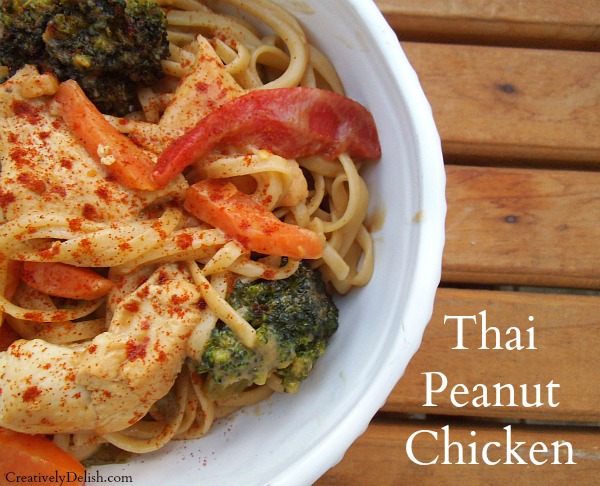 Thai Peanut Chicken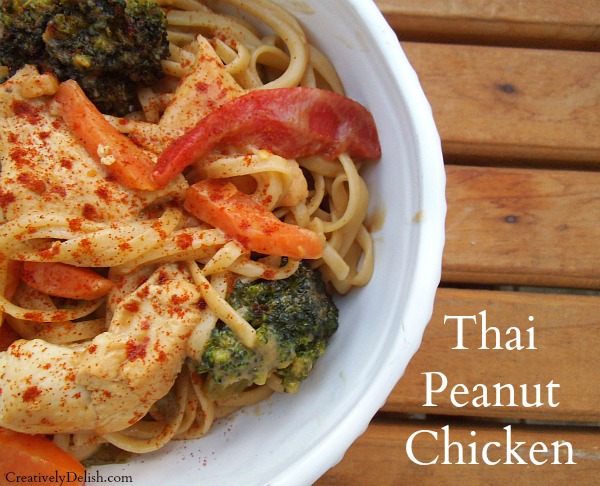 Make a homemade peanut sauce and mix in your favorite veggies and a protein for a delicious and nutritious meal!
I have made Thai Peanut Chicken so many times and I still can't get enough of it!  Throw whatever veggies you have lying around in and use brown rice or whole wheat linguine.  I've used chicken, shrimp and steak - and all work perfectly with this dish.  This is just so versatile and there are always leftovers :).  The peanut sauce has a perfect amount of protein in it, so having it for lunch the next day will no doubt keep you full until dinner.

This time I had chicken, whole wheat linguine, broccoli, baby carrots, red bell pepper and red onion.   I always have lemons, lime juice, ginger and garlic on hand, so hopefully you do too!
Enjoy with some red pepper flakes or chili powder as a garnish for an extra kick.
Thai Peanut Chicken
Prep time:
Cook time:
Total time:
Ingredients
2 boneless, skinless chicken breasts - trimmed of fat and sliced or cut into chunks
2oz whole wheat linguine or 2 C brown rice, cooked - reserve 1/2 C water
4 TBS ginger, minced
2 TBS garlic
1 TBS scallions, thinly sliced
olive oil
Any of the following veggies cut up: onion, red onion, broccoli, carrots, baby corn, red bell pepper, mushrooms, snap peas, etc.
Peanut Sauce:
1/2 C Chunky or Smooth Peanut Butter
3 TBS hoisen sauce OR 4 TBS soy sauce
1/2 TBS lemon peels
2 tsp sesame oil
4 TBS lime juice
1/2 C reserved pasta water
Instructions
Heat garlic, ginger and scallions in olive oil in a wok.
Add chicken and brown both sides.
Add veggies and cover to steam 20 minutes.
While everything steams, combine all ingredients for peanut sauce.
After steaming, combine sauce and pasta and stir together. If using rice, don't mix in, just serve on the side.
Sprinkle with red pepper flakes or chili powder for an extra kick.
Enjoy!