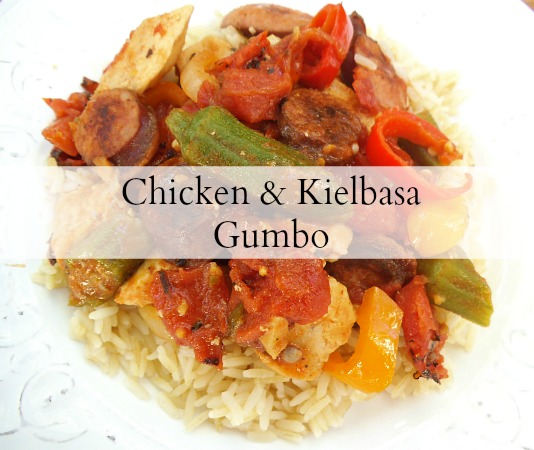 Chicken & Kielbasa Gumbo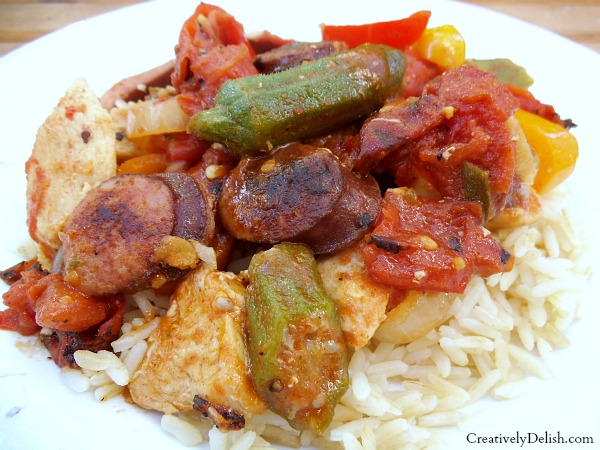 Gumbo is that a classic southern dish that can easily be done with whatever vegetables you have left in your fridge, along with some spicy sausage and either shrimp or chicken depending on your taste.
 Just don't forget the okra!  Okra is that crazy little veggie that looks like a hairy jalepeno and can be bought fresh, frozen or pickled.  For the gumbo, I recommend chopped frozen okra to make life easier, or if you're lucky enough to live in an area where you can get it fresh (the south), then go for that instead.
My gumbo is full of fresh veggies like onions, peppers, tomatoes and okra, with some pulled chicken and sliced andouille sausage.
The red sauce has some bite to it with some Cajun zest to it and just the right amount of richness to top over rice - the second most important part of gumbo.
Chicken & Kielbasa Gumbo
Prep time:
Cook time:
Total time:
Ingredients
Olive oil for sauteeing (about 2 TBS)
6 garlic cloves, sliced thinly
1 small onion, sliced
2 small red bell peppers, sliced
1 14.1oz can fire roasted tomatoes, with juice
1 TBS tomato paste
salt, pepper and red pepper flakes - to taste
chicken broth to thin out the sauce to your liking
1 C fresh or frozen okra (thawed if frozen) and chopped into bite-size pieces
1 C brown rice
1 skinless chicken breast, cooked and shredded
2 andouille sausage links, sliced
Instructions
Cook brown rice according to package directions.
In a large pan, heat the oil and brown both sides of the sausage slices, then set aside.
In the same pan, saute onions and garlic for 2 minutes, then add peppers, okra, tomatoes, tomato paste and chicken. Add the sausage back in, season with salt, pepper and little red pepper flakes then let it simmer, covered, for 15 minutes over medium-high heat.
Serve over brown rice and enjoy!