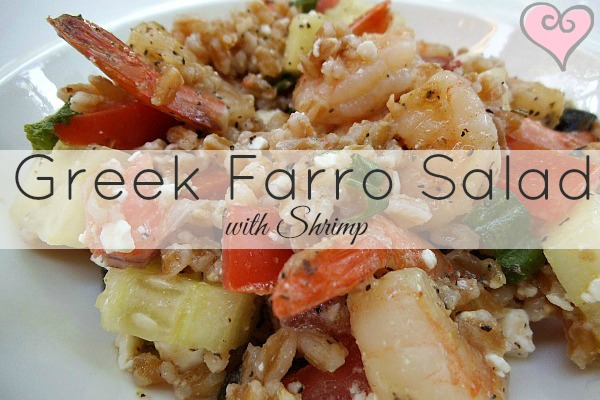 Greek Farro Salad with Shrimp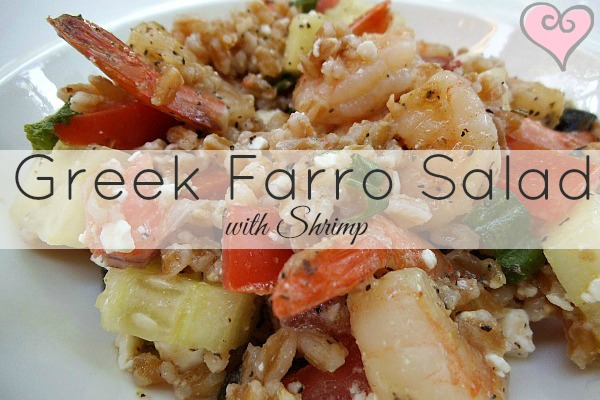 Farro, chopped tomato, cucumber, feta, kalamata olives, red onion, fresh basil, olive oil, lemon juice and oregano are all it takes to create this light and summery dish.
Farro is considered to be an "ancient grain" - one of the first grains ever to be eaten.  It has a somewhat chewy texture that is so satisfying as a main dish.  It can take on a multitude of flavors - some use it as a form of oatmeal for breakfast while others use it to take on many different styles of dishes.  It has a good source of protein and has the same amount if not less calories than brown rice or quinoa.
This time I took on a greek style farro salad, complete with a light lemon vinaigrette to drizzle over it.  Ryan isn't the biggest fan of olives, but he reported that the salad was "so good I didn't even realize there were olives in it!"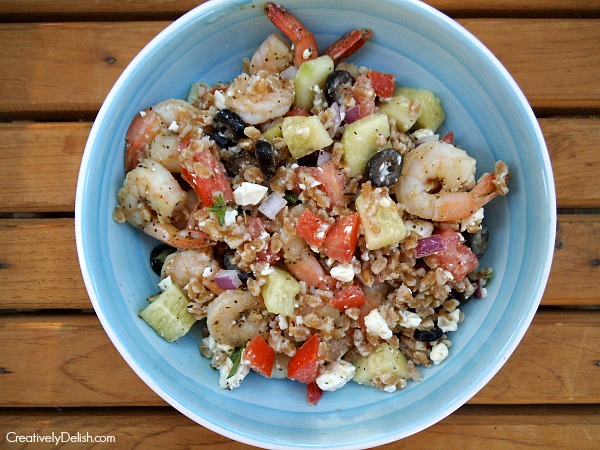 Greek Farro Salad with Shrimp
Prep time:
Cook time:
Total time:
There are a lot of other ingredients in here which is great if you're having this as a main dish - a 1/4 cup of farro is one serving, so you'll want to bulk this up no matter how you make it.
Ingredients
1/2 lb. peeled & de-veined uncooked shrimp
2 large tomatoes, diced with seeds removed
1 large cucumber, skin removed and diced
1/2 medium red onion, diced
1 can sliced black olives
1 container crumbled feta cheese
1 bunch fresh basil leaves, torn into small strips
juice of 1 large lemon
zest of 1 large lemon
1 tsp oregano
1/4 C good olive oil
1 C farro - cook according to packaged directions then let it cool
Instructions
In a large bowl, combine tomato, cucumber, red onion, olives, feta, basil and farro.
In a small bowl, combine lemon zest, lemon juice, oregano and olive oil. Mix to combine.
In a heated non-stick pan, coat shrimp in a touch of olive oil, salt and pepper and let them cook on each side for no more than three minutes a side (don't overcook the shrimp!)
Combine all ingredients together in the salad bowl and enjoy!