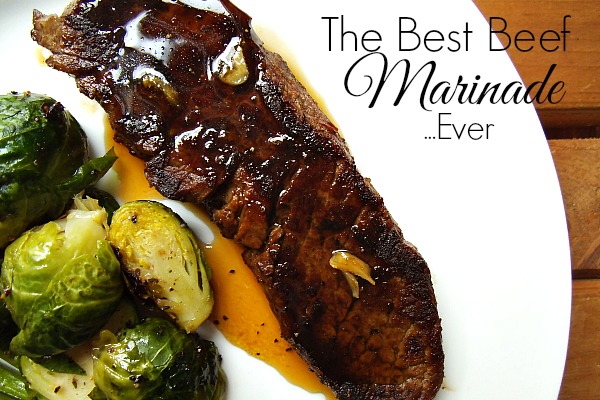 The Best Beef Marinade…Ever
A quick and downright delicious way to dress up beef.  Savory soy sauce simmered with sweet honey, fresh garlic and ground black pepper.  It tastes amazing on everything from beef to shrimp to chicken to roasted veggies!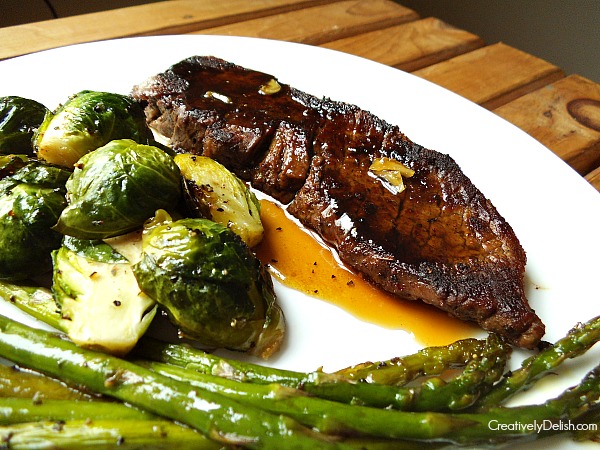 We have this drizzled over roasted asparagus and brussels all the time as a side dish - it takes 5 minutes to throw together and most of these ingredients you probably already have!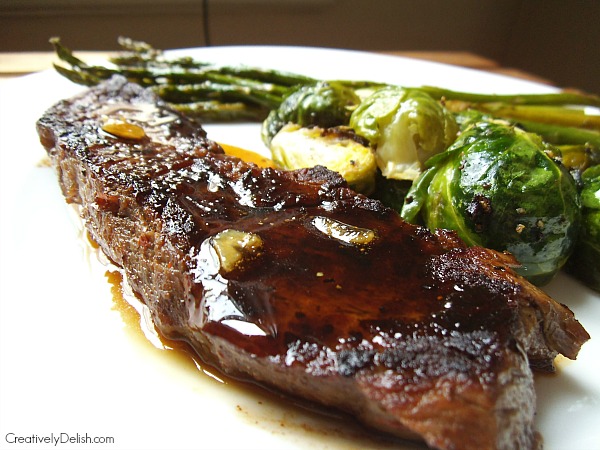 Just look at that juicy, yummy dinner!
This is exactly what we had for dinner tonight, and it took under 30 minutes to put it all together - that's even including the veggies.  Make sure to balance out your meals with lots and lots of veggies and of course end with a piece of dark chocolate 🙂
Happy cooking everyone!
The Best Beef Marinade...Ever
Prep time:
Cook time:
Total time:
Ingredients
1/2 C honey
2 TBS low sodium soy sauce
2 cloves garlic, minced
1 tsp ground black pepper
1 tsp olive oil
Instructions
In a saucepan, heat olive oil and add garlic. Cook for 2 minutes, stirring occasionally.
Add remianing ingredients and let it come to a simmer. Be sure to watch this and keep it on low heat - it will bubble up quickly and overflow if you don't watch it, so keep it on very low heat.
After 2 or 3 minutes, remove it from heat and drizzle over beef, chciken, whatever!
For best results, season beef with salt and pepper then pan sear and then drizzle over.
Makes enough to use with 5-6 pieces of beef