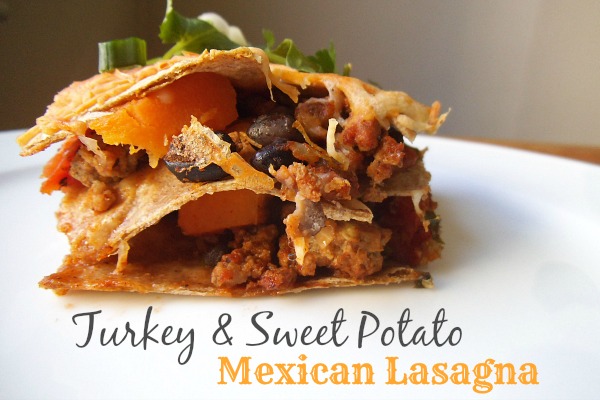 Turkey & Sweet Potato Mexican Lasagna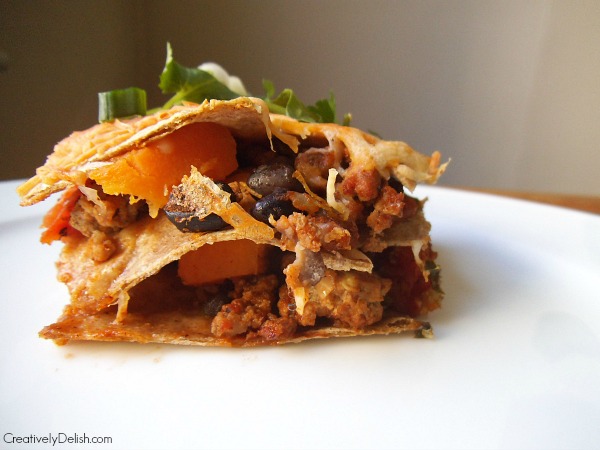 Mexican lasagna lightened up with lean ground turkey, black beans and sweet potatoes.
Sometimes when you have random things hanging around your kitchen great things happen, kind of like this Turkey & Sweet Potato Mexican Lasagna.
I've used corn tortillas for my mexican lasagna before, but I find it breaks down so easily and provides little nutrition, so I switched to whole wheat tortillas and I'll never go back!
The filling is quick to assemble and leftovers can be used for salads, tacos or another batch of lasagna!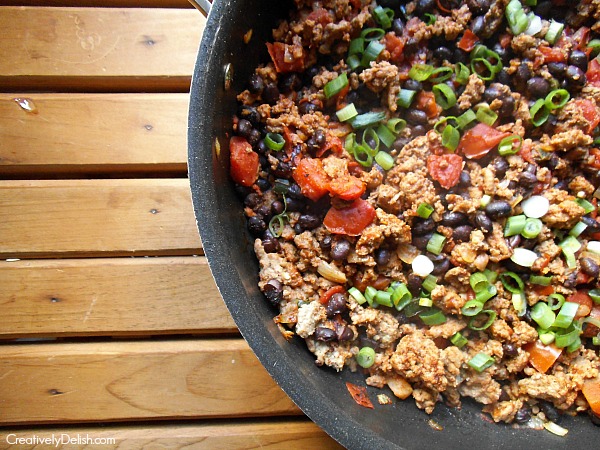 The sweet potato gave it  burst of fresh flavor that didn't allow the jalepeno to overwhelm the dish.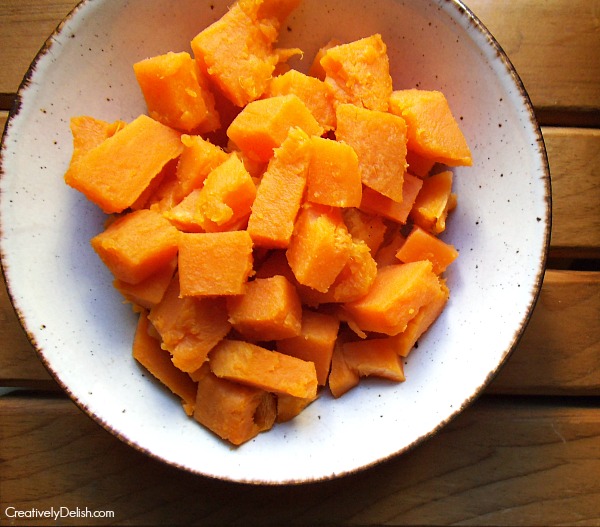 Once it's all ready to go, begin to assemble the layers!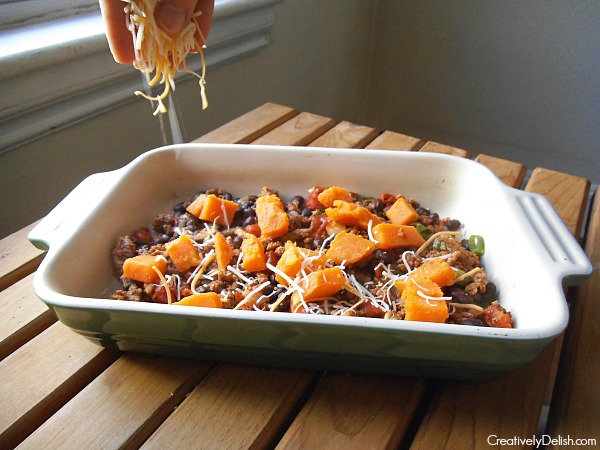 The amount you make will depend on how big and deep your baking dish is.  I also recommend shredding your own cheese when you can for better melt, but in a rush, go with the preshredded kind and it will still be great.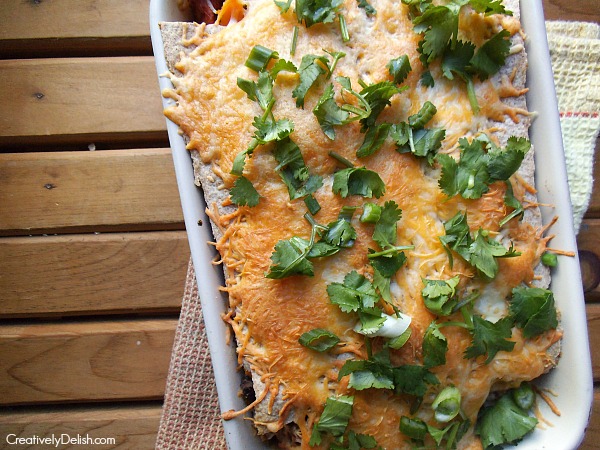 The cilantro and green onions give it a fresh twist once it's done baking.
The lasgana freezes really well too if you assemble it then wrap it in tin foil and cook it later.  I made this on a Sunday and froze it for a dinner later on in the week.  Just pop it in the oven when you get home and forget about it until it's warm and bubbly.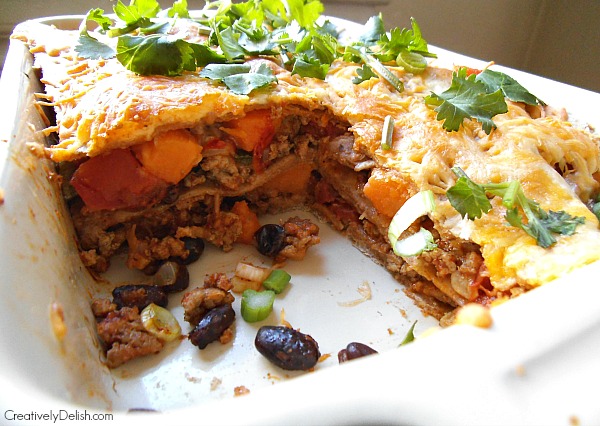 We absolutely LOVE this lasagna, and I hope you do too!
Turkey & Sweet Potato Mexican Lasagna
Prep time:
Cook time:
Total time:
Ingredients
1 lb extra lean ground turkey
1 small onion, diced
2 garlic cloves, minced
1 jalepeno, diced and keep the seeds in
1 can low sodium black beans, rinsed and drained well
1 can fire roasted tomatoes
2 TBS olive oil
1 medium sweet potato, cooked then diced
1/2 C cilantro, shredded
2 scallions, sliced thin - white and light green parts only
1-2 C reduced fat shredded mexican blend cheese
whole wheat tortillas
2 TBS chili powder
1 TBS cumin
1 tsp salt
1 tsp pepper
Instructions
Preheat the oven to 400.
In a large nonstick skillet, heat 1 TBS olive oil and cook garlic, onion and jalepeno for 2 minutes, then add turkey. Cook turkey until no longer pink in the middle, making sure to break it up into pieces.
Add tomatoes, beans, cumin, chili powder, salt and pepper, then stir and let it simmer to combine the flavors. Once cooked, mix in 1 sliced scallion.
In a large square baking dish, coat the bottom with olive oil. Break up the tortillas to fit into the bottom of the pan. If using large tortillas, break one in half, then put the flat sides against the wall of the dish. Take a second tortilla and quarter it to cover the sides. Layer beef mixture, then diced sweet potatoes, then a sprinkling of cheese (see picture). Layer one more time (or more if you have a deeper baking dish). The top layer should be a layer of tortilla then shredded cheese.
Bake in the oven for 20 minutes or until cheese is melted and slightly browned.
Serve with cliantro and the other sliced scallion.