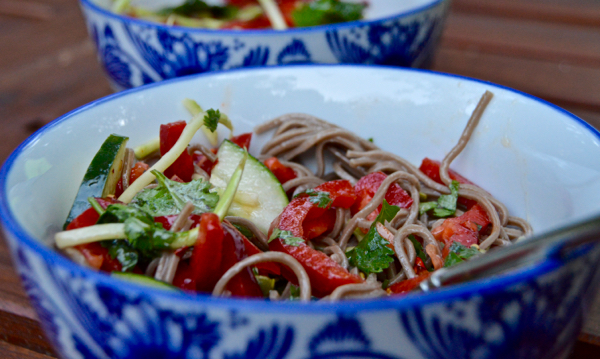 Cold Sesame Soba Noodle Salad
What if I told you that the bowl you see pictured above contained sweet, spicy, savory and crunchy flavors, all wrapped into one?
What if I told you that everything in that bowl is made from scratch, and that this took under 20 minutes to throw together?  Full of protein, fresh vegetables, healthy fats, antioxidant rich and full of flavor - this is a total winner AND it's served cold so it's just perfect for those hot summer days.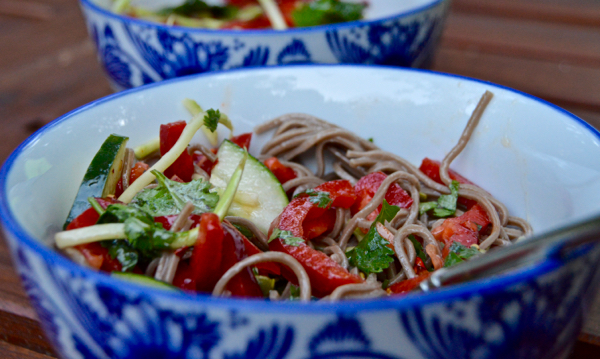 Since I choose not to eat meat anymore, I added in some extra protein with pumpkin seeds, giving it that perfect crunch.  I know that shrimp or sliced chicken would work really well in this dish and if you want to add that in, I would still throw in some seeds as well!
I stumbled on this recipe when someone at work was enjoying this for lunch, and just the aroma made me want to steal her whole bowl!  I asked for the recipe, put my own spin on it and voila!  Cold Sesame Soba Noodle Salad.  Delicious, fresh, healthy and perfect as a main dish, potluck dish, side dish or lunch.
I hope you enjoy!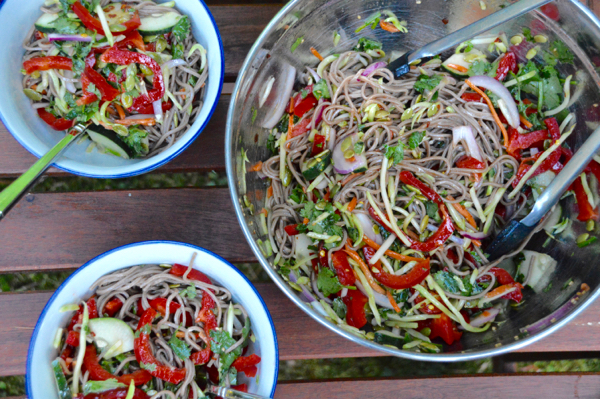 Cold Sesame Soba Noodle Salad
Prep time:
Cook time:
Total time:
Ingredients
1 package buckwheat soba noodles
1 large cucumber, cut into quarters very thinly sliced
1 large red pepper, cut into very thin strips
1 ⁄ 2 red onion, cut into very thin slices
1 head cilantro, shredded
3 ⁄ 4 C pumpkin seeds
2 TBS sesame seeds
1 or 2 big handfuls of shredded carrots or broccoli slaw mix
1 ⁄ 3 C canola oil
1 ⁄ 3 C rice vinegar
1 ⁄ 8 C sesame oil
1 ⁄ 4 C soy sauce (+ more for taste if desired)
2 TBS red pepper flakes
Instructions
Cook soba noodles according to package directions. Once drained, rinse under very cold water until noodles have cooled down.
In a separate bowl, whisk together canola oil, vinegar, sesame oil, soy sauce and red pepper flakes. Set aside.
Combine noodles, cucumber, pepper, onion, cilantro, pumpkin seeds, sesame seeds and carrot/slaw mix, then add the dressing in to the desired amount.
Toss everything together and serve and enjoy!