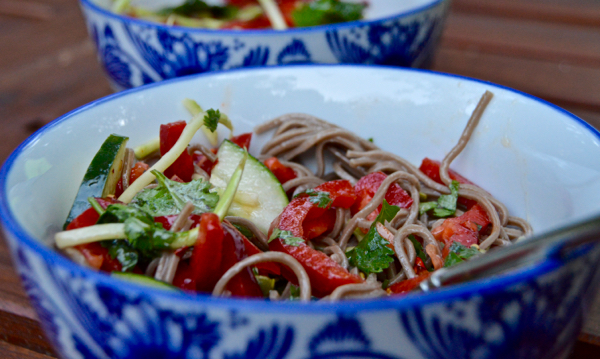 Cold Sesame Soba Noodle Salad
What if I told you that the bowl you see pictured above contained sweet, spicy, savory and crunchy flavors, all wrapped into one?
What if I told you that everything in that bowl is made from scratch, and that this took under 20 minutes to throw together?  Full of protein, fresh vegetables, healthy fats, antioxidant rich and full of flavor – this is a total winner AND it's served cold so it's just perfect for those hot summer days.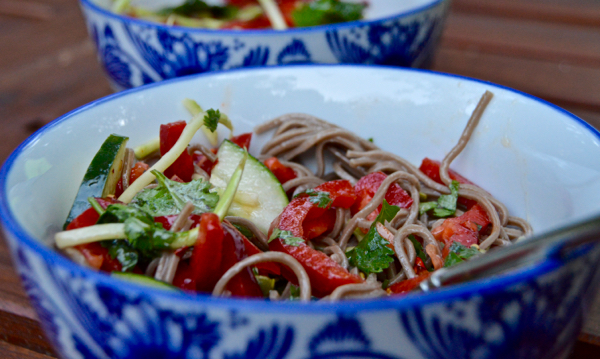 Since I choose not to eat meat anymore, I added in some extra protein with pumpkin seeds, giving it that perfect crunch.  I know that shrimp or sliced chicken would work really well in this dish and if you want to add that in, I would still throw in some seeds as well!
I stumbled on this recipe when someone at work was enjoying this for lunch, and just the aroma made me want to steal her whole bowl!  I asked for the recipe, put my own spin on it and voila!  Cold Sesame Soba Noodle Salad.  Delicious, fresh, healthy and perfect as a main dish, potluck dish, side dish or lunch.
I hope you enjoy!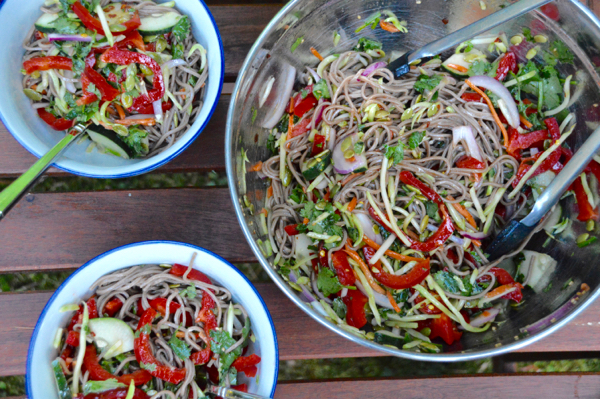 Click the photo below or click here to print the recipe 🙂