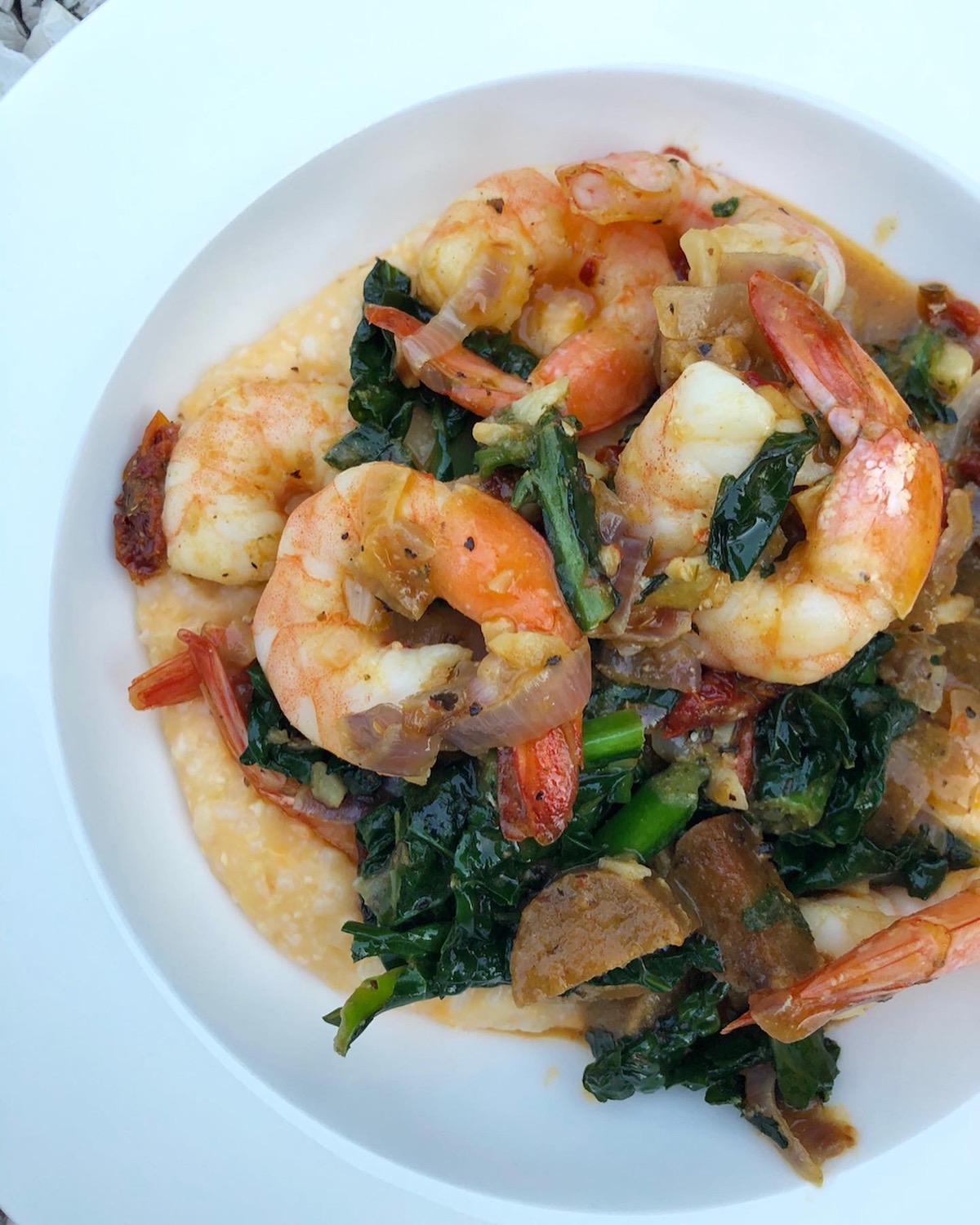 Shrimp & Cheddar Grits with Okra
Creamy cheddar grits are served with tender and sweet sauteed shrimp, sliced okra, lacinato kale and sun dried tomatoes, for a truly delicious meal. This can easily be made plant-based as well!
More...
How to Make Shrimp & Cheddar Grits Plant Based
In their natural form, grits are a gluten free "grain" that is actually made from ground corn. Make sure to buy the regular grits, not the instant, for the creamiest outcome. I love the grits from Trader Joes, which take 20 minutes and have the creamiest texture.
As for the cheese, butter and milk that goes into traditional cheddar grits, you can make this completely dairy free/plant based!
I've made this several ways, adding chopped mushrooms or plant-based Italian sausage (Field Roast is a great brand) if I have them on hand, to give it more heartiness and protein.
The cheddar cheese I use is a plant-based version from Violife, and instead of milk and butter mixed in with the grits, I used almond milk and Miyokos butter.
As for seasonings, I recommend using your favorite Cajun seasoning, or even a BBQ rub, for flavor to the dish.
Okra 101
Okra has gained a lot of popularity in recent years, and now I can find it even here in New England, when growing up, I'd only get to have okra when I'd go down south to visit family. The easiest way is to purchase it pre-sliced and frozen - less work! You also might have a hard time finding it fresh, depending on where you live and when you're making this. Above you'll see fresh okra, which takes more time to clean etc. It is a southern staple, and looks like a fuzzy jalapeno. My favorite ways to eat okra and pickled or fried!
The best way to cook okra is to either pan fry it or grill them whole. For this recipe, you're pan frying, which takes away the sliminess in the middle of the vegetable (usually the reason people don't like okra!). Once you've softened up your onion and garlic, make room in the middle of the pan for the okra and let it sit, stirring occasionally, until the okra starts to brown. Then add in your other goodies.
If you want to experiment more with okra, I love to do a pan fry with my favorite BBQ rub and some oil, letting the okra sit on the pan untouched until it starts to get brown and crispy. You can prepare it this same way for the grits dish, but it will take you extra time.
The Recipe
You can CLICK HERE to print the recipe - I hope you love it as much as we do!