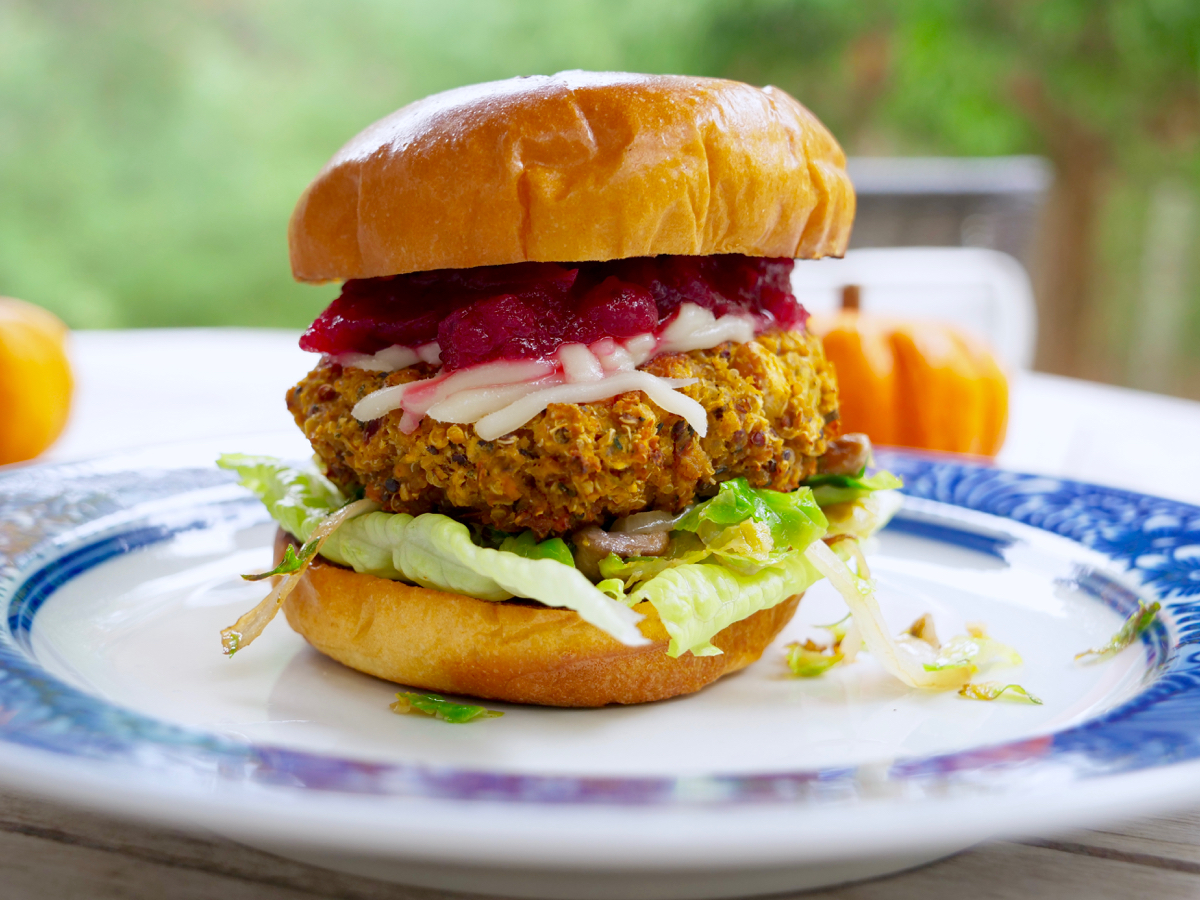 Thanksgiving Veggie Burgers (V, GF)
Using Trader Joe's holiday hash, Everything But The Leftovers seasoning, white beans, oats and toppings like cranberry sauce and brussels sprouts, this is honestly the next best thing to Thanksgiving dinner IMO.
More...
These vegetable burgers are a great meal prep idea, and they freeze so well. You can store them cooked or uncooked in the freezer for up to 3 months - just simply thaw them in the fridge and reheat/cook in the oven.
Easy Homemade Cranberry Sauce
I love to serve these with my homemade cranberry sauce which is so easy you may think twice about buying the canned or jarred versions ever again. Best of all, I've stored my leftover cranberry sauce in the freezer for up to 1 year and the flavors were still just as sweetly tart as they were when I first made it.
Here's the recipe for my quick cranberry sauce:
INGREDIENTS:
1/4 cup freshly squeezed orange juice
Zest of 1 orange
1/2 cup sugar, or more, to taste
1 (12-ounce) bag fresh cranberries
DIRECTIONS:
In a medium saucepan, combine orange juice, orange zest, sugar and 3/4 cup water over medium heat. Cook, stirring occasionally, until the sugar has dissolved.
Stir in cranberries and bring to a boil; reduce heat and let simmer until sauce has thickened, about 15 minutes.
Let cool completely before serving.
It's so easy to make and goes so well with these Thanksgiving Veggie Burgers!
All the Trader Joe's Fall Seasonal Items
I am a BIG fan of Trader Joe's, and the seasonal items for fall just make me weak at the knees. This year they introduced two new items that are so amazing, I can't stop using them.
The Holiday Vegetable Hash is a game changer, with all the veggies, herbs and seasonings that remind you of Thanksgiving in a totally convenient pre-chopped mix. So far I've used this mix for:
a breakfast scramble, with a fried egg, shredded cheese and TJ's meatless breakfast patties broken up into crumbles.
these amazing Thanksgiving Veggie Burgers (obviously)
mixed into shepherds pie, with a mashed cauliflower crust
The Trader Joe's Everything But The Leftovers seasoning is yet another bomb item this year that I hope stays forever.
It has all the flavors of Thanksgiving minus the turkey, making my plant-based self sooooo excited.
Use this to saute with vegetables, mixed into mashed potatoes, onto chicken before it bakes in the oven (if you're into that) - there's really nothing you can't do with this!
The shredded Brussels sprouts at Trader Joe's are one of those unknown hidden gems they offer all year, and I live off of them. It's so much easier buying them this way, rather than risking cutting your fingers off using a box grater to shred them yourself. It's a tedious task no one should need to do.
The Brussels are sauteed with chopped mushrooms, onion and seasonings for an extra oomph of flavor and texture on top of these burgers. This is also a great side dish on it's own, or use the Brussels for a Caesar salad, mixed into shepherds pie, served with shrimp and grits or scrambled with eggs in the morning.
How to Make Thanksgiving Veggie Burgers
I was very excited about this one, literally squealing when it was time for photos.
To be honest these burgers stay together as well as most other veggie burgers out there...meaning they can fall apart and be a bit messy, but that's quite alright, because the flavor is on point. They would stay together better with an egg mixed in, however I made these vegan so no egg this time!
The key is to let them set in the fridge for at least an hour, to let the ingredients bind together before cooking.
Once set, you bake them in the oven (or feel free to grill them on tin foil or pan fry them), add some cheese, your favorite toppings like lettuce, sauteed veggies and cranberry sauce, and you've got your self one heck of a vegan Thanksgiving Veggie Burger!
I hope you enjoy these as much as we do, and cheers to Trader Joe's doing great things for us in 2020.
Ingredients
For the burgers
1 lb Trader Joe's Holiday Hash or you can use 1 small chopped sweet potato, 2 celery stalks chopped, 1/4 red onion diced and 1 cup diced butternut squash
1 1/4 tsp Trader Joe's Everything But The Leftovers Seasoning or you can use salt, pepper, garlic powder and dried Italian herbs
15 oz can white beans, drained and rinsed
1 C cooked quinoa
1/3 C old fashioned oats
salt to taste
For the Brussels and Mushroom Topping
10 oz Trader Joe's shredded Brussels sprouts or 1 lb Brussels sprouts carefully shredded with a cheese grater
16 oz sliced white mushrooms, chopped
1 small yellow onion, sliced
1/2 tsp ground black pepper
1/2 tsp salt (plus more if needed)
1/2 tsp garlic powder
1/2 tsp Trader Joe's Everything But The Leftovers seasoning
1 TBS olive oil
For the burger toppings
cranberry sauce Trader Joe's makes a great jarred version, or you can make one yourself with the recipe found in the post
lettuce
shredded mozzarella for dairy free I love the Violife brand
buns
Instructions
For the burgers
Cook quinoa according to package directions. 1/2 cup uncooked quinoa and 1 cup water will give you 1 cup cooked quinoa. Set aside.
In a skillet, heat about 1 TBS olive oil over medium heat and add in the holiday hash mix and the Leftovers seasoning. Cook, stirring occasionally, until veggies have softened.
Once softened, combine in a food processor the hash mix, white beans, quinoa and 1/3 cup of oats. Pulse to blend everything a few times, leaving a few of the beans and veggies still in tact. Taste for more salt if needed, or more Leftovers seasoning if it needs extra flavor.
Line a baking sheet with tin foil and spray with nonstick spray, or use parchment paper. Form the mixture into 6 large patties or 8 smaller patties. Let them sit in the fridge to set for at least 1 hour. *
Preheat the oven to 400. Bake each side of the patties for 20 minutes, carefully flipping in between. Once each side has browned, let them cool before serving.
For the Brussels and mushroom saute
While the burgers bake, heat olive oil in a pan over medium heat and add in mushrooms and salt, stirring occasionally. Once the mushrooms begin to brown, add in the Brussels sprouts, onion and the remaining seasonings. Saute until everything has softened, and add salt to taste if needed.
To build the burgers
Serve the burgers on toasted buns with melted mozzarella (you can add the cheese on top of the patties in the last 5 minutes of baking if you want cheese), lettuce, the Brussels and mushroom mix and of course, the cranberry sauce.
Notes
*If you don't plan to have them all at once, you can either continue to the next step and cook them first before storing them, or place them uncooked into tupperware with parchment paper in between each patty, to cook later on. Either is fine.