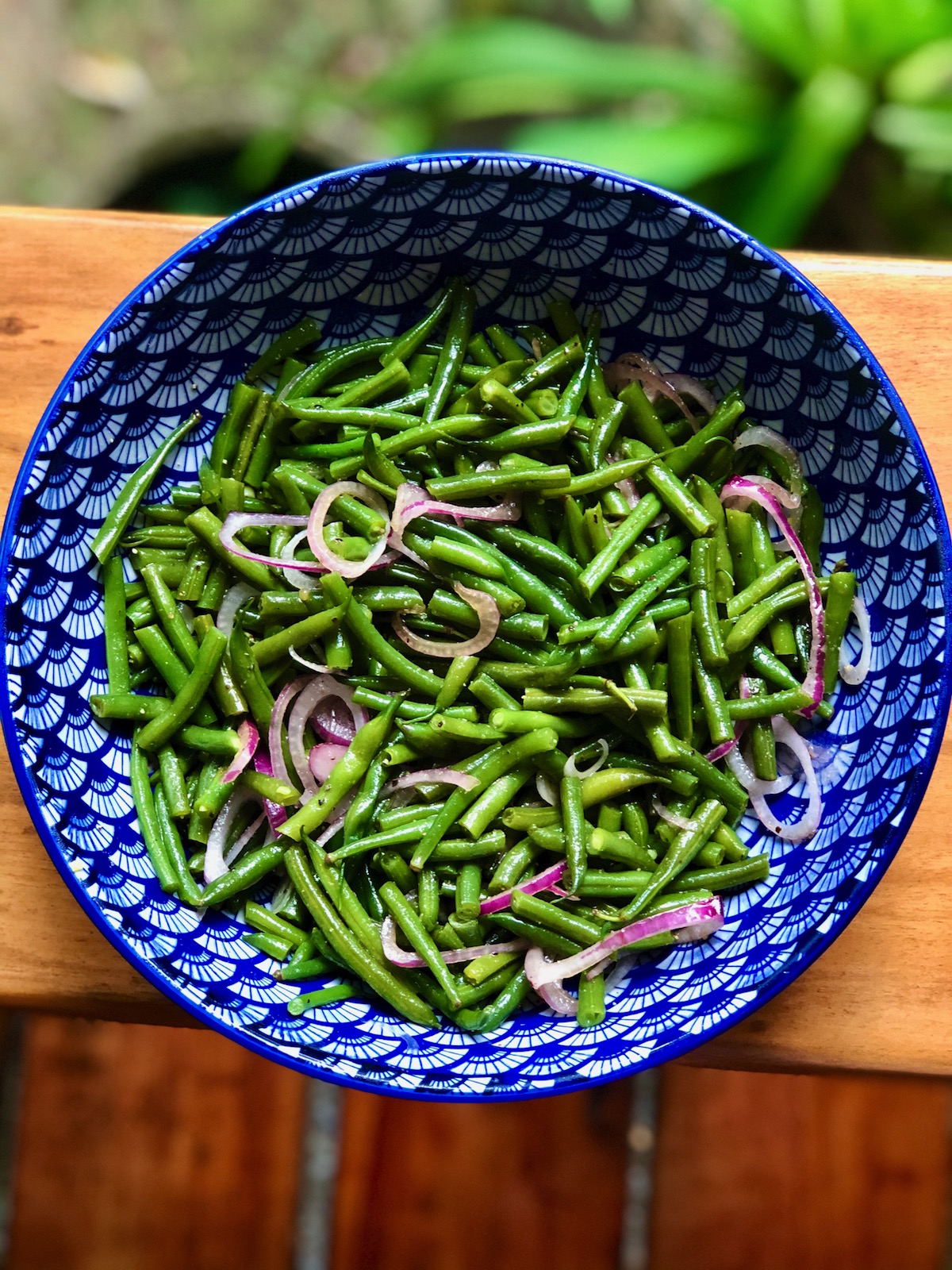 Simple Green Bean Salad
This is a great meal prep idea! Fresh blanched green beans are tossed with sliced red onion, herbs and a simple vinaigrette. Learn what blanching is and how to do it, as well as what to look for when purchasing green beans and preparing them.
More...
Along with green beans being a very low calorie, crunchy veggie, they're also a good source of vitamin C, fiber, folate, calcium, potassium and iron. Some people turn their noses at green beans, but they don't have to be mushy or served in a bath of cream! Even green beans can be delicious.
Choosing and Preparing the Green Beans
Your best options will be either regular green beans (organic if possible) or haricot verts. Haricots are thinner than traditional green beans but have the same flavors. Either will do, just make sure they're fresh, not canned.
When preparing the green beans, first be sure to wash them in a colander, then remove the stems, either with a knife or even just pinch the ends off with your nails.
Blanching the Green Beans
Blanching any kind of vegetable means boiling or steaming the veggie until it is crisp-tender, then removing it from the hot water and directly into a bowl of ice water. This technique helps to keep the bright flavor of the vegetable while also not letting it continue cooking even after it is out of the water, which will happen with you simply steam or boil a veggie.
Once the green beans have cooked, transfer them to an ice bath and keep adding ice until the green beans have cooled, then strain in a colander.
Next, cut the green beans into thirds and put them in a large bowl.
If you have a mandolin for this next step, definitely use it, otherwise just be super careful! You're going to slice 1/2 of a red onion into very thin strips, then add that to the bowl.
From there, you'll add about 1/2 tsp salt and pepper (more to taste if needed), 1 tsp garlic powder, 1 tsp oregano, 1 TBS olive oil and 2 TBS white balsamic vinegar.
Toss it all together, add salt and/or pepper to taste and you're done!
This is great to have a big batch of on hand for when you're hungry and need a quick bite, or to serve as a side with any number of dishes.
I love to open my fridge and have it look like a deli counter, full of bowls of different salads and nibbles to choose from when I'm in need of a quick bite.
Here's the full recipe, enjoy!
Ingredients:
1 pound green beans or haricot verts
1/2 red onion, sliced thin
1/2 tsp salt and pepper
1 tsp salt
1 tsp oregano
1 TBS olive oil
2 TBS white balsamic vinegar
Directions:
1. Bring a large pot of water to a boil. While you're waiting for the water to boil, wash the beans and remove the stems. Drop the beans into the boiling water and let them cook for 6-8 minutes, or until beans are tender yet still crisp.
2. Have a big bowl of ice water ready. Use a large spoon-strainer or tongs to transfer the cooked beans into the ice bath, adding more ice until the beans have cooled.
3. Cut the beans into thirds and add to a large serving bowl. Add all remaining ingredients, adding more salt or pepper if needed.
4. Stores in the fridge well for 2-3 days in an airtight container.