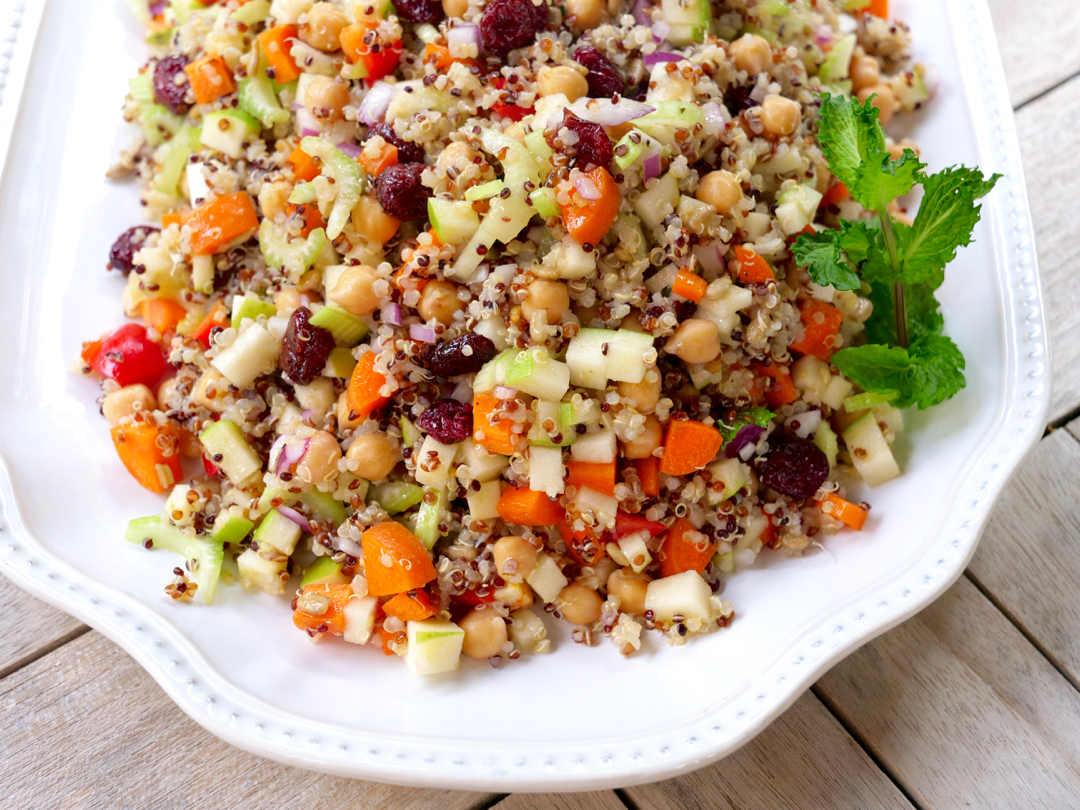 Crunchy Honey & Mint Quinoa Salad (GF)
This cold salad is perfect for the hot summer months, with crunchy apples, carrots, peppers and celery, sweet cranberries and creamy chickpeas with a delicious honey and mint dressing.
More...
Quinoa is a great grain to have on hand. It's full of protein, gluten free and tastes great served hot or cold. It's also simple to make, using a 1-2 ratio or 1 cup quinoa to 2 cups water, bring it to a boil, lower it to simmer, cover it and cook for 15-18 minutes and you're done.
To cool the quinoa down faster to mix it in with this salad, run the cooked quinoa over cold water in a strainer, drain completely and then place it in the freezer for 10 minutes.
A Clean-Out-The-Fridge Kinda Salad
As for everything else in the salad, you certainly don't need to go crazy buying all the ingredients. The carrots and red bell pepper for example are really just bonuses and I added them in since I had them. They do offer extra crunch and more flavor, but no need to go crazy trying to gather everything - just use what you have! Broccoli roughly chopped would be great in this as well, and subbing white beans for chickpeas would be great too.
We kept this in the fridge for about 4 days and it was delicious every time we served it. It's a great make-ahead meal, perfect for BBQ's and potlucks and just to have on hand when you want a quick small meal.
You can CLICK HERE to print the recipe - enjoy!