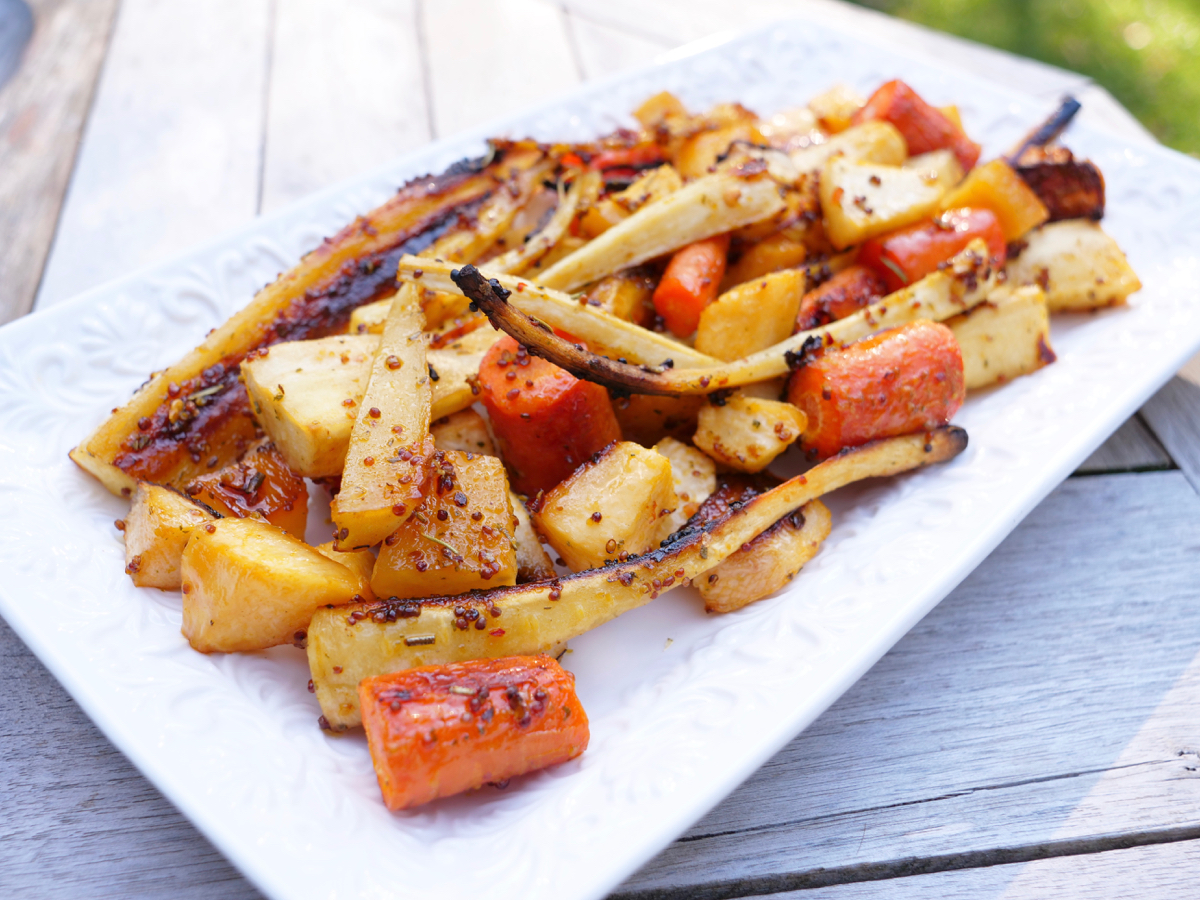 Maple & Mustard Roasted Root Vegetables
Root vegetables don't have to taste earthy and bitter! This sweet, savory and spicy blend of maple syrup, grainy mustard and seasonings roasted to caramelized perfection will turn regular root vegetables into something magical.
More...
Root vegetables are a nutritional powerhouse that are often overlooked when at the grocery store. Root vegetables are an excellent source of fiber which helps to boost healthy gut bacteria for better digestion. They are also a rich source of vitamins C, B and A, iron and antioxidants.
Root vegetables can look intimidating with their other-worldly appearance, but with the right preparation and flavors, they can turn into delicious vegetables you'll want to serve all the time.
WHAT IS CONSIDERED A ROOT VEGETABLE?

For this recipe I used rutabaga, parsnips and carrots, however if you can find celery root (pictured above), golden beets and/or turnips, those would be great options as well.
Other root vegetables include yams, yuca, kohlrabi, horseradish, daikon, turmeric, jicama, radishes, ginger and Jerusalem artichokes. These other root vegetables are delicious, but I don't recommend them for this particular dish.
Root vegetables tend to have a more earthy flavor and are best served roasted, braised or pureed into soups. The flavors of sweet maple syrup, tangy and sharp course mustard and spicy red pepper flakes that are seen in this recipe help to enhance the natural flavors of the root vegetables but making them more palatable to most.
USING THE RIGHT SEASONINGS FOR ROASTED ROOT VEGETABLES

I am a huge fan of Trader Joe's, especially of their seasonal items. This holiday season (2020), TJ's introduced a new seasoning blend called their Soffritto Seasoning. A traditional soffritto is the base of every Italian soup, similar to a mirepoix, and contains a mix of onions, celery and carrots. This soffritto seasoning has dried minced onion, garlic, red pepper flakes and Italian herbs, to name a few, and enchances the flavors of so many dishes. I love it for these roasted root vegetables because of the spice factor in this seasoning mix. It offers the perfect balance of flavors and I think you should *run* to Trader Joes right now and get your hands on a bottle!
If you don't have access to a Trader Joe's then not to worry, I included a DIY recipe within the recipe below.
WHAT TO SERVE WITH MAPLE & MUSTARD ROASTED ROOT VEGETABLES

The first few times I made this dish, we literally just stood at the stove and ate them off the sheet pan. Then I transitioned to serving them in a big salad with my Spicy Dijon Dressing and as a side dish with mashed cauliflower and roasted fish.
These are delicious as a snack, side, main or tossed in a salad and a perfect addition to your holiday menu as a side!
THE RECIPE

I hope you enjoy this as much as we do!
Print Recipe
Maple & Mustard Roasted Root Vegetables
Ingredients
2

medium

rutabagas, peeled and chopped*

1

lb

parsnips, peeled and quartered lengthwise

4

large

carrots, peeled and chopped into large pieces

2

TBS

olive oil

1

TBS

grainy mustard

be sure to use grainy mustard and not the smooth Dijon kind

1

TBS

maple syrup

1

TBS

soffritto seasoning blend**

1/2

tsp

sea salt
Instructions
Preheat the oven to 425 and line a baking sheet with tin foil.

Add all the veggies to a large bowl, then stir in the remaining ingredients. Stir well to combine, using your hands if needed.

Roast the vegetables for 20-25 minutes, stirring once halfway through, until the veggies have cooked through and started to caramelize. Serve right away for the best texture and flavor.
Notes
*Turnips, golden beets and celery root would also be wonderful in this dish.
**Trader Joe's sells this seasonally, but if you can't find this, mix together 1/4 tsp dried minced onion, 1/2 tsp dried minced garlic, 1/4 tsp red pepper flakes, 1/2 tsp sea salt and a 1/2 tsp Italian seasoning.