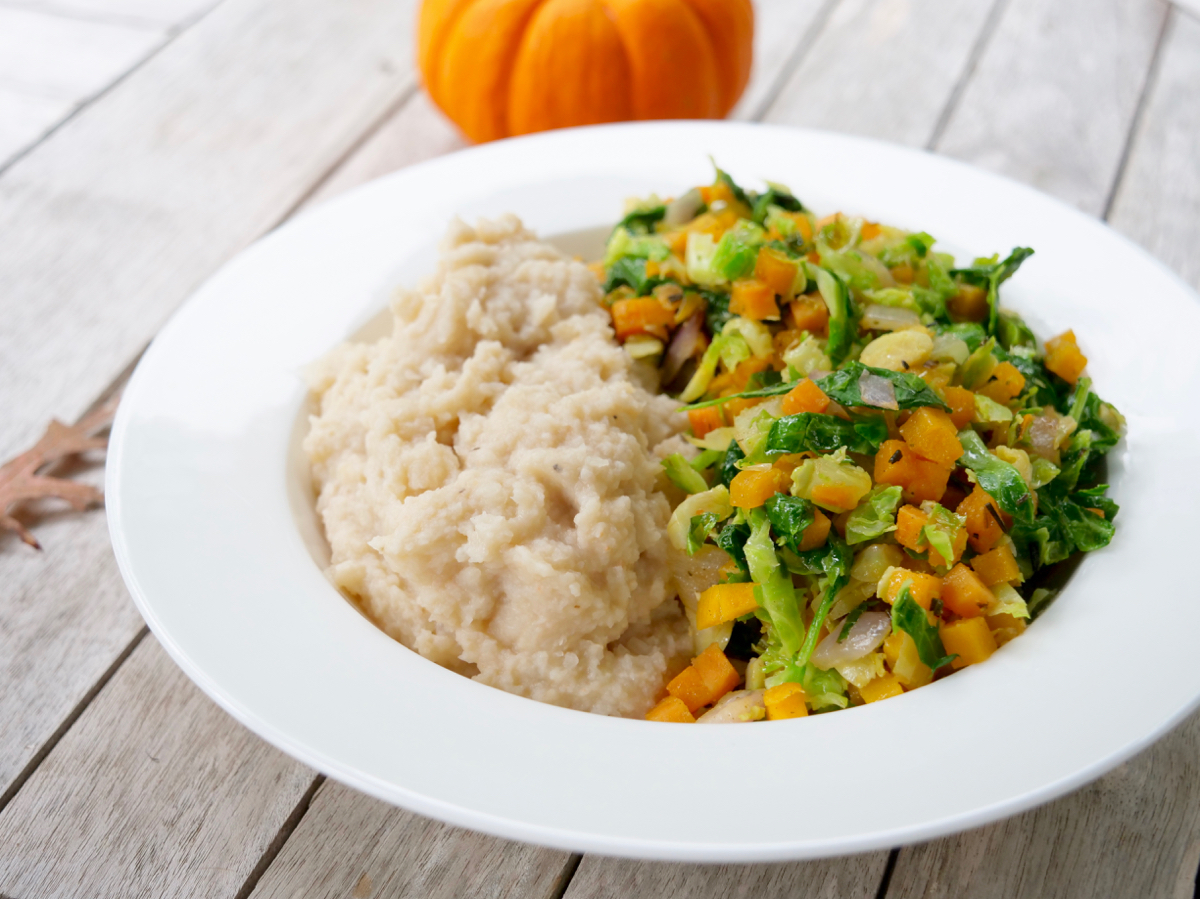 Dairy Free Creamy Cauliflower & White Bean Puree
Made with plant based ingredients for a vegan side that's perfect with sauteed veggies or even used to top a shepherds pie.
More...
With the holidays right around the corner, now is the time to start thinking of those side dishes, and this one will certainly not disappoint.
THE PERFECT HEALTHY SIDE DISH
For our anniversary this year, we treated ourselves to a dinner I won't ever forget. Besides the incredible fried brussels sprouts with lemon tahini, sweet and savory scallops with cranberry and pomegranate and the insane flourless chocolate cake, we also had a dish of roasted celery root steak, with romesco sauce and a white bean puree. It was to die for!
That recipe will definitely be recreated in a future post here on CD, but until then, I at least had to try my own version of the pureed white beans, but getting a bit sneaky and adding in some cauliflower for an extra serving of veggies.
The silky, buttery texture of the white beans blended with the cauliflower turns into a hearty mash, very similar to mashed potatoes, without all the starches. Add in fresh chives for an extra kick of flavor too.
WHAT TO SERVE WITH THIS CREAMY CAULIFLOWER & WHITE BEAN PUREE

In this particular meal photographed above, I sauteed a mix of finely diced butternut squash, celery, sweet potato, shredded brussels sprouts, sage, thyme and rosemary. It was seasoned with Trader Joe's new Everything But The Leftovers seasoning, with an extra pinch of salt.
To serve this, I also added a spoonful of homemade cranberry sauce.
EASY HOMEMADE CRANBERRY SAUCE

I love to serve these with my homemade cranberry sauce which is so easy you may think twice about buying the canned or jarred versions ever again. Best of all, I've stored my leftover cranberry sauce in the freezer for up to 1 year and the flavors were still just as sweetly tart as they were when I first made it.
Here's the recipe for my quick cranberry sauce:
INGREDIENTS:
1/4 cup freshly squeezed orange juice
Zest of 1 orange
1/2 cup sugar, or more, to taste
1 (12-ounce) bag fresh cranberries
DIRECTIONS:
In a medium saucepan, combine orange juice, orange zest, sugar and 3/4 cup water over medium heat. Cook, stirring occasionally, until the sugar has dissolved.
Stir in cranberries and bring to a boil; reduce heat and let simmer until sauce has thickened, about 15 minutes.
Let cool completely before serving.
THE RECIPE

I hope you enjoy this as much as we do! Happy cooking!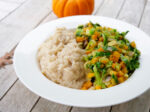 Print Recipe
Dairy Free Creamy Cauliflower White Bean Puree
A super quick side dish that's comforting, healthy, low in fat and absolutely delicious.
Equipment
Immersion blender, hand blender stick or food processor
Ingredients
16

oz

frozen cauliflower florets

15

oz

can white beans, drained and rinsed

1

tsp

garlic powder

1

tsp

salt

1/2

tsp

ground black pepper

1

TBS

butter

Miyokos is a great plant based butter alternative

2

TBS

unsweetened almond milk
Instructions
In a microwave safe bowl, microwave the cauliflower florets with a splash of water, covered, for 6-7 minutes, or until softened.

Add in butter to the cauliflower, tucking it in to let it melt.

Add in beans, seasonings and almond milk, then puree to a smooth consistency. Add salt to taste and serve with your favorite dishes.
Notes
You can also use a garlic seasoning salt in place of the salt and garlic powder if you have it on hand.
If you are a Trader Joe's fan, adding a pinch of Everything But The Leftovers to the mash instantly revs up the flavors.
Serve this with literally anything.  It can be made ahead of time too for meal prep meals, up to 3 days in advance.