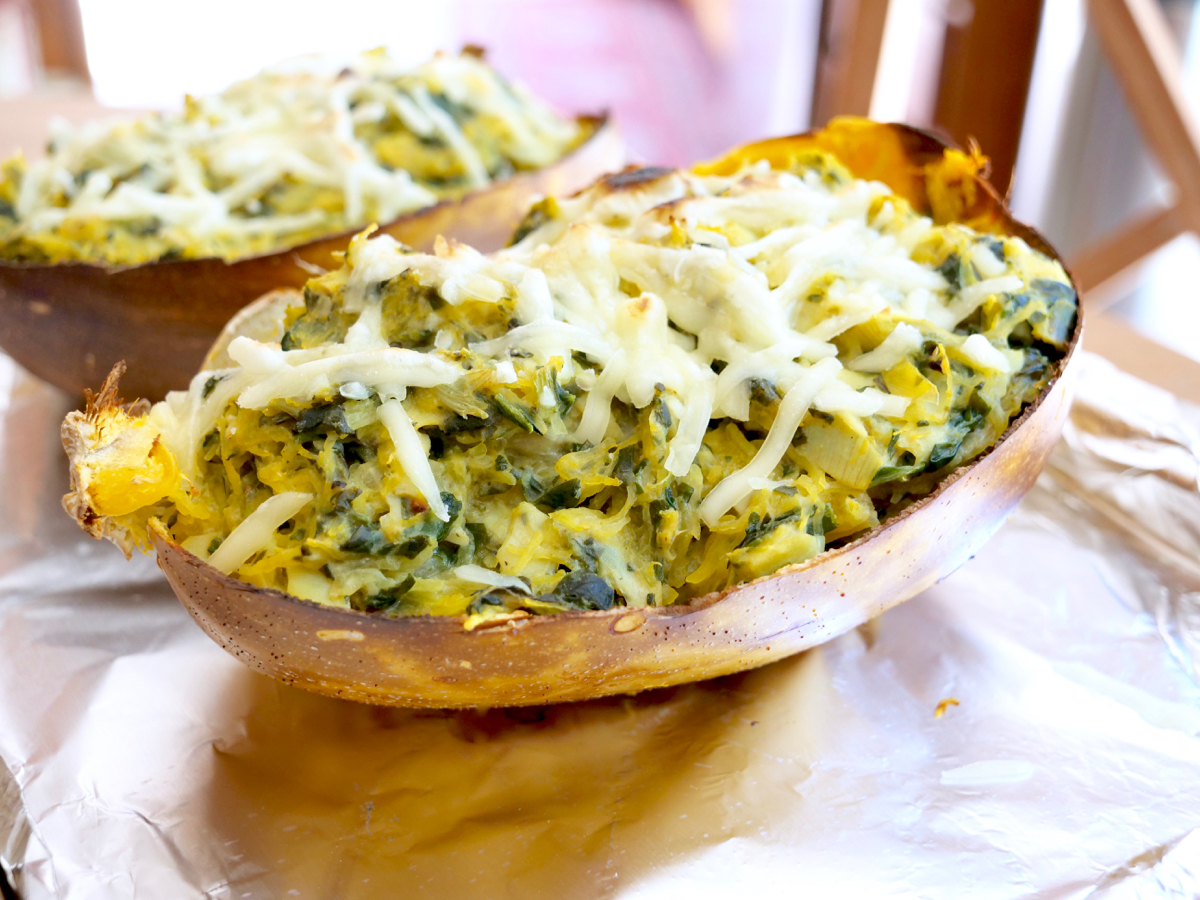 Vegan Spinach & Artichoke Stuffed Spaghetti Squash
Using pantry and freezer staples, shelf stable spaghetti squash and a few fresh ingredients, you have an easy, creamy, delicious dinner that makes for excellent leftovers.
More...
If you're a fan of spaghetti squash and miss the creaminess of spinach and artichoke dip, I think you're really going to like this. The flavors are light and mild, the sauce is easy to make (no soaking cashews etc), and the leftovers might arguably be even better.
Meal Prep Your Spaghetti Squash
Probably the most important part of making this dish, especially on a busy weeknight, is to prepare your spaghetti squash ahead of time.
All you really need to do is make sure you can be home for 1-2 hours at some point leading up to making this recipe, which is pretty easy these days. It's basically a hands-off prep, just make sure to pierce holes around the squash with a knife first, then put the squash in the oven at 425 for 1 hour, let it cool for 10-15 minutes, then cut it in half lengthwise and use a fork to shred the spaghetti squash. Keep the squash in a bowl in the fridge until you're ready to use it.
Whether you pop it in the oven while you're on zoom calls in the morning, or making it a day or two ahead when you have more time, it's an easy meal prep that only sounds like a lot. I promise it's not!
Vegan Spinach & Artichoke Stuffed Spaghetti Squash
The spinach and artichoke filling is as close as I'll ever get to the real thing, without all the butter, milk and cheese.
I used a combination of Miyokos vegan cream cheese (I tried the chive one this time and LOVED it, but plain of course works too!), Daiya mozzarella shreds, oat milk, shallots, garlic, broth, lemon juice and nutritional yeast.
Don't Drain or Thaw!
Canned artichoke hearts are roughly chopped and added to the sauce, followed by frozen unthawed spinach. I don't thaw my spinach out for this dish so that the water in the spinach can help keep the cheese sauce from getting too thick. Same with the artichokes - I drain the can but any more liquid from the artichokes isn't squeezed out before being added to the sauce.
The Recipe
This makes for a great lunch the next day, or you can even make a lot and freeze the filling (just be sure not to try keeping and freezing the squash bowls).
I hope you enjoy!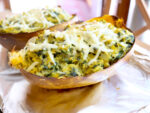 Print Recipe
Vegan Spinach and Artichoke Stuffed Spaghetti Squash
Ingredients
1

medium

spaghetti squash

wash your vegetables!

1

TBS

olive oil

1

medium

shallot, finely diced

5

cloves

garlic, roughly chopped

1/2

C

oat milk, or other non-dairy milk of your choice

2

oz

vegan cream cheese

I love the Miyokos brand of Vegan cream cheese

2/3

C

vegetable broth

2

TBS

nutritional yeast

juice of 1/2 a lemon

or more to taste

salt and pepper

1/2

C

vegan shredded mozzarella shreds, divided

Daiya or Violife are my go-to's

15

oz

artichoke hearts

drained and roughly chopped

16

oz

frozen spinach

you do not need to thaw this out ahead of time
Instructions
Preheat the oven to 425 and use a knife to poke holes in the spaghetti squash. Put the squash on a baking sheet and bake for 45-60 minutes, or until the outside has softened slightly to the touch. Remove from the oven, let it cool for 10-15 minutes, then carefully cut it in half lengthwise. Use a fork to pull the squash away from the sides, shredded it up and transferring to a bowl.*

In a deep sided saute pan, heat the olive oil over medium and add the shallot and garlic, stirring constantly and cooing for 2-3 minutes. Add the oat milk, broth, cream cheese and nutritional yeast and stir until the cream cheese melts into the sauce. Next add the lemon juice, then season with salt and pepper.

Once you have the sauce flavored to your liking, add in the artichokes and the spinach. Stir well and let it all cook together until the spinach has heated up. Add in the spaghetti squash and a 1/4 C of the shredded mozzarella. Stir well to combine everything and again taste for salt and pepper.

Set the broiler to high with the rack in the middle of the oven. If you are using the squash bowls, spoon the spinach and artichoke mixture evenly into each bowl, otherwise spoon everything into a greased baking dish. Sprinkle the remaining 1/4 C cheese evenly over each bowl or over the whole dish, then transfer to the broiler. Watch carefully, letting the cheese melt under the broiler. This should take 5-6 minutes, or until the cheese starts to get browned and bubbling.

Serve right away, freeze it or keep it for lunch the next day!
Notes
*

You can keep the bowls for later or if you want to throw them away, plan to use a greased baking dish for when it's time to broil the cheese before serving.