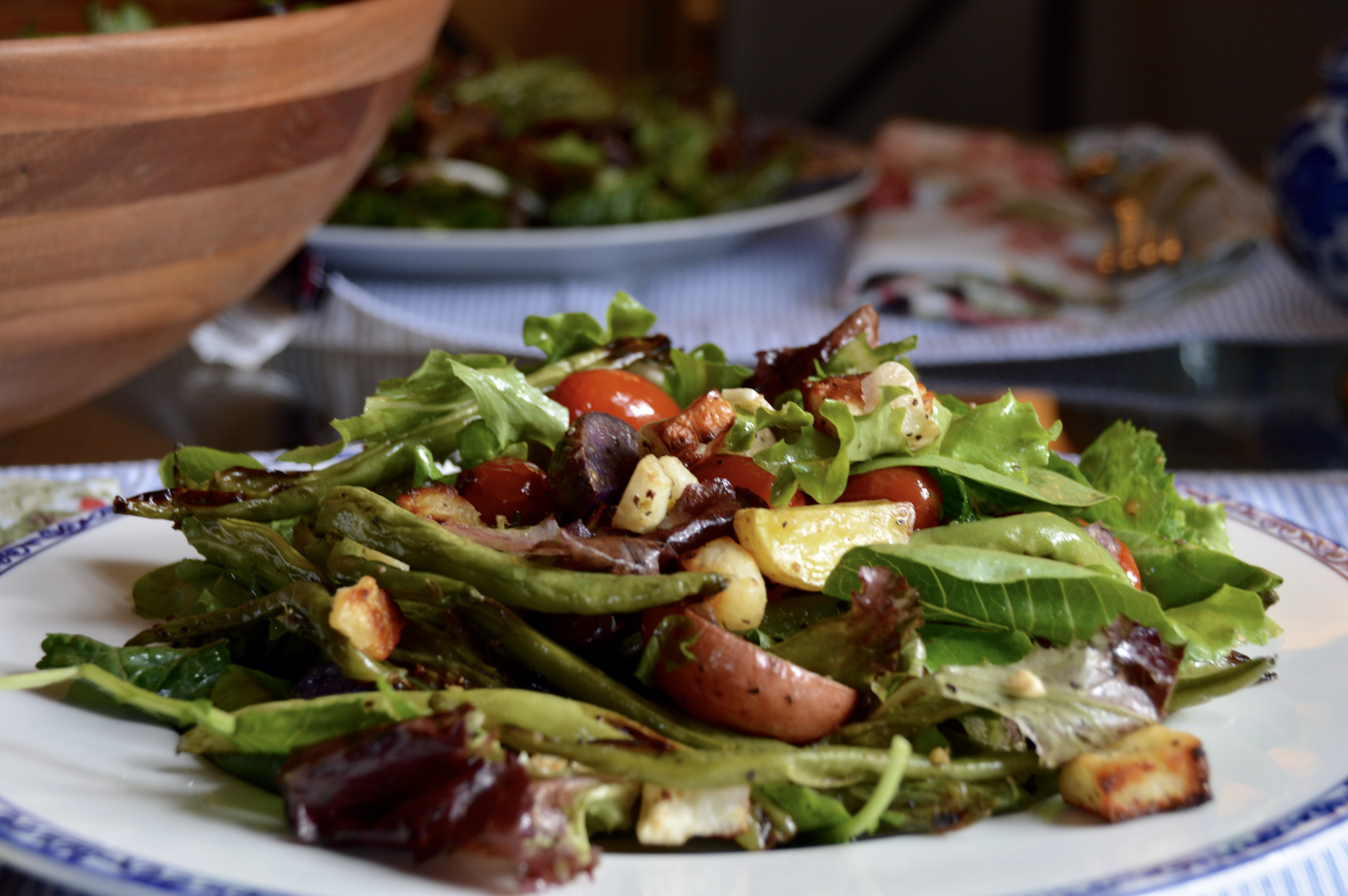 An Easy Plant Based Holiday Menu
This plant based holiday menu has you covered with everything from the appetizers, sides and main to even dessert, so you can feel good knowing you've got the feast covered.
More...
WHAT DOES PLANT BASED MEAN?

Plant based often get's bundled together with being a "vegan" diet, but that is far from the truth. I never like to put labels on things like diets, because we all know diets are only ever temporary, they put pressure on staying within certain guidelines and we were not put on this earth to even be on a diet.
That being said, my vision of a plant based lifestyle means gravitating towards more natural sources of energy from vegetables, grains, legumes and fruit while still keeping an open mind to eggs, fish and lean proteins. If you can base most of your meals around plants, you're eating plant based.
My only personal guideline for eating plant based is cutting out dairy, meat, poultry and pork. Why? Because not only is the majority of those food groups full of processed ingredients, added fillers and gross words like nitrates, I also strongly feel that we can thrive and live a fully healthy existence without them. Cutting out dairy and red meat helped me personally to lose weight, have better periods, debloat and enjoy more energy throughout the day.
I won't get into a full on lesson about it here, but just know that this plant based holiday menu is free from dairy and animal proteins. This menu is customizable, and you are welcome to add in or omit ingredients you don't like.
HORS D'OEUVRES

For a plant based holiday menu, the appetizers can be so easy. If you live near a Trader Joe's for example you can easily pick up some frozen apps like the spring rolls, vegetable nests or tempura cauliflower. Most grocery stores will have some easy frozen options for starters, but if you really want to go above an beyond, you can serve this quick Zesty Parsley Caper Sauce with sliced baguette. It's a mix between a sauce, dip and pesto, that's vibrant in flavor and super easy to make - just throw it all in a food processor and you're done.
You can also make an easy vegetable charcuterie board with items like:
olives, pickles, plant based cheeses (Violife and Miyokos make great cashew and almond based cheese wheels)
Dips and spreads like pesto, hummus, olive tapenade, guacamole
breads and crackers
extras like nuts, dried fruits, grapes
veggies like carrot sticks, celery, cucumber, radish
Any of these are a delicious option, and having a cold side at the meal helps to keep everything in balance. If you decide to go traditional and have the Roasted Vegetable Salad, be sure to keep the dressing separate. This way diners can add as much as they like, keeps the greens from getting soggy, and gives diners the option of choosing a different dressing if they choose (put out a bottle of balsamic or Italian vinaigrette as well just in case).
In a holiday meal, you can begin the feast with a starter such as soup, served with or after the salad. You want to be sure not to serve anything too hearty and rich, otherwise no one will want the rest! My favorite winter soups to serve would be a creamy Butternut Squash Soup with Crispy Sage or a hearty tomato soup like Papa Pomodoro Soup with quick croutons (always optional!).
Once you've served the starter, then you can move on to the sides and main course. In order to choose your sides, you should first choose your main course. I'd like to suggest 3 different main course ideas, two being vegan and the other being a salmon dish.
There's nothing wrong with adding in a fish dish to your plant based meal, nor is it wrong to add in a roasted chicken or filet of beef. It's your choice, just as long as the rest of the meal is centered around plants!
Once you decide on your main course, then you can move on to the sides! One might go better with the other. Here are some ideas for putting it all together.
Simple Baked Salmon with Herbs served with Dairy Free Creamy Cauliflower & White Bean Puree, Savory Mushroom and Basil Pilaf and simple roasted carrots (toss in olive oil, salt, pepper and garlic powder, then roast for 18-20 minutes at 425). You can also make my favorite - Cider Roasted Root Vegetables.
Lentil & Japanese Sweet Potato Shepherds Pie served with Roasted Vegetable Salad with Spicy Dijon Dressing. That's it! Shepherds pie is a heavy main course as it is and usually already has all the veggies and starches you'd normally use as a side, so this one's easy.
Lentil Mushroom Vegan Loaf served with Maple Miso Roasted Brussels Sprouts, Creamy Cauliflower & White Bean Puree and my favorite mushroom gravy. I use Worcestershire sauce in mine, but if you're going 100% vegan, sub it for soy sauce. To make my mushroom gravy, start by sauteeing one diced shallot and 4 garlic cloves in 2 TBS olive oil. Cook for 4-5 minutes, then add in 16oz sliced mushrooms, broken up, or (the best!!) use a bag of frozen Mushroom Medley from Trader Joe's. Saute until mushrooms have softened and cooked through, then add in 2 TBS flour and stir to coat everything. From there, slowly stir in 1/2 C unsweetened almond milk and 1/2 C vegetable broth. It should be a thick sauce and will thicken with more simmer time. Season with your favorite herbs, salt, pepper, garlic powder, a dash of paprika and 1 tsp Worcestershire sauce or soy sauce. Let it simmer for 15-20 minutes before serving.
I hope this helps you plan your plant based holiday meal with ease, and you can check out more recipes by visiting the recipe section of the website.
Happy cooking!