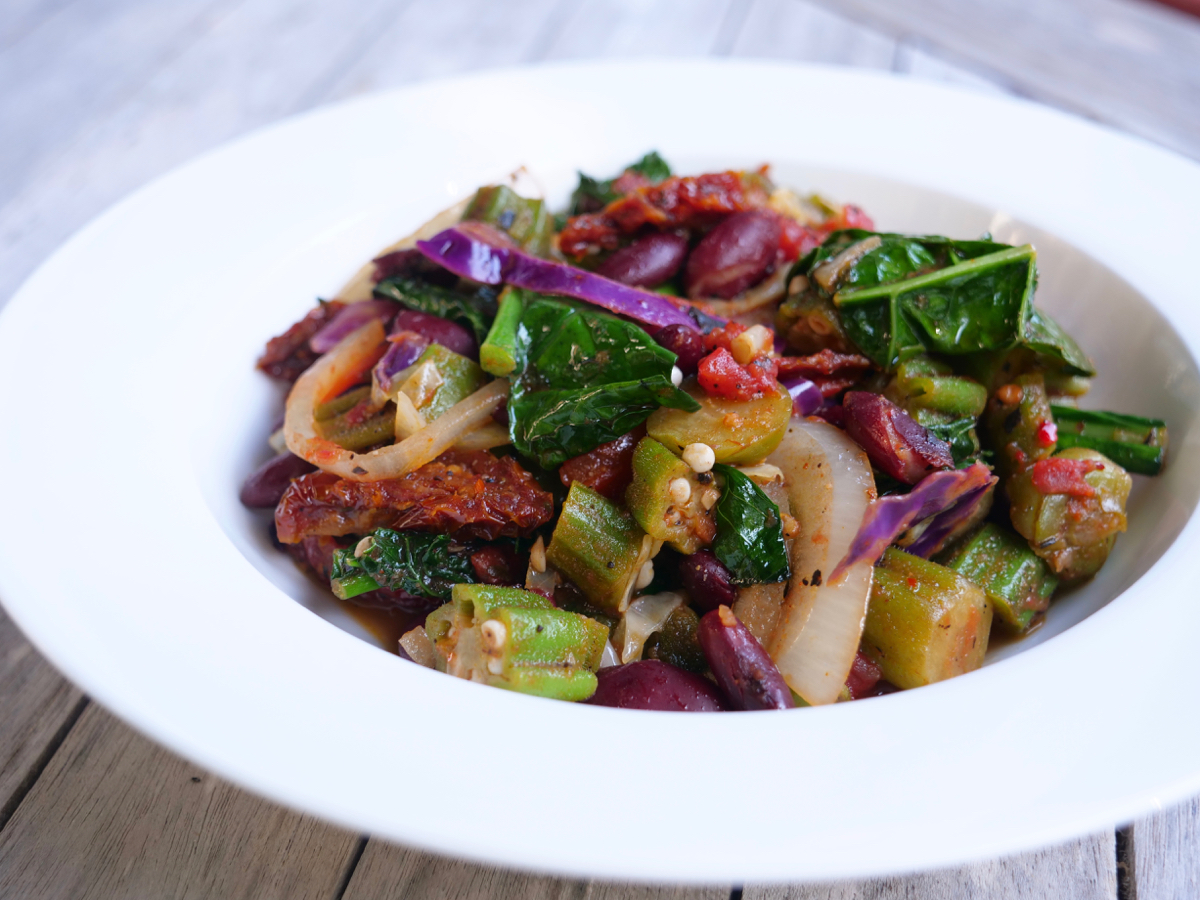 Cajun BBQ Vegetable & Bean Skillet
This vegan cajun BBQ veggie saute is made with cajun seasonings, BBQ rub, red beans, okra, cabbages and kale in a light and creamy sauce.
More...
This is as close as I'll ever get to making a hearty pot of gumbo, and I suppose it is quite similar, since we are using okra and red beans, and I highly recommend serving it over rice. But since there's no sausage or shrimp and this isn't a soup, it's not a gumbo. Instead of a soup, it has a light creamy sauce made from a simple roux of flour and vegetable broth, with the juices from the vegetables, with all the yummy flavors of a gumbo but healthier.
Regardless of how close it is to a gumbo, this vegan, lightened up version is full of flavor, with a little BBQ kick to boot.
HOW TO MAKE A CAJUN BBQ VEGETABLE SKILLET DINNER

This recipe is for those nights when you either have no motivation to cook or you need to clean out the fridge. Either reason is a good reason to make this easy meal.
When making any kind of vegetable skillet dinner, I always start with the basics - garlic and onions. I slice them onions up really thin and crush a few cloves of garlic.
In this particular dish since we are going for a cajun vibe, you also want to use the basics of cajun food which are in my opinion okra and red beans. You can buy cut frozen okra any time of year in basically any grocery store, but if you can get your hands on fresh okra, that's even better! From there, you can get creative with what you have on hand.
I added half a jar of sun dried tomatoes, a can of fire roasted diced tomatoes, two cups of shredded cabbage and one big handful of lacinato kale torn up into smaller bits. You can add shrimp to this as well for more bulk if you want.
The roux of this dish comes together with a tablespoon of flour and 1/3-1/2 cup of broth. The rest of the juices come from the veggies and canned tomatoes.
If you want to save on calories, you can omit making the roux and just have the pan juices from the veggies and tomatoes.

Throughout the cooking process you're also adding in cajun seasoning and your favorite BBQ rub. My favorites are the Slap Yo Mama Cajun and Trader Joe's BBQ rub. Zatarans also makes a good cajun and you could also use Montreal steak seasoning in place of the BBQ rub too.
Using and Getting Creative with Olive Oils

I know there are plenty of cooking oils out there, but I always just use olive oil. If you're like me and you love to use olive oil, you can get creative by buying 3 smaller bottles of olive oil and infusing them with different flavors. I like to add 6 peeled whole garlic cloves to one bottle, a handful of dried chili peppers to another, and leave the third bottle plain for every day cooking. Let them sit for at least 6-12 hours before using to get the full flavor effect. You can use any of those oils for this dish.
HOW TO SERVE

Serve this cajun BBQ vegetable skillet with rice and pan juices for the ultimate healthy comfort food meal. This also keeps well in the fridge for 3-4 days, making it a great meal prep option for lunches and dinners throughout the week. You can also freeze this for up to 4 months.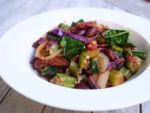 Print Recipe
Cajun BBQ Vegetable & Bean Skillet
This vegan dish is made with cajun seasonings, BBQ rub, red beans, okra, cabbages and kale in a light and creamy sauce.
Ingredients
2

TBS

olive oil

1

medium

yellow onion, sliced thin

4

cloves

garlic, crushed and minced

16

oz

frozen cut okra

1/2

C

sliced sun dried tomatoes in oil, oil drained

15

oz

fire roasted diced tomatoes

2

C

shredded cabbage

1

bunch

lacinato kale, torn into bite size pieces

15

oz

red kidney beans, drained and rinsed

2

TBS

Cajun seasoning (Slap Yo Mama)

+ more for taste

2

TBS

BBQ rub

+ more for taste

1

TBS

flour*

1/3-1/2

C

vegetable broth (the more broth the thinner the sauce)*

salt and pepper to taste

rice for serving
Instructions
In a large deep skillet, heat it over medium high and add olive oil. Once the oil warms up, add in the onions, frozen okra, 1 TBS of the Cajun seasoning and 1 TBS of the BBQ rub. Stir well and let the okra and onion cook down for 6-8 minutes.

Once the okra has cooked down, add in the sun dried tomatoes. Stir well, then sprinkle in the flour, stirring to coat everything. Slowly pour in the broth and then the diced tomatoes, whisking well to combine. Add the remaining tablespoons of Cajun and BBQ rub.

Sprinkle the cabbage and kale on top then stir them into the sauce. Cover and let the greens steam and cook down.

Add in the beans, stirring everything together, then taste for salt and pepper. Add more Cajun seasoning for spice and more BBQ rub for flavor.
Notes
*If you want to save on calories, you can omit the flour and broth or even just the flour, and just use the pan juices from the diced tomatoes and veggies in the dish.  Either are great choices and I have cooked it both ways like this for years 🙂