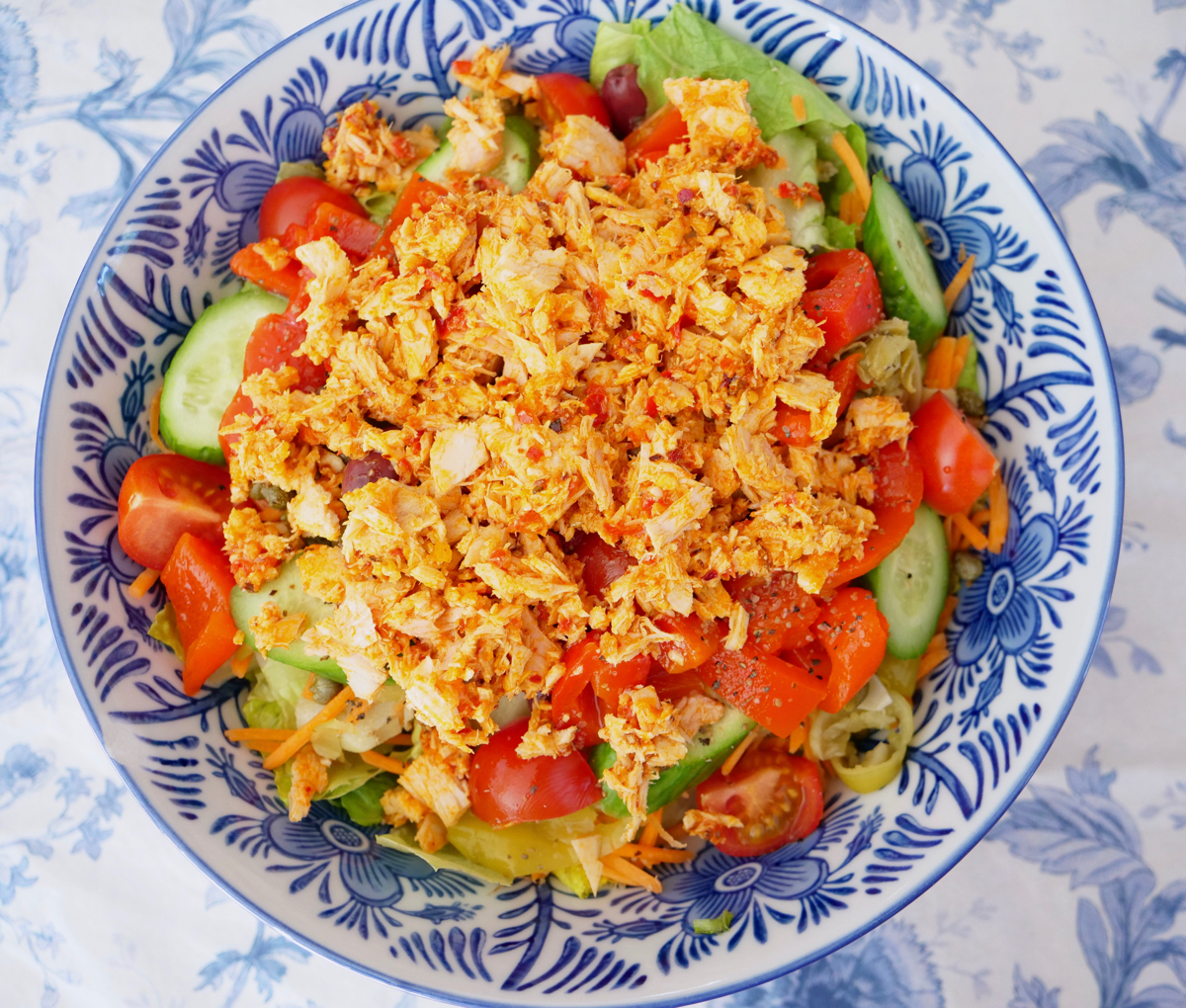 Trader Joe's Spicy Bomba Tuna Salad (Dairy Free)
Turn ordinary canned tuna into a zippy, spicy salad that's perfect over greens, in a sandwich, with crackers or stuffed into endive leaves.
More...
It's my go-to lunch for days when I want something fast, and I always serve it over a salad chock full of my favorite veggies.
It's not so much a super special recipe but really just a totally awesome, easy and delicious lunch idea for your week ahead. I've been making this for a long time now and thought everyone just needs to know about this. It's so good.
If you don't have a Trader Joe's near you (I'm so sorry), then there are easy substitutes for the ingredients, so no worries! Any grocery store will have a spicy red pepper relish that you can replace the Bomba sauce with, and just that with the vegan mayo is also totally delicious.
When I was growing up, my mom would always make me tuna sandwiches made with spicy red pepper relish, with crunchy iceberg lettuce and perfectly toasted white bread. It was sooooooo good! The adult version these days is just a little more grown up, but with the same kick of flavor (and then some), in a super easy and fast prep list.
Ingredients
As far as vegan mayo's are concerned, I don't actually like the Sir Kensington's vegan mayo as much as I love the Primal Kitchen one, but this is what I had and I'm not just going to throw it out, but I do recommend going with the PK brand, which I will be doing as soon as this jar is done.
The other ingredients are Trader Joe's GOLD. The Italian Pepper Bomba Sauce is very hot and spicy, and a little goes a long way. The Chili Onion Crunch is probably my favorite TJ's item ever. I use it in this recipe, as well as mixed into salad dressings, spooned over cod and baked, tossed with steamed green beans or added to avocado toast and sandwiches. It's the perfect balance of flavors and you just need this in your life, end of story.
Measure With Your Heart
I heard this phrase on TikTok from a girl who posts recipes, and she likes to say "measure with your heart", and I really feel that. This is one of those recipes! I will suggest a measurement for each sauce, but if you want more spice or more onion crunch flavor or more creamy mayo-ness, then by all means add more! Or less!
My advice would be to first taste test a very small amount of each sauce to know what the flavor is, then go from there. I use about 1 tsp of vegan mayo, 1-2 teaspoons of the Bomba sauce and about a 1/2 - 1 TBS of chili onion crunch sauce.
Just be aware that 2 teaspoons of the Bomba sauce makes it quite spicy, so start with 1/2 a teaspoon first and build up from there. Same goes for the chili onion crunch sauce, start with a 1/2 TBS and work up from there.
My Favorite Way to Serve Spicy Bomba Tuna Salad With
I love to serve this tuna salad with a loaded salad full of:
The Recipe
Remember, feel free to measure with your heart!
If you don't have access to a Trader Joe's, you can instead use a spicy red pepper relish, which can be found in the Italian aisle of any grocery store.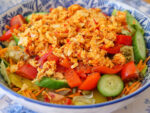 Print Recipe
Spicy Bomba & Chili Onion Crunch Tuna Salad
Ingredients
1

can

white albacore tuna in water, no salt added

1

tsp

vegan mayo

1/2-2

tsp

Trader Joe's Spicy Bomba Sauce

start with 1/2 tsp then work up from there, its SPICY!

1/2-1

TBS

Trader Joe's Chili Onion Crunch Sauce

serve over salad, in endive leaves, in a sandwich or wrap or with crackers
Instructions
Drain your can of tuna and transfer to a bowl, breaking up the tuna with a fork.

Add the mayo, stirring everything together and adding more if you desire (I use a tiny amount because I don't love mayo, even when it's vegan, but its necessary for tuna salad in my opinion)

Next add the Bomba sauce, starting with a little bit then adding more if you want. Then add the chili onion crunch sauce.

Stir everything together and serve however you want.

This makes two servings, and the tuna salad will keep in the fridge for up to one day, so you can have it again tomorrow!