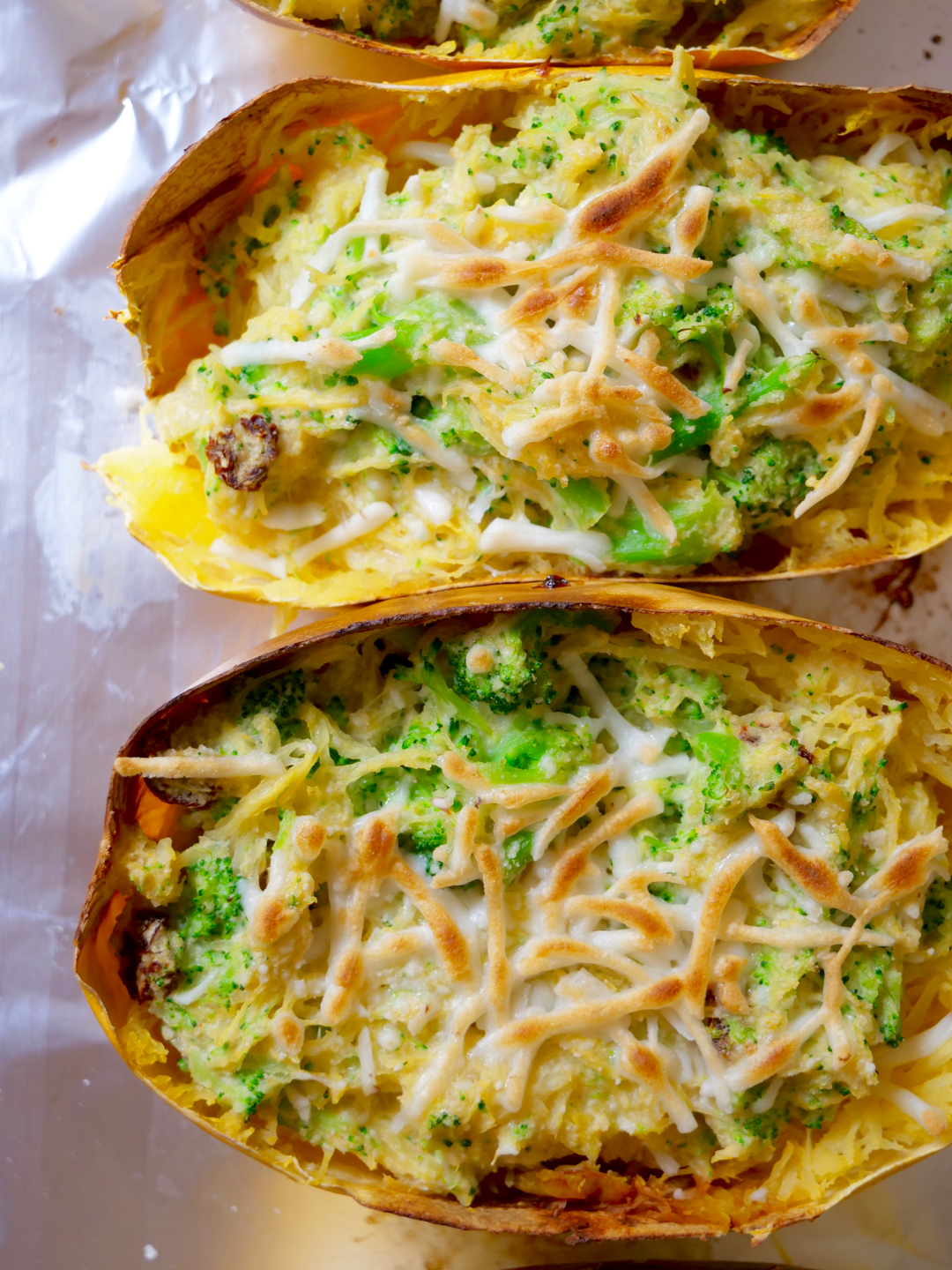 Vegan Alfredo Spaghetti Squash with Broccoli
Plant based deliciousness has arrived to my kitchen and I couldn't be more excited about it! This vegan alfredo spaghetti squash is the answer to my comfort food prayers, and for someone who has been eating dairy and cheese her whole life, I never would have guessed this was vegan.
More...
**This recipe has been updated since I posted it last year. I keep this on our rotation of weekly meal plans, and over the past year I've improved the sauce into a richer, creamier sauce. It's still just as easy, with the addition of plant based cream cheese (I used Violife) and sauteed onions and garlic.**
My Plant-Based Journey
My plant-based journey started about a month ago when my husband and I were living in Costa Rica. I was basically forced into a mostly plant-based diet, eating tons of fresh fruits, vegetables, beans and rice that I made on the stove top and of course so much fresh fish caught from the beach.
For as long as I can remember I have always had so much bloat and the number on the scale wouldn't budge. I'm very in shape but the water weight was simply weighing me down. As I started into this plant-based lifestyle while we were down there, I gradually started to feel lighter, my tummy got flatter and my energy skyrocketed. I knew from then on that this was the food I was meant to eat.
As annoying as it may be, I thought if it's working, why fight it? When I got home I realized I had dropped 5 pounds, and that sealed the deal.
Not only do I feel really good, I also am really happy to know that I'm giving myself nutrients and foods that are nourishing me rather than hurting me.
So of course this meant a whole lot of research into cooking plant-based, and finding new alternatives to the foods I've always loved...like alfredo sauce. Especially in the colder months, I love making spaghetti squash boats filled with an alfredo sauce I made with greek yogurt and whipped cream cheese, tossed with broccoli, chicken and sun dried tomatoes. That is now a recipe of the past for me, so I had to come up with an alternative!
Cashews & Nutritional Yeast
Cashews are one of the most popular ways of what makes vegan "cream-based" sauces so creamy...without the cream, and nutritional yeast is what gives it that cheesy flavor we all love. I've seen cheese sauces made with lentils, squash, white beans and potatoes as well, but this is one of the easiest ways in my opinion.
I was very skeptical of nutritional yeast at first, and I have seen it and heard about it for years, but when push came to shove and I finally tried it, I actually really LOVE it.
The key to using cashews in a sauce is to soak them either in water for up to 12 hours or for just 5 minutes in a bowl of boiling water. By soaking them you'll get a softer cashew making for a much smoother sauce.
I also used half an onion and lots of garlic, sauteed in olive oil and a little salt, to give it more of that Italian-alfredo taste.
The lemon juice in the sauce gives it a little extra zip and flavor, and then you'll want to add more salt to taste if needed.
Nut-Free Alfredo Sauce
If you're looking for an Alfredo sauce that's nut free, try my Cauliflower Alfredo recipe, that still has just as much flavor and creaminess, without the cashews.
Protein on a Plant-Based Diet
People get so hung up on protein! On a plant-based diet, you're getting ample protein and essential nutrients from beans and other legumes, nuts, seeds, grains, vegetables and even fruit!
For this dish, your protein is coming from the cashew-based sauce and the non-dairy almond cheese, and you'll feel full and satisfied from the fiber-rich spaghetti squash and broccoli. There's a whole lot of debate about protein in vegan, vegetarian and plant-based diets that I won't get into with this post, but I promise you you'll be full and satisfied with this comforting meal.
Vegan Alfredo Spaghetti Squash with Broccoli
You can switch this up any way you'd like - add chicken if you're just looking for a dairy-free option, or keep the original recipe but add baby spinach for an extra boost of iron, calcium and minerals or mushrooms for more heartiness. This can be a very versatile recipe.
My husband Ryan has 100% approved this recipe, reminding me constantly as I write this post how incredible it is - so...it's husband approved!
This recipe is also Arbonne 30 Days to Healthy Living approved! If you haven't the slightest clue what I'm talking about and want to find out, you can click here for more information.

For more Arbonne 30 day vegan recipes, click here.
Let me know in the comments below if you try it and what you think! Happy cooking!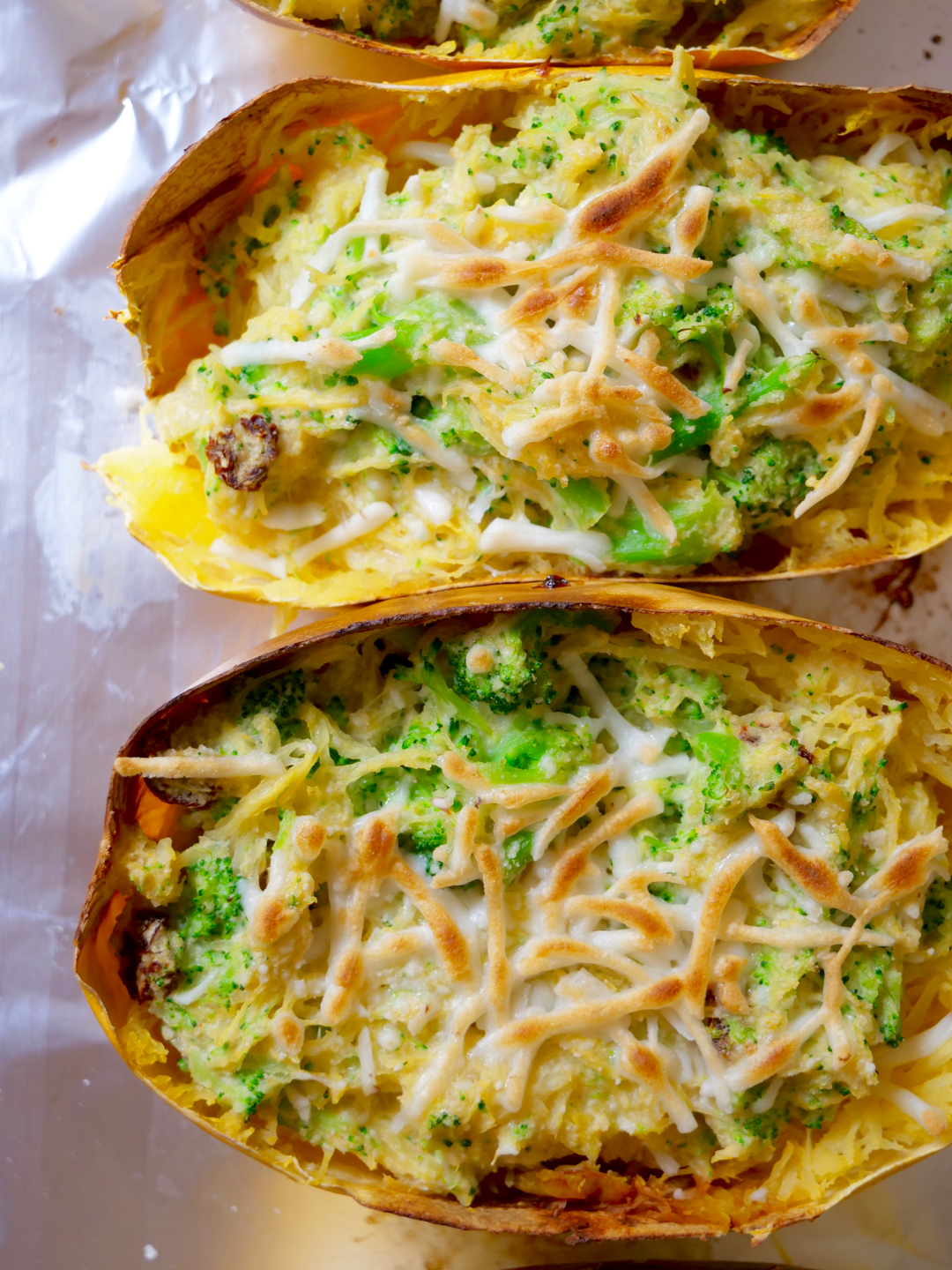 Print Recipe
Vegan Alfredo Spaghetti Squash
Ingredients
For the Alfredo sauce
1.5

C

cashews soaked in 2 cups boiling water for 5 minutes

then drained.

1/2

chopped onion

6

garlic cloves minced

1

TBS

olive oil

1/4

C

nutritional yeast

Juice of 1/2 a lemon

4

oz

plant based cream cheese

I used Violife

1

C

unsweetened almond milk

1

tsp

garlic powder

salt and pepper to taste
For the squash boats
2

medium spaghetti squash

1

bag broccoli florets

steamed then coarsely chopped

1

C

sun dried tomatoes sliced in oil

oil partially drained

2

C

baby spinach

1/2

C

shredded plant based mozzarella
Instructions
Set the oven to 425. Pierce the squash all around with a knife then bake on a baking sheet for 60 minutes. Let the squash cool then cut each in half, remove the seeds and then shred with a fork, transferring the "spaghetti" to a bowl. Save the squash bowls for serving.

In a saute pan, heat olive oil over medium and add onions and garlic. Add a pinch of salt, then cook for 3-4 minutes, or until onions have slightly softened and the garlic becomes fragrant. Transfer the onions and garlic along with the remaining sauce ingredients into a food processor and blend until it becomes a smooth and thick consistency. Add salt and pepper to taste, then warm in a saucepan over low heat.

Mix broccoli florets, sun dried tomatoes, spinach, spaghetti squash and Alfredo sauce in a bowl, then add salt to taste. Spoon mixture evenly in each of the four squash bowls and divide the cheese evenly over the top of each half.

Place squash bowls on a baking sheet and broil on high for 5-8 minutes or until the cheese starts to melt and brown. Serve and enjoy!