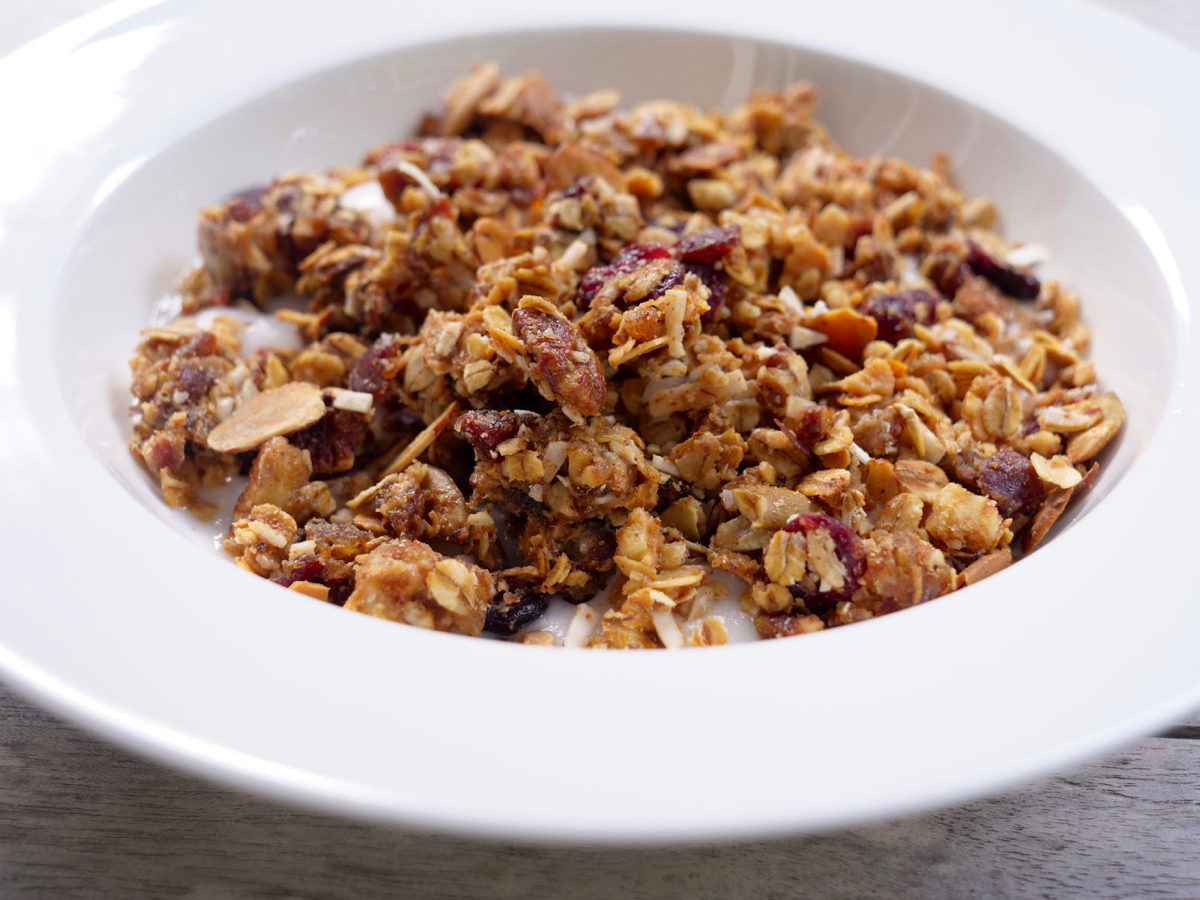 Candied Maple Raw Granola
A soft and chewy granola that will quickly become a breakfast favorite! Full of healthy fats and plant based protein for a filling, healthy breakfast.
More...
Breaking your fast is one of the most important meals you can give yourself in my opinion. It's important to fuel and nourish your body with a healthy fat, protein and carb at it's most optimal time. This candied maple raw granola kind of tastes like a treat at breakfast, but it's not just a sweet treat!
Not only is it a good for you sweet treat, it's also really easy to make because it's raw, meaning it doesn't have to bake in the oven before you eat it, and it can stay in the fridge for up to 2 weeks.
WHATS THE DIFFERENCE BETWEEN GRANOLA AND RAW GRANOLA?
Most granola recipes call for time in the oven to give it that really crispy, crunchy texture. Raw granola on the other hand, is set in the fridge and has a soft and chewy texture. It's great to make in the warmer months or any time, and you do have the option of toasting your oats and nuts to amp up the flavors, but it isn't necessary.
The oats in this raw granola sticks together with the help of finely chopped dates, crunchy almond butter and maple syrup. Besides those ingredients, you can get creative with whatever you love to add in to your granola.
For my recipe, I used a mix of candied walnuts and pecans, sliced almonds, pumpkin seeds, shredded coconut and dried cranberries. You can add in whatever you please though whether it's a different dried fruit, or all fruit and no nuts at all or all nuts and no fruit at all.
WHAT YOU'LL NEED TO MAKE RAW GRANOLA

To make this raw granola, you'll want to have:
a food processor to blend up with dates
parchment paper for easy cleanup and a no-stick granola
That's it!
The other tricks I have for this are:
toast the pumpkin seeds, oats and sliced almonds if you'd like for added flavor
soak the dates in a bowl of hot water for 15 minutes if they are too hard. You want them to be easy to break up in a blender
If you don't have a lot of time, set the granola in the freezer rather than the fridge to make it faster
HOW TO SERVE THIS MAPLE GRANOLA

I like to have this with some unsweetened coconut yogurt from So Delicious, with a handful of fresh or frozen blueberries on top. You can also just have this by the handful as a snack or stir into oatmeal.
THE RECIPE

This keeps well in the fridge for up to two weeks, so make a big batch for easy breakfasts all week long!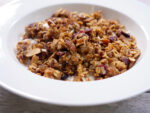 Print Recipe
Candied Maple Raw Granola
Use candied pecans and walnuts to rev up this easy homemade granola, but if you can't find them, regular nuts will do just as well!
Ingredients
1 1/2

C

old fashioned oats

1/2

C

sliced almonds

1/4

C

pumpkin seeds

8

oz

dates, softened if needed in hot water for 10-15 minutes

1/2

C

shredded unsweetened coconut flakes

1/4

C

dried unsweetened cranberries

1/4

C

candied chopped walnuts, or regular chopped walnuts

1/4

C

candied chopped pecans, or regular chopped pecans

1/2

C

maple syrup

1/2

C

crunchy almond butter
Instructions
Preheat the oven to 375 and toast the oats, almonds and pumpkin seeds for 10-12 minutes, then set aside to cool. This is an optional step!

While the oats and nuts toast, heat a small saucepan over medium low and stir in the maple syrup and the almond butter. Stir constantly so nothing burns, and continue cooking for 3-5 minutes, or until the mixture has warmed up and combined well.

In a food processor, pulse the dates and coconut until they break up into small pieces. Combine them with the cranberries and candied nuts in a bowl.

Add the toasted oats and nuts to the date mixture, then pour in the maple syrup/almond butter mixture. Stir well to combine all the ingredients as best you can.

Grease a 9x13 baking pan with coconut oil or line with parchment paper and then pour the granola mixture in, pressing down to compact it. Let it set in the freezer for 20-30 minutes, or the fridge for at least an hour. Either way, the granola can sit in the fridge or freezer for as long as you want.

Once the granola sets and is cool, break it apart with your hands or a spoon and enjoy! Store the granola in the fridge for up to a week.