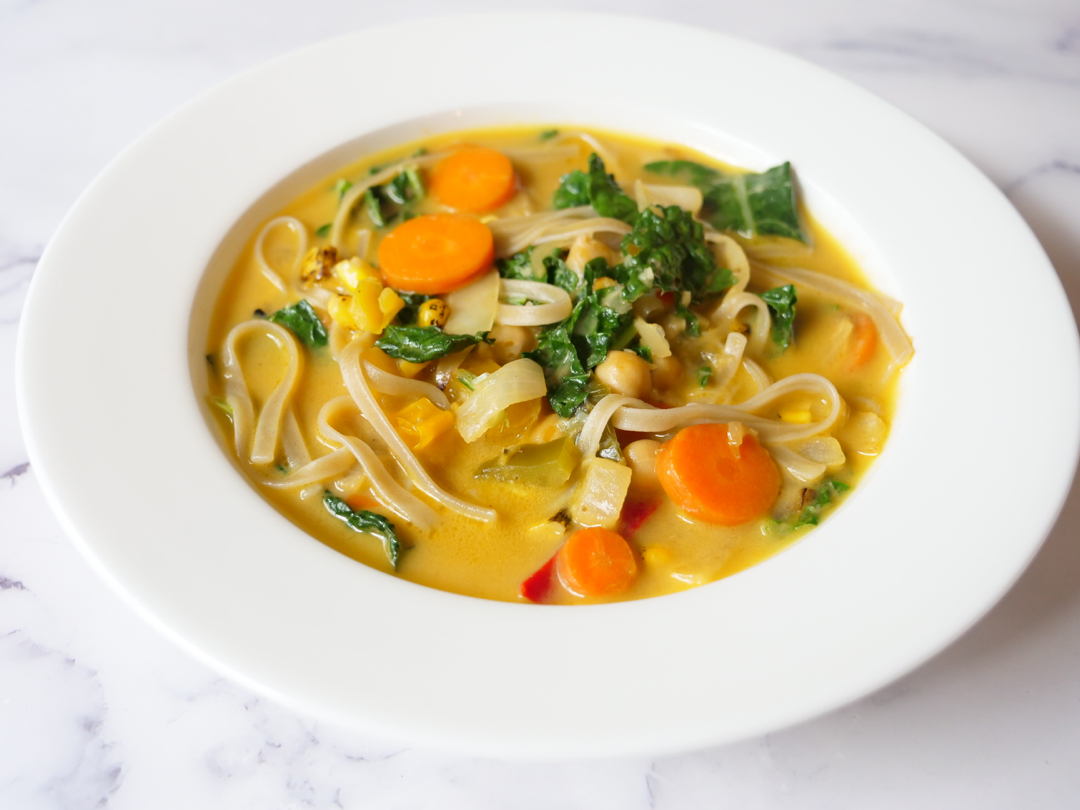 Comforting Coconut Chickpea Noodle Soup (V, GF)
A creamy and comforting bowl of soup that's the perfect vegan spinoff of traditional chicken noodle soup, with a Thai twist. Bursting with flavor from green curry paste, coconut milk, fresh minced ginger and chewy brown rice noodles. Even better? Each serving is under 300 calories with 8 grams of protein!
More...
I've been dreaming up this soup idea for some time now, but with the never-ending quarantine going on it's been hard to get to the store enough to play around with recipes. That being said, since it's April and it was just SNOWING outside...I figured now was definitely the time to get this recipe created. We could all use a little bowl of comfort right about now.
You can customize this as you like - with soup there are no rules in my opinion. You want to add broccoli? Go for it! Spinach instead of kale? Great! Mushrooms? Absolutely! Since we are all on lockdown, I simply stocked up on the canned goods I knew I'd need for the bones of the recipe, and then planned to use whatever was in my fridge.
I tried to stick to hearty vegetables that could stand up to the rich and thick broth, so peppers, corn, carrots, lacinato kale and chewy brown rice noodles were the perfect match. If you can't find rice noodles, you could also just serve this with regular rice or another kind of Asian noodle like a soba noodle or even ramen noodles would work well in this.
The only thing I recommend not doing is playing around with the bones of this soup - the mixture of the two types of coconut milk, the green curry paste, the shallots, the ginger, the garlic, the broth...those should be kept the same, or as close as you can.
I hope you enjoy this as much as we did! You can CLICK HERE to print the recipe. The nutrition facts are listed below the recipe, and are set up for 6 servings.