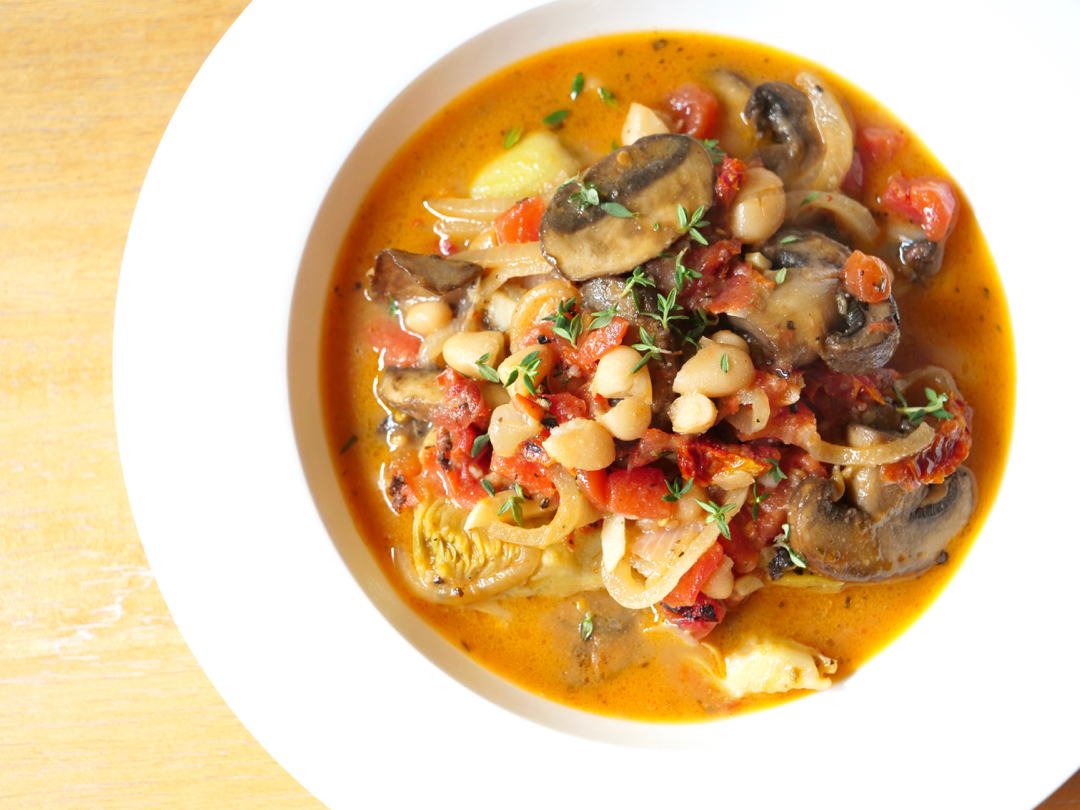 Tuscan White Bean Skillet Stew (GF, V)
A hearty stew you can make in a skillet, with a rich tomato and coconut milk broth, creamy white beans, mushrooms, artichoke hearts and sun dried tomatoes.
More...
This super easy skillet stew only tastes better with time, which makes this the perfect make-ahead meal prep recipe!
With everyone staying at home and cooking a lot more, it's important to have a few recipes on hand that take little effort but pack a big punch. This recipe uses a few of my all-time favorite pantry staples - creamy white beans, fire roasted tomatoes and light coconut milk.
For the white beans, I love them all, whether you choose cannelini, great northern or navy beans. They all work well in this stew, however I personally chose great northerns for this particular recipe.
Beans are a staple item to have in your pantry. The options are endless with beans. You can make burgers or veggie meatballs with them, add them to soups, top them on salads, stuff them into enchiladas, puree them into a dip, sprinkle them on nachos...no matter if they are black beans, kidney beans, white beans or chickpeas, they are great to have on hand.
You can easily get 3-4 servings out of this, but we easily made this into two servings...it was that good! I made this a few hours before dinner and let it sit off the heat when it was done, covered in the fridge. The flavors in this from first making it to after I reheated it are like night and day. Like with most stews, they always get better with time, and this one is no different.
You can certainly make this and eat it all at once, but if you have the time, I highly recommend meal prepping this ahead of time!
You can CLICK HERE to print the recipe. Enjoy!