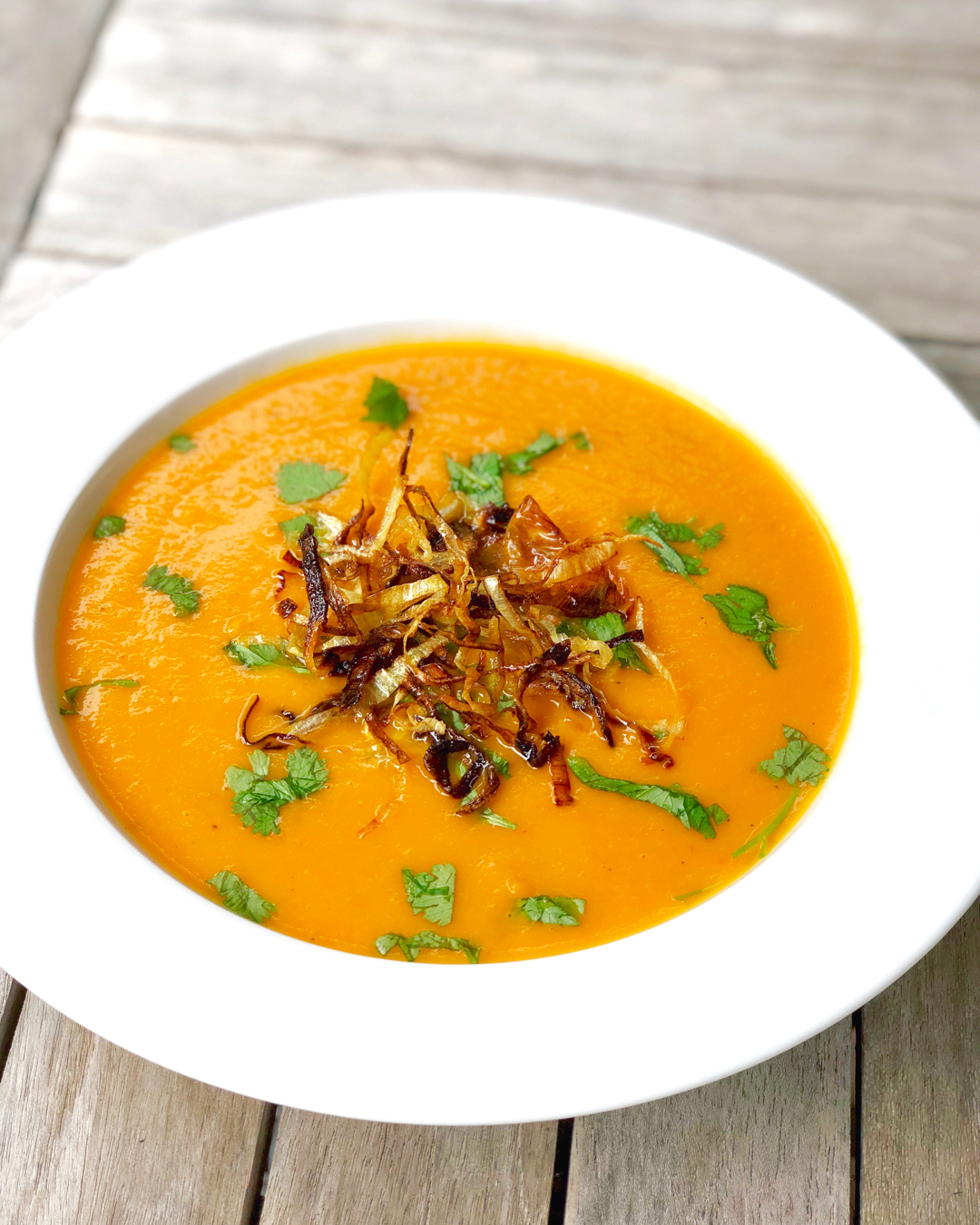 Creamy Thai Carrot Soup with Crispy Onions (V,GF)
This buttery, creamy soup is the epitome of healthy comfort food, complete with savory crispy onions and fresh cilantro, with spicy hints of Thai red curry and the creamy, sweet taste of coconut milk.
More...
Carrots are such a versatile vegetable, but really most of us just think of them as something to dip with hummus or add to a big pot of soup, but what if carrots could be the main event??
Whether it's carrot fries, the famous carrot bacon that took over Tik Tok, mashing it with sweet potatoes for a different spin on the classic side dish or pureeing it into this delicious soup, I definitely urge you to try it.
Nutrition Facts
Carrots are a rich source of beta carotenes, which the human body converts into Vitamin A (ahem girls! That's natural retinol!), meaning carrots are a really good veggie for your skin. Even though they're a vegetable, carrots are low in carbohydrates, are a good source of folates, Vitamin K and dietary fiber.
As for this recipe, there are 4 generous, filling servings of this Creamy Thai Carrot Soup that don't break the calorie bank. Serve this with a salad and you're good to go!
How to Make Crispy Onions
Making perfectly crispy onion strings for this soup amps it up a few levels, so don't skip it! For starters, it's best to use a stainless steel pan which will give it the crispy sear you want.
Start by heating up the pan "naked", meaning without any oils, over medium-high. While it heats up, thinly slice your onion. You can click here for my quick tutorial on how to cut the onion. It's an old post, so just follow the first few photos about cutting the onion, and then return back to here.
Once the onions are sliced, pour in 1 TBS of olive oil, swirling it around in the pan to coat the bottom, then add in the onions and a pinch of salt. Let them sit for a few minutes before stirring them around, keeping a constant eye on them so they don't burn. Lower the heat if needed. Continue cooking and stirring until the onions have browned and become crispy little strings. Transfer them to a paper towel and then garnish your soup with them.
The Recipe
I hope you enjoy this deliciously comforting, healthy soup!
You can make this ahead of time and store it for up to 4 days in the fridge, or freeze it for a few months. To make this even richer, you can use full fat coconut milk, but that will up the nutrition facts in both calories and fat content.
You can CLICK HERE to print the recipe.