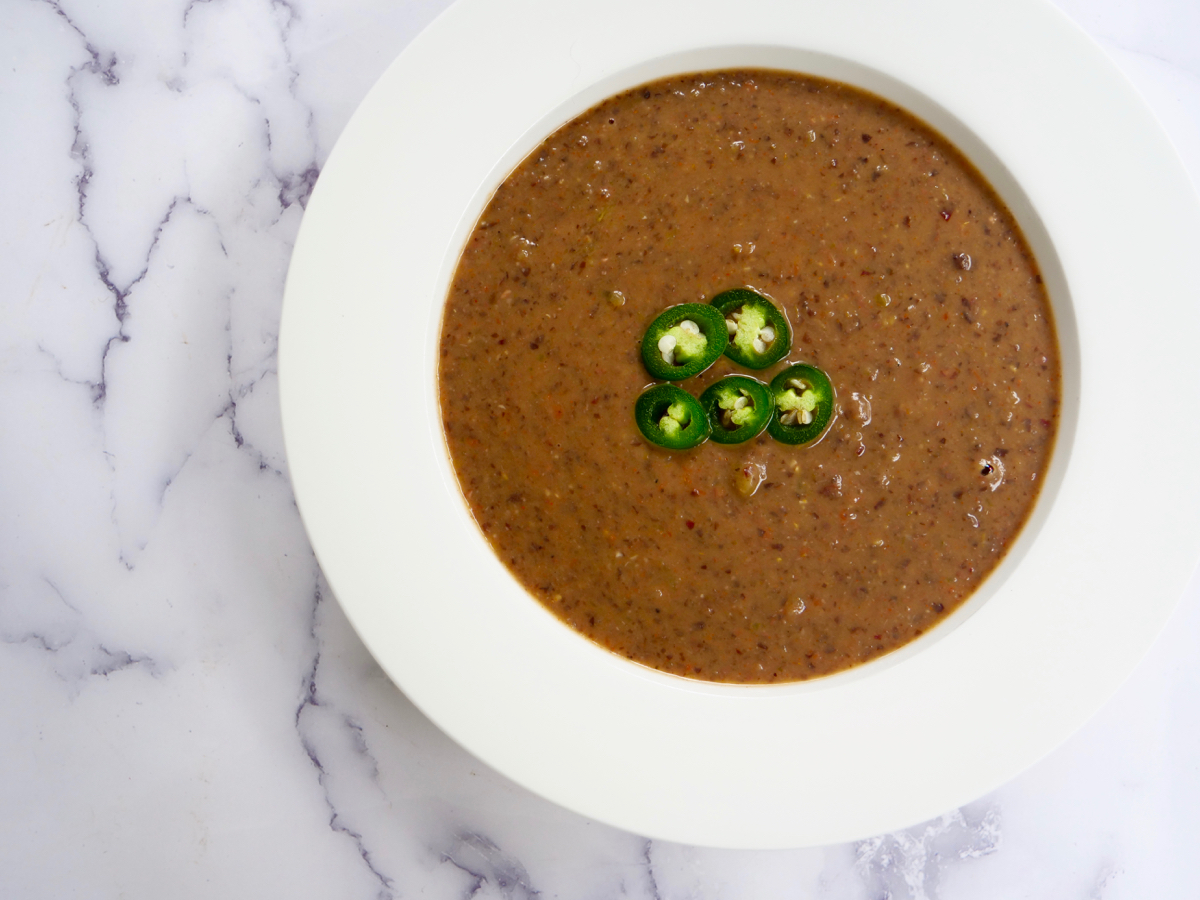 Spicy Black Bean Soup (V, DF)
Black beans, salsa verde, taco seasoning, peppers and green chiles are pureed into a seriously comforting and low fat soup.
More...
Soup season continues here at the Collins household because winter came realllllll fast this year. It's November 2 and right now it's about 43 degrees with wind gusts of up to 40, making it feel more like 30. Yikes! So nothing says soup season more than a day like this!
I grew up on black bean soup, and even have the original recipes from my Mom on an old hand written recipe card she gave me a few years back (it's framed, that's how much I love it). This time around though, I went with a new spin on the recipe, giving it a bit of spice and a boost of flavor from secret ingredients like salsa verde and taco seasoning.
Not only is this super comforting, but it's also really good for you, with lots of plant based protein and fiber, low in fat and dairy free and vegan! Woohoo!
HOW TO MAKE SPICY BLACK BEAN SOUP
To make soups like this one, you'll want to get your hands on an immersion blender, it will be your new favorite kitchen gadget. I have one similar to this one. This will allow you to puree everything right inside the soup pot, rather than having to pour hot soup into a blender and risk a total mess or burning yourself.
To make spicy black bean soup, you'll first want to be sure you have a good, spicy taco seasoning on hand, as well as your favorite salsa verde, which is a green salsa made from tomatillos.
For the beans, you can use regular black beans, or try mixing in some seasoned black beans - Whole Foods and Trader Joe's both sell seasoning black beans such as Cuban style and Spicy. Any will do.
If you don't want it to be so spicy, cut back on the taco seasoning or use one that is more mild.
A GREAT MEAL PREP SOUP
This spicy black bean soup is a wonderful meal prep option, as most soups are. They only get better with time. Make this on a Sunday and have it for lunch or dinner over the next few days, or freeze it for up to 6 months.
I hope you enjoy this as much as we do!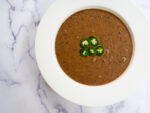 Print Recipe
Spicy Black Bean Soup
A creamy, comforting black bean soup that's low fat and high protein.
Equipment
Immersion blender or regular blender
Ingredients
2

TBS

olive oil

1

medium

red bell pepper, chopped

1

medium

green bell pepper, chopped

1

medium

yellow onion, chopped

8

garlic cloves, minced

2

TBS

taco seasoning

I love the Siete spicy seasoning or Trader Joe's

12

oz

jar salsa verde

4

oz

chopped green chiles

2

C

vegetable broth

4

15oz

cans black beans, drained and rinsed

salt to taste
Additions to the soup before serving
fresh chopped cilantro for garnish

sour cream

Kite Hill makes a great plant based version
Instructions
Add the olive oil to a large soup pot and set the heat to medium high. Add in the peppers, onions, garlic and taco seasoning. Stir occasionally, letting the veggies soften, 8-10 minutes.

Next add in the salsa verde, chiles, broth and beans. Bring everything to a low simmer covered for about 20 minutes.

Turn off the heat and let the soup cool slightly. If using an immersion blender (blender stick, hand blender, etc), carefully blend everything into a smooth puree. If using a regular blender, wait for the soup to get cool and carefully blend the soup, adding it back to the pot when done.

Season for salt to taste and serve with your favorite toppings.