Greek Orzo Salad
Orzo pasta served cold with fresh tomatoes, cucumber, red onion, feta, basil and celery in a simple salt and pepper olive oil dressing - easy, healthy, fresh, perfect.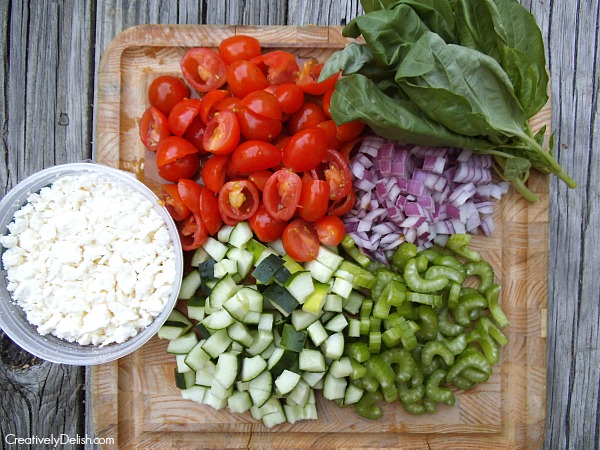 We love this dish because it can be served with just about anything, or even on it's own!
Be sure to remove the seeds from the tomatoes and cucumber so the salad doesn't begin to swim in juices - soggy pasta salad is just no fun!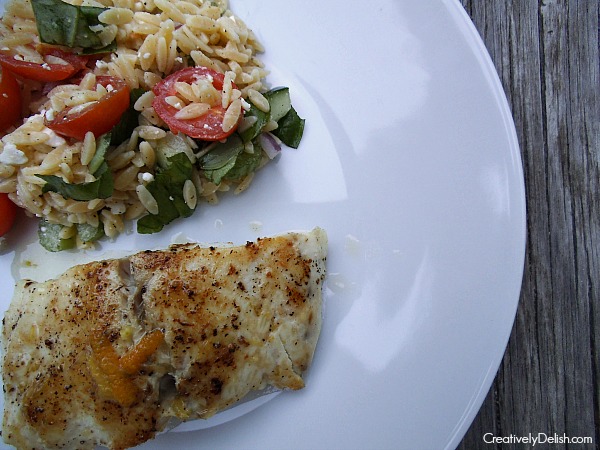 We served this with a piece of freshly caught striped bass (thank you Ryan fro carrying that back!) in a citrus sauce.
The crunch from the celery and cucumber add great texture to this fresh summery salad, with fragrant basil, sweet cherry tomatoes and crumbled feta cheese.  The dressing is simply olive oil, salt and pepper so there is little in the way of ingredients.
Greek Orzo Salad
Prep time:
Total time:
Ingredients
1 box orzo, cooked then chilled in the fridge or run under cold water in the strainer
1 cucumber, seeds removed and diced
4oz crumbled feta cheese
1 pint cherry tomatoes, halves and squeezed to remove the seeds
2 celery sticks, ends removed and thinly sliced
1 bunch basil leaves, chopped
1/2 medium red onion, diced
olive oil (about 1/4 cup)
salt and pepper
Instructions
In a large bowl, combine all ingredients and season with salt and pepper until it's to your liking - so easy!