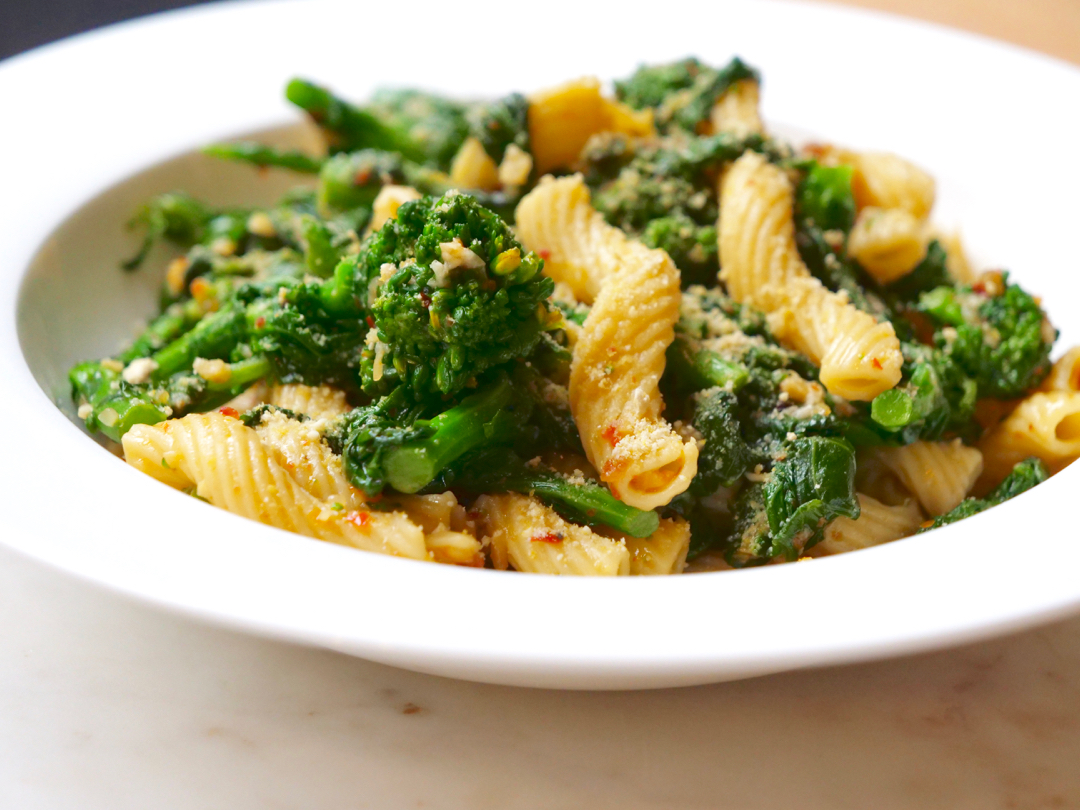 Spicy Broccoli Rabe & Banza Pasta (GF, V)
This is a quick and easy dinner idea that requires very little prep and cook time. I am featuring one of newest Trader Joes obsessions, the Onion Chili Crunch Sauce. Oh boy is it good, and I've put it on basically everything from pasta dishes like this, tossed with steamed green beans, roasted with fish and stirred into salad dressing. I wish I could take the credit for it but at least I can share some delicious ways to use it!
More...
Sometimes you just need a quick and easy recipe in your arsenal that takes little time to prepare, gives you tons of vegetables, healthy protein and fiber and tons of flavor. This Spicy Broccoli Rabe with GF Banza Pasta checks off all the marks.
Done in about 20 minutes and even though it would taste great as leftovers, I highly doubt there will be anything left! It's just that good!
What is broccoli rabe?
Broccoli rabe is a bitter green in the broccoli family that tastes best when sauteed with a lot of garlic and seasoned with salt. You might see broccoli rabe on an Italian menu served with pasta and spicy sausage for instance, or tossed in a light broth and served with roasted chicken or fish with Mediterranean vegetables.
For this dish, we keep it simple, however in other dishes, vegetables like tomatoes, artichokes, olives and peppers compliment the broccoli rabe perfectly.
You'll want to cut off the woody ends like you would with asparagus, then chop the broccoli rabe into smaller pieces and steam them.
Banza Pasta
We love Banza pasta, made from chickpeas, to replace regular pasta. As you can see, it is full of protein and fiber and has way less carbohydrates than regular pasta. Just be sure to keep your portions in check, because it is very easy to go over the recommended amount. Also due to the high carb count, we only have pasta rarely, and it's usually during a high intensity workout week when we need the extra energy from the carbs...just something to think about!
We get around the carb count by servings ourselves about 1/2 the recommended portion size and then doubling the broccoli rabe.
Trader Joes Chili Onion Crunch Sauce
I don't know how long Trader Joe's plans to keep this on the shelves, but I hope it's forever because ya'll this s*%$ is addictive. I've put it on cod and roasted it in the oven, tossed it with steamed green beans, used it in this pasta dish and mixed it with salad dressing.
It. Is. So. Good. RUN to Trader Joe's and get this. However if a TJ's doesn't exist near you, you can just sub in a pinch of red pepper flakes and you'll still get that satisfying spiciness of the dish.
The Vegan Parmesan
I have mentioned this vegan parmesan recipe in some other recipe posts, and this is perfect to garnish over the Spicy Broccoli Rabe with GF Banza Pasta dish, especially if you're cutting out dairy.
A big batch goes a long way too. Store it in an airtight container and it will last up to two weeks in the fridge. Here's the recipe:
Blend together 3/4 C raw unsalted cashews, 2 TBS nutritional yeast, 1/4 tsp salt and 1 tsp garlic powder. It will come to a course consistency that resembles parmesan cheese!
The Recipe
You can check out the recipe below and click here to print!