Vegetable Detox Soup (GF, V)
Also known as hangover soup, clean out the fridge soup or just simply, Sunday soup, this vegetable detox soup is full of vitamins, minerals, immune boosting greens and vegetables and creamy white beans that's sure to get you back to feeling your best in no time.
More...
What Makes It a "Detox" Soup?
A detox soup, or any "detox" meal, is a meal that is free from food allergens and sensitivities like gluten, dairy and sugar that can cause inflammation, upset your stomach and disrupt your digestion or can make you tired or nauseous.
This vegetable detox soup does just that, with plenty of vitamins and minerals, fiber and protein, as a low-fat, low-carb meal.
What Goes Into This Detox Soup?
You can really use whatever vegetables you have on hand, as long as they are low starch veggies (so no white potatoes for example). For this recipe, I used a mix of cabbage, broccoli, squash, garlic and onions, however adding vegetables such as kale, spinach, tomatoes, carrots, leeks, sweet potatoes and/or mushrooms are also really great additions!
In addition to the veggies, I added creamy white beans. Beans are a great source of plant based protein, as well as fiber and iron and is low in fat. You can mash half of them up into the soup for a thicker broth too.
Along with low sodium vegetable broth, I also added in some heart healthy light coconut milk. Coconut milk not only gives the soup a touch of flavor and a bit of a thicker broth, but it's also a healthy fat to add in to this balanced soup.
Last but not least is the nutritional yeast, which is an excellent source of plant based B12. Nutritional yeast is my go-to for a cheesy, nutty flavor, and it also helps to create a thicker broth. I add it to just about everything, and once you try it, you'll see how amazing it is!
I hope you enjoy this healthy Vegetable Detox Soup!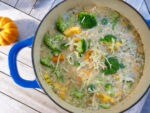 Print Recipe
Vegetable Detox Soup (GF, V)
This Vegetable Detox Soup is full of immune boosting greens and vegetables, and fiber-rich creamy white beans, with no dairy or gluten, to help you get back to feeling your best again.
Ingredients
1

large

yellow onion, sliced thin

8

cloves

garlic, minced

1

package

butternut squash, diced

or 1 large butternut squash, skin and seeds removed and diced

1-2

medium

delicata squash, seeds removed and diced

1

large head

broccoli, cut into florets

1

C

shredded green cabbage

2

15oz cans

white beans, drained and rinsed

2

15oz cans

light coconut milk

24

oz

vegetable broth, low sodium

1

C

lacinato kale, shredded

2

TBS

nutritional yeast

1/2

TBS

garlic powder

1/2

TBS

dried Italian herbs

1/2

tsp

ground black pepper

1

tsp

sea salt (or more to taste)
Instructions
In a large heavy bottom pot, add 2 TBS olive oil over medium heat, then the onion and garlic. Cook, stirring occasionally until fragrant.

Add in the squash, broccoli, cabbage, garlic powder, dried herbs, salt and pepper and continue cooking for 3-5 minutes, then add in the coconut milk, broth, nutritional yeast and beans. Stir well to combine, then cover and bring to a low simmer.

Simmer for about 45 minutes, then stir in the kale. Turn the heat off and cover the lid to let the kale wilt slightly, then season to taste and serve.
Notes
You'll save a lot of time by purchasing the butternut squash pre-cut, as well as buying a bag of broccoli florets instead of a whole head.
Add in any other veggies you like - cauliflower, carrots, leeks, celery, mushrooms, tomatoes, sweet potatoes, etc.  The more veggies the better!
Nutritional yeast is an excellent source of B12 and provides a small amount of protein, giving foods a cheesy flavor and a thicker broth.  You can find this in the natural food section or baking aisle of most grocery stores.