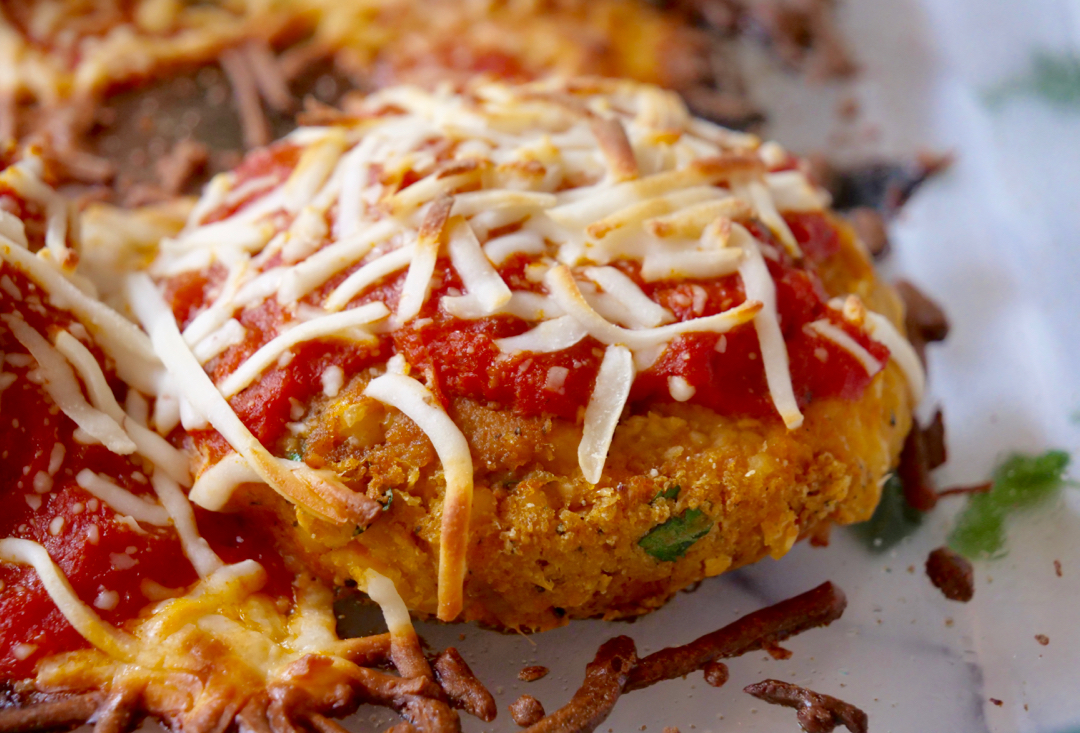 White Bean Parmesan (GF, V)
Whether you're looking to make more meatless meals or you're in search of more meatless meals to add to your arsenal, this is a game changer. All the satisfying flavors of traditional chicken parmesan but without the meat. Made with creamy white beans, they're full of protein, fiber and tons of flavor. The best part? They're so easy to make!
More...
As with regular chicken parmesan, these have a few steps to make them perfect, but it's worth it. If you're just starting out vegan or trying to do meatless Monday's, this is a great recipe to try. Of course nothing will ever be the same as a regular chicken parmesan, but this has all the flavor and satisfaction!
To make the White Bean Parmesan, start by mashing a can of rinsed and drained white beans in a bowl. You'll saute some minced garlic and finely diced shallot which will be added in, followed by fresh parsley, GF bread crumbs, Italian seasonings, marinara sauce and vegan parmesan (recipe will be in this post and separate from the recipe printout). If you don't want to make the vegan parmesan for this dish that's ok, you can either use regular parmesan if you don't mind having the real deal, or, you could just use 1 TBS nutritional yeast instead. Nutritional yeast just gives it an extra cheesy, slightly nutty flavor like regular parmesan would.
Once you've combined all the ingredients together, you'll form them into patties and sear them quickly with olive oil to get the outside nice and crispy.
Once you've seared both sides, lay them into a baking dish and top with additional marinara sauce and a sprinkle of non-dairy shredded mozzarella. I love the mozz from Trader Joe's.
This entire dish can be made dairy free and vegan, making it a great recipe for the Arbonne 30 Days to Healthy Living program or my own 30 Day Elimination Cleanse, which removes allergy and inflammatory foods.
The result of this dish is so satisfying and delicious! Not only that, but it's a filling, low carb vegan meal that's also great for meal prep to have later on in the week.
It should take you about 30-45 minutes to make this, and I suggest cutting corners by buying jarred marinara. My favorite is from Rao's, which only has the ingredients you'd expect to find in a marinara sauce, and nothing else.
To make the vegan parmesan that is in this dish:
I hope you enjoy this delicious spin on chicken parm! You can click here to print the recipe!